Condensed by Josephine Lindsay Bass on July 26, 1996.
The early pioneers in their march westward to seek a new home and a fortune discovered Indian trails extending through the forests. They soon found them well laid out and the crossing places of streams were always selected with such care that from that day down to the present, little change has been made in road surveys by the white man.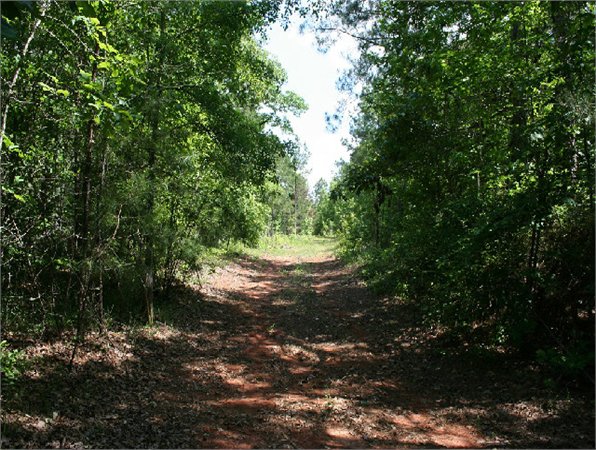 Indian trails were simply widened
The building of a road consisted merely in widening an Indian trail or cutting a passage through the woods, laying a causeway of split logs with dirt thrown on top across a bog or marsh, or erecting ferries at river crossings. Bridges were seldom built across fordable streams.
A general road law was enacted in 1836 that was in force, with a few amendments for sixty years. It was the custom all this time to have an overseer with a few hands to go over the road, break up a few rocks about the size of a man's fist and fill up the deepest mud holes. With this done, the overseer reported that his time had been put in.
The time usually consisted of ten days for all men between the ages of 18 and 45 years, with only a few men exempted. The roads were laid out to save all the tillable land possible for cultivation, around the foot of the hills or mountains and occasionally it passed across the valley, called a lane.
Marshall County, Alabama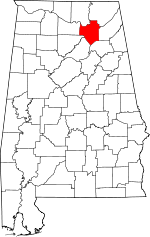 Claysville – early settlers
Claysville became the first county seat of Marshall County. This territory was settled at a very early date with an excellent class of people from Virginia, North and South Carolina and Tennessee. Some of the settlers prior to 1830 were: David Ricketts, William Barclay, Hesekiah Baylers, Edmond Bridges, James Fletcher, George Green, James Cotton, Isham H. Fennell, Abraham G. Holt, and Thomas Manning, who settled in lower Paint Rock Valley and Honey Comb Valley; Hans Kennamer, and sons, Samuel, Stephen, Levi, Zachary, and Jacob, Presley R. Woodall, Isham Wright, Jabez Perkins, Robert Chandler, and Willis Woodall; William Black, Bryant Cobb, Jospeh G. Garrett, Hugh Henry, John C. Johnson, William McKee, Peter Stearnes, William S. Todd, Isaac Tidwell, Dr. Andrew Moore, William H. E. Wheeler, Arthur C. Beard, Washington T. May, James Randles, James Boggess, Eli Freemster and Percival McDonald and William A. McCamey, in the Boshart Community.
Mail Routes established
The first mail route to serve Jackson County was established May 13, 1820. In 1822 R. J. Meigs, Jr. was the Postmaster General and established a route from Huntsville to Jackson Courthouse in Bellefonte, once in two weeks. The Postmasters at Claysville before it was added to Marshall County were: A. R. Barclay, James M. Mackfarlane, and William H. E. Wheeler. The Postmasters at Cottonville were M.T. Johnson, and Edmond Bridges.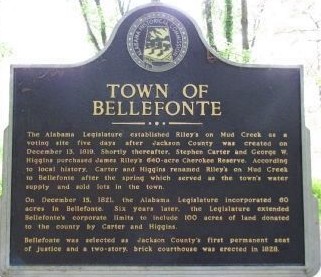 When the Civil War came all established routes were stopped. After the Civil War Scottsboro became the center for mail services instead of Bellefonte. Mail carriers on horseback sometimes took two days to reach their destinations. They were: Mr. Stockton, Joe Ellis, Mr. Flippin, John W. Perkins, Van Starnes, Ben Grayson, Joe Blancett, John Compton, John W. Ellis, and John Vernon, C. L. Cargile, when a young man carried the mail from Stevenson up Big Coon Valley across the mountain to Estill's Fork. He later became one of the most popular Probate Judges the county ever had.
Stories include:
The Yazoo land fraud;
Daily life as an Alabama pioneer;
The capture and arrest of Vice-president AaronBurr;
The early life of William Barrentt Travis in Alabama, hero of the Alamo;
Description of Native Americans of early Alabama including the visit by Tecumseh;
Treaties and building the first roads in Alabama.
Get the Daily Update from Alabama Pioneers
Don't miss out on Alabama history, get our daily updates in your email.