Eight Party Line Back Then
When I was in high school we had one rotary black dial telephone that was an eight party line. It was located in the living room. This was around the late 1940. We had to wait a considerable amount of time after applying for a phone for the telephone lines to be hung along our unpaved country road in Tuscaloosa County. This was several years after WWII and wiring was still scarce.
Didn't even have electricity
I ask a friend of mind about her experience with the eight party line and she replied, "Honey, I lived in Kentucky and we didn't even have electricity, much less a phone until I graduated from high school!"
The bad part about having a phone in the country was that it was an eight partyline! My daddy would come in the living room sometimes at night to find that I had been on the phone an hour with my boy friend. He stressed that this was not being considerate of the other seven party line holders. I would smile and say good night and hang up.
Had to ask with emergencies
If there was an emergency and you needed to use the phone you could kindly ask to the persons talking that you had an emergency and needed to use the phone. Always, the other persons would comply.
Fast forward to today. I have several phones in my house… some portable and one stationary with a "hard line." My phone gives me a blinking red light to indicate that someone has let me a message. Punching a button I can listen to a vocal recorded messages. When my phone rings I can even identify who is calling me by a digital ID system. So if I am busy and don't' want to talk to that person, I just let my phone take a message. Sometimes this new communication makes us rude.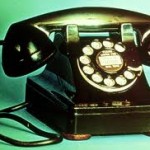 Cell phones are the norm today
All my grandchildren have cell phones, some have graduated to I- phones. Now instead of talking they are texting. If someone from outer space came to earth what do you believe they would think to see people walking, riding in cars, eating lunch, etc with a cell phone held to their ear?
In this day of communication do you feel the need for peace and quiet? Do you take the time to watch a sunset or marvel at the stars without being interrupted with that familiar phone ring sound you selected? Maybe not.
The other day a neighbor's child asked to use my phone to text my grandchild. I replied, " you will have to use my cell phone, I don't have texting ability." To my surprise he took my phone and replied, "you can text on your phone." I learned something that day. As of today, I haven't learned to text. Slow grandmother!
Some time I wish to be back in those eight party line days. These days, too much technology for me!
Shop Amazon Warehouse Deals – Deep Discounts on Open-box and Used Sports Equipment
Read more stories by Jean Butterworth in
Chinaberries and Other Memories of Alabama