THE CAHABA LILY
by
Inez McCollum
I had heard about this mysterious lily for several years. I had seen pictures and read articles with interest. Each year at Festival time, I would have forgotten to mark my calendar and that space would already be taken. A group of which I am a member had a speaker a couple of years ago whose subject was the Cahaba Lily.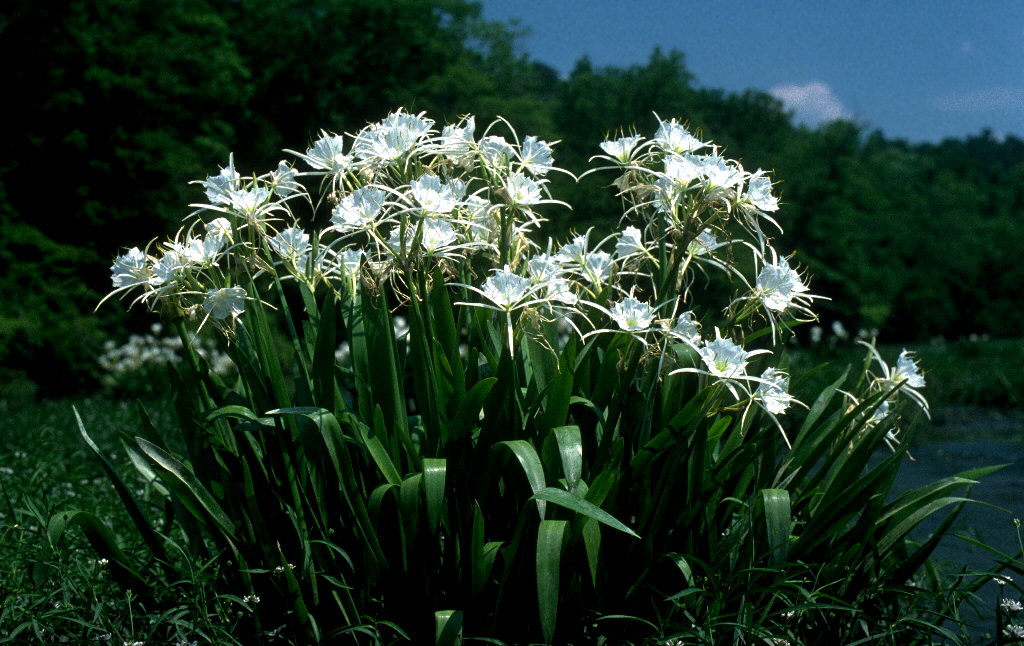 This snow white lily is known as the Shoals Lily in many areas of the US. His report was fascinating. The same person also had a workshop at Aldridge Gardens last Spring–all Cahaba Lily, of course. After attending the workshop, I marked my calendar for the last Saturday in May.
The Festival is in West Blocton each year.  The lily even has its own website at www.cahabalily.com. I decided to go on Friday that weekend and avoid the crowds. My friend, Jean Butterworth, agreed to go with me.
I was so excited as we headed out 459 toward Tuscaloosa. My grand daughters always had a way of getting me revved up when we would be on our way someplace special–Go Mimi, Go! Go Mimi, Go! I could almost hear them cheering us on as Jean and I drove along. Not being familiar with the area, we used the map from the website to find our way. One of the roads we never did find; but made our way to the lilies anyway. Was this the call of the wild?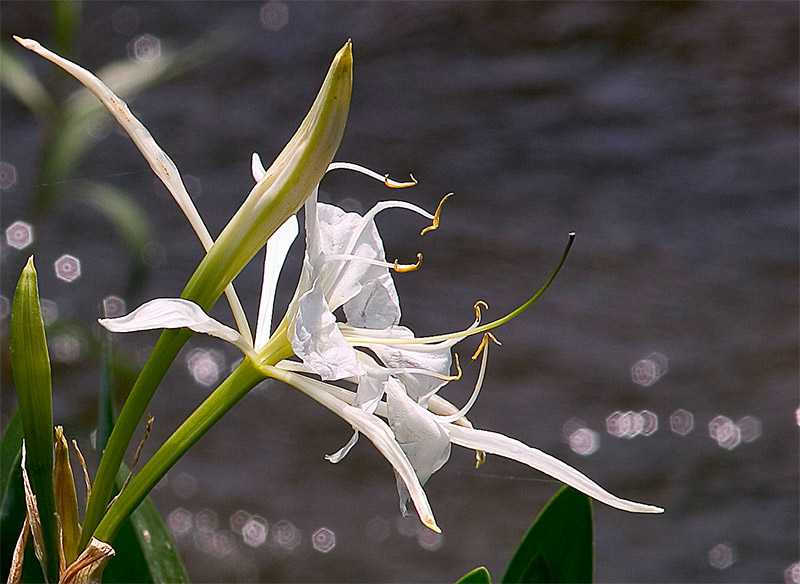 The road down to the Cahaba is a one lane, gravel road. Whenever we would meet another car, the vehicle nearest a pull over spot would do just that. I was driving a new car that was taking a beating by the roadside growth. We, however, kept going down that road with determination. Finally we spotted the first lilies! We stopped and took pictures, then proceeded on down the road. The further we went, the more lilies we saw.
After several stops and conversation with other explorers, we made it to the end of the road. We were told we could wade across the shallow part of the river and see much prettier and more plentiful lilies. About that time we saw a man wading across the river. He had already been down to the shoals where those "more plentiful lilies" were. Then, he miss stepped and fell into the water! As this embarrassed man came out of the water, soaked through and through, I recognized him! He was the speaker and workshop director I had met previously! After seeing this incident, there was no way Jean and I would finish that journey!
As we turned to leave, the last thing we saw was that poor man headed toward the woods with dry clothing under his arm. I almost shouted, "Look out for the poison ivy!"
Check www.cahabalily.com for more information about the festival.
Shop Amazon – Contract Cell Phones & Service Plans
Inspired by true events, Col. John Washington (ancestor of President George Washington), Randall Revell, Tom Cottingham, Edmund Beauchamp ward off Indian attacks and conquer the wilds of Maryland's Eastern shore in 17th century colonial America in this historical novel.
FreeHearts: 2nd edition A Novel of Colonial America (Tapestry of Love Series Book 3)
Inez McCollum grew up in Etowah County.  Married Mack McCollum, a BI-vocational minister.  Moved to Birmingham to work while he worked and went to Howard College/Samford University.  Inez and Mack had three sons, Jay, Joe and John.  They bought their first home in what is now Hoover.  Inez continues to be active in Shades Mountain Baptist Church and some of the civic organizations in Hoover.  Inez also enjoys reading, travel and spending time with friends.