WE FOUND AN AMAZING NEWSREEL!
Arguably,  we discovered the first newsreel of film footage taken in the state of Alabama. This long-lost, over 100-year-old, film footage is of President Woodrow Wilson's visit to Mobile.
His speech in Mobile changed history
This treasure was made on October 27, 1913, in Mobile, Alabama, and is of great historical value.  From the faces of President Wilson and others in his party to the steamship Winona in the harbor and even the shine on his car, the film is so clear, and it captured a historic moment in time for all to see.
"The United States will never again seek one additional foot of territory by conquest."
President Woodrow Wilson said these historic and oft-reported words for the first time at his speech in Mobile, Alabama on October 27, 1913.
No previous president had journeyed the more than a thousand miles from Washington D. C.
No president in the nation's history had journeyed the more than a thousand miles from Washington to this Gulf Coast port, and only Theodore Roosevelt, in 1908, had stopped by Mobile briefly on a tour of the lower South. Now Wilson, making the first extended trip since his inauguration, was going back to the section in which he was born more than a half-century earlier to attend the Southern Commercial Congress held in Mobile.
The Rebel yell rang out as he traveled through the South
The shrill notes of the rebel yell which rent the reddening sky of dawn at Salisbury, North Carolina "awakened the President earlier than he had intended to rise and as the autumn sunlight streaked over the Blue Ridge a pilgrimage of admiring hearts began. At villages where the President's train ran slowly and at cities where it stopped, huge crowds were enthusiastic and happy at their first glimpse of Woodrow Wilson."
On October 27, 1913, thousands of Southern folk, in cheering throngs, gave the first Southerner to become President since the Civil War a rousing welcome. Woodrow Wilson was the second Democrat to occupy the White House since the War between the States but the first Southerner to be elected President since the Civil War.
President Wilson's speech in Mobile changed the course of America's foreign policy
President Woodrow Wilson's historic speech changed the course of America's foreign policy toward other countries in the 20th century.
His historic speech was given at the Lyric Theatre in Mobile, Alabama.
Lyric Theatre in Mobile, Alabama (Demolished in 1950)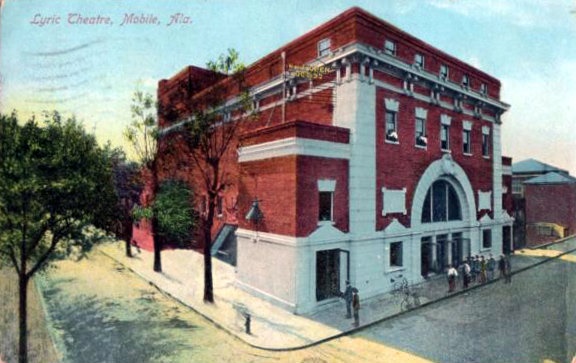 President Woodrow Wilson and wife Ellen Axson Wilson leaving the White House by car, Washington, D.C (ca. 1913-1914 Library of Congress – Harris & Ewing photographers)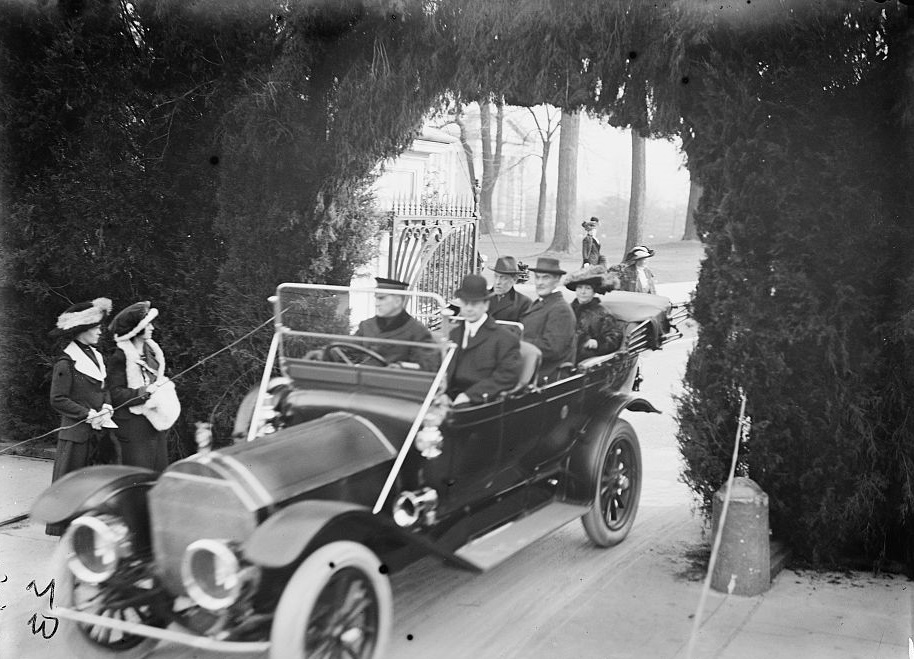 WILSON DOCTRINE
"United States will never again seek one additional foot of territory by conquest"
In the speech, President Wilson stated these famous words, "I want to take this occasion to say that the United States will never again seek one additional foot of territory by conquest. She will devote herself to showing that she knows how to make honorable and fruitful use of the territory she has, and she must regard it as one of the duties of friendship to see that from no quarter are material interests made superior to human liberty and national opportunity."
The words, in essence, outlined what came to be known as 'Wilson's Doctrine' and his isolation policy and a change from the imperialistic approach of previous Presidents of the United States.
Stayed at the historic Battle House Hotel
President Wilson stayed at the Battle House Hotel in Mobile, Alabama. There was a tragic fire in 1905 that destroyed much of this original building but it was built rebuilt and was reopened in 1908.
Battle House 1901 (Detroit Publishing – Library of Congress)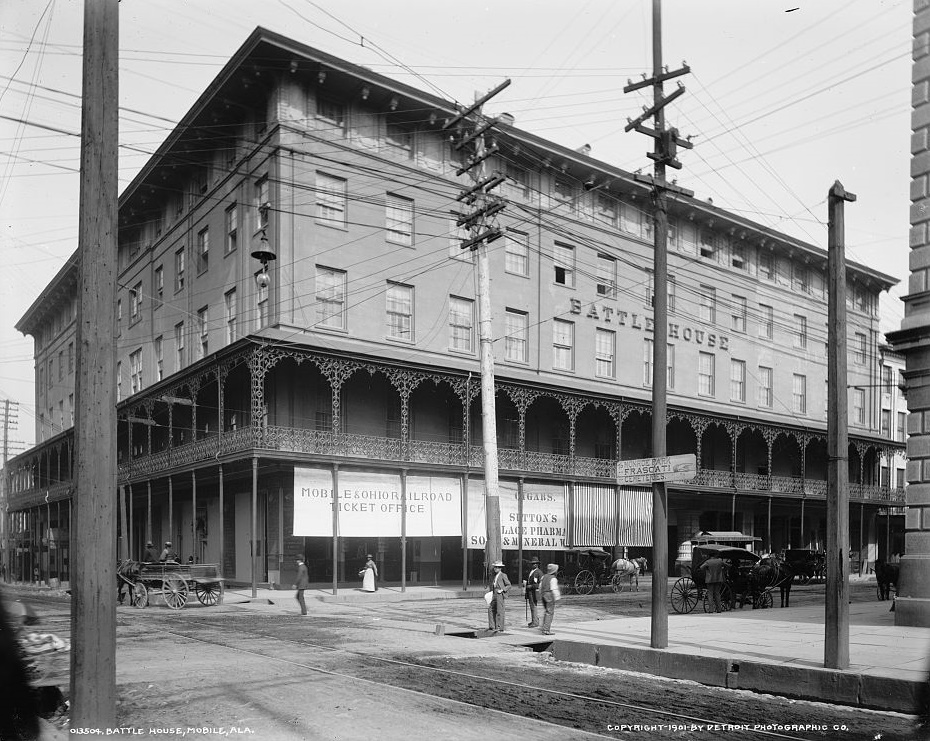 Previous Presidents believed America's duty to spread democracy throughout the world
When Wilson entered office, European imperial powers dominated much of the world and attempted to maintain a "balance of power" through opposing military alliances. In the summer of 1913, Mexico was in political turmoil and particularly feared an invasion by the United States to stop the fighting.
Wilson's predecessors, Presidents McKinley, Theodore Roosevelt, and Taft "had all viewed the United States as an emerging power that needed to extend its influence throughout the world in order to serve national interests. This imperialist policy was justified by the commonly held belief that it was America's duty as a Christian republic to spread democracy throughout the world. These three Presidents significantly expanded America's influence abroad with the annexation of colonies throughout the world, such as the Philippines and Cuba."

Wilson was faced with a foreign policy crisis
In the newsreel, the Brazilian Consul-General, M. J. Cunha, was singularly identified and it may have been due to the dilemma President Wilson was facing at the time.
The Spanish-American War of 1898 was a conflict between the United States and Spain that ended Spanish colonial rule in the Americas and resulted in U.S. acquisition of territories in the western Pacific and Latin America.
In its new status as an imperial power, the United States pursued a series of policies designed to protect American territories and aggressively expand its international commercial interests. "In just over a decade, the United States had redefined its national and international interests to include a large overseas military presence, overseas possessions, and direct engagement in setting priorities in international affairs."i
Wilson was faced with a foreign policy crisis involving Mexico only a few days after he entered office in March of 1913. Mexico was in the middle of a revolution. General Victoriano Huerta had seized power, imprisoned the Mexican president, and probably issued the order to have him killed.
In April 1914, Wilson ordered U.S. forces to occupy the Mexican port of Veracruz to cut off Huerta's supply lines. Within three months, Huerta resigned, and Wilson withdrew U.S. troops.
USRC Winona (Detroit Publishing Co. Library of Congress)1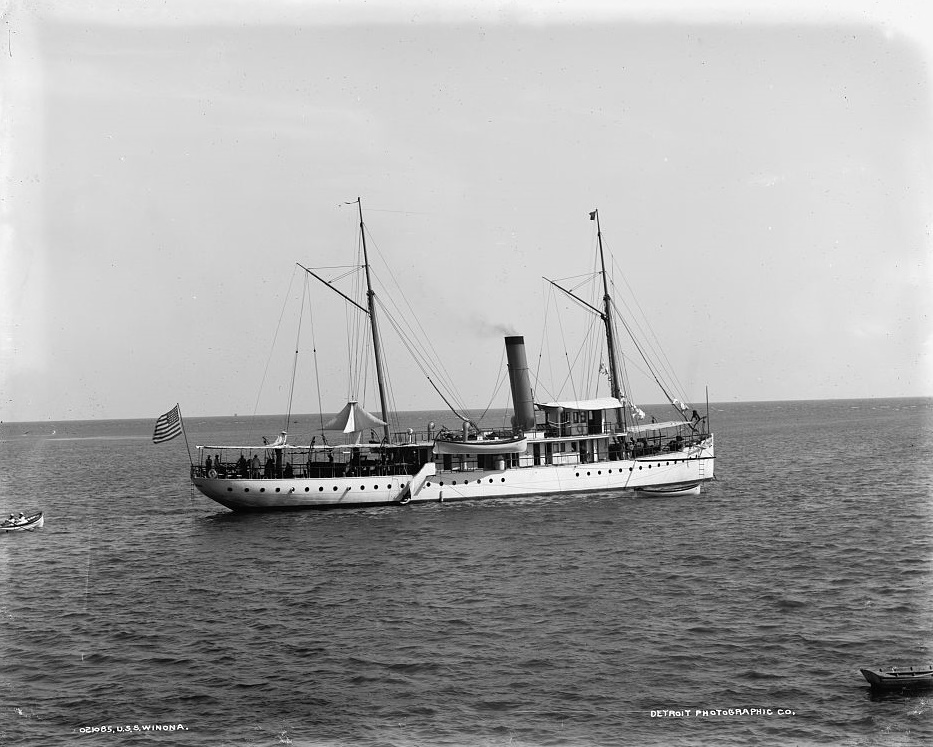 America's Moral Diplomacy
After this intervention in Mexico, Wilson began to express his ideas for a new American "Moral Diplomacy." At its core was the principle of "self-determination," the moral right of people to choose their form of government and leaders by democratic elections.ii
This "Moral Diplomacy" led to his statement in Mobile on October 27, 1913. The response to his speech of the Latin American countries who were in fear of an invasion from the United States at the time can be found in the book, Wilson Doctrine – How the Speech of President Wilson at Mobile, Ala., Has Been Interpreted by the Latin-American Countries by Policarpp Bonilla – Ex-President of Honduras, C. A. New York, March 1914.
"While it can be argued that his stubbornness or his physical collapse prevented his realizing the dream that was within his grasp in 1919, there can be no doubt that his ideal inspired many Americans and that it shaped much of American foreign policy for the remainder of the twentieth century."iii
Today, the Battle House Hotel is called, The Battle House Renaissance Mobile Hotel. It was restored to its former splendor when the Retirement Systems of Alabama bought the building in 2003. The restoration was completed and the building reopened in 2007.
Click for more information and history on the Battle House Hotel 
1Winona, a 149-foot, 321-ton, iron-hulled, twin-screw steamer, was built by Pusey & Jones of Wilmington, DE for $60,740. She entered service in 1890 and served her entire career along the southern coast. During the Spanish-American War she patrolled in defense of Mobile, AL. After the war she participated in numerous local events, including annual Mardi Gras celebrations, patrolled yacht club regattas, transported dignitaries and politicians, searched for derelicts, boarded foreign merchant vessels, established quarantines, and assisted with flood relief efforts. She was decommissioned in 1915 and sold to Mr. W. M. Evans of Mobile for $12,697.
SOURCES