My Dad was a member of a church in a rural area of Alabama. The church and others throughout the state would have singings several times during the warm seasons of the year. This was a full day event, beginning around 9:00 or 10:00 in the morning and lasting until around 3:00 in the afternoon.
There was usually a morning and afternoon break which they referred to as "recess". They also took a lunch break. The church provided a long row of tables, often with a roof overhead.
Fa-Sol-La
Alabama Sacred Harp Singers-Cuba
Each local family attending would bring a large basket of food to share with others at lunch time, or "dinner" as it was called then. One would soon learn who made the best fried chicken, vegetables and banana pudding or other dessert. It seemed that each lady had her specialty. Taking home an empty bowl or platter was compliments to the cook.
With our southern dialect, the Sacred Harp music was usually pronounced "fa-sa-la". I was an adult before I realized it was fa-sol-la. Those participating would first sing the notes and then the words of the music. It was a-capella and consisted of four notes: fa, sol, la, and me. There were four parts: Bass, Tenor (the leading part), Alto and Treble. The singers were divided into those groups. My Grandmother sang treble and even though that was the smallest group, it could be heard above all the others. Singers who were brave hearts would each direct one or two songs of his or her choice.
When my Brother and I were probably seven and nine, we stayed a few days with our Grandparents so that we could attend singing school. That was such an exciting time for us. Each afternoon, we would walk to the little church for group lessons. The week ended with a recital so that we could show our parents how well we had learned the music.
Fa so la singing Mt. Lebanon Baptist Church Fayette, Alabama
I could hardly wait for the first Fa-sa-la Singing. I would now be able to stand before the congregation and wave my arm while holding a book that was really an arm full for me. I would tell the page number and title of the song. We would sing the notes and then this bashful little girl (me), who was the leader, would say: "Words". We would then sing the verses. After that very important day, I would see my Dad whispering to the person who kept the list of those directing the music. In a little while, my name would be called to direct.
Sneak peak of a Patron Story from the past.
This is a sneak peak of a Alabama Pioneers Patron story: All Patrons receive rewards, bonus stories, and free books depending on their level of support. Learn more about the Patron program by clicking the link below.
Now when I turn through the Sacred Harp book, those notes are as foreign to me as another language. Oh well, use it or lost it!
Dinner on the ground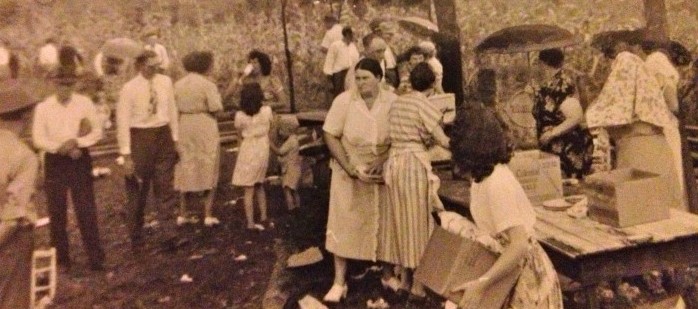 FreeHearts: 2nd edition A Novel of Colonial America (Tapestry of Love Series Book 3)  Inspired by true events, Col. John Washington (ancestor of President George Washington), Randall Revell, Tom Cottingham, Edmund Beauchamp ward off Indian attacks and conquer the wilds of Maryland's Eastern shore in 17th century colonial America in this historical novel.