ST. PAUL'S EPISCOPAL CHURCH OF GREENSBORO, ALABAMA1
(published 1908)
As far as can be ascertained, the first service by a clergyman of the Protestant Episcopal Church was held in Greensboro on the 14th day of March 1830.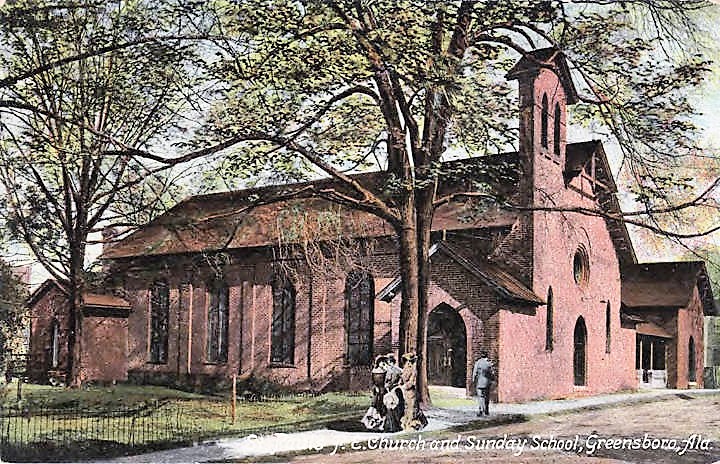 St. Paul's Episcopal Church, Greensboro, Alabama ca. 1890 (Alabama Department of Archives and History)
On that date a congregation was duly organized, the original compact being signed by the following persons: R. E. Meade, R. W. Withers, Wm. T. Bolling, T. B. Randolph, J. B. Stickney, Jno. F. Abbott, Ryland Randolph, T. S. Washington, John Morrast, John Malone and D. W. Witherspoon. The following composed the first Vestry: Dr. Richard E. Meade, Dr. R. Inge, Dr. R. C. Randolph, Frank Inge, Esq'r, Dr. R. W. Withers, Wm. Murphy, Esq'r, J. B. Stickney, Esq'r, Col. Samuel Pickens and J. Bell, Esq'r.
At a meeting held August 22d, 1831, by this Vestry it was resolved to enter into negotiations for the erection of a church edifice, but this plan failed to materialize, and the attempt to organize a parish at this time was abandoned.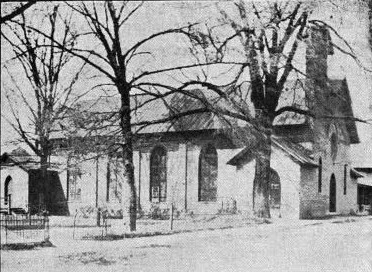 St. Paul's Episcopal Church ca. 1908 (HISTORY OF GREENSBORO, ALABAMA From Its Earliest Settlement by William Edward Wadsworth Yerby, Montgomery, Alabama
On December 24th, 1833, at a meeting held by a number of citizens, certain persons were appointed as vestrymen, and St. Paul's, Greensboro, was selected as the name of the parish, but not until about 1840 was this parish duly incorporated.
In 1834, the Rev. C. S. Ives was connected with this parish, but how long his connection lasted is not known. The Rev. J. B. Goodman took charge of the work in 1837 and continued to serve as rector until 1842, when he was succeeded by Rev. Julian E. Sawyer. The next rector was Rev. S. Patterson who, in 1845, was succeeded by Rev. J. S. Marbury, who continued the work until 1850, at which time he tendered his resignation on account of ill health. He died in Greensboro in September 1851, and was buried in the churchyard of St. Paul's.
Church erected in 1840
The Rev. J. M. Bannister was the next rector, who remained in the parish from 1851 to 1860, when he was succeeded by Rev. Richard Hooker Cobbs, D. D., who took charge on September 1st, 1861, and served continuously for forty-six years,—resigning the rectorship in September 1907. He was again re-elected as Rector in March 1908, and so urgent was the request on the part of Vestry and congregation, that he accepted.
The present church (1908) building was erected in 1840, but has been considerably improved since that time—a chancel being added in 1855, and the building was enlarged and much improved in 1872. The Sunday School room, immediately north of the church, was erected in 1906.
First Baptism in 1838
The first baptism recorded in this parish was on January 14, 1838, and confirmation was administered for the first time on Good Friday, April 13, 1838, by Rt. Rev. Dr. Kepper, Missionary Bishop of Missouri.
In 1840 Bishop Polk visited this parish, and in May 1844, Rev. Dr. Cobbs, father of the rector who served the parish forty-six years, was elected the first Bishop of Alabama, by a convention sitting in this church.