Sometimes, incidents like the following story are why we have difficulty tracing certain family members in our ancestry. This transcribed newspaper extract was published in the Jacksonville Republican March 4, 1837 –It was originally published in the Mobile Advertiser. The story tells of the brutal death of Dr. W. W. Charles in Mobile, Alabama.
Killed For Money
On Friday night last, at little past eleven o'clock, W. W. Charles, known here as Dr. Charles, was waylaid near the theatre in this city, as he was passing from his place of business at the New Exchange (where he with others, kept a faro bank and roulette table), knocked down by means of weights secured in a silk handkerchief and shockingly bruised in the head, and then rifled of all the money about him, supposed to be not far from $5000, his watch, fur cap, and a wig which he wore. He was shortly after discovered lying on the ground in a perfectly helpless state, and carried to his house. There he continued to suffer, if he was conscious of suffering– he could not speak—until yesterday morning at about nine o'clock when he died.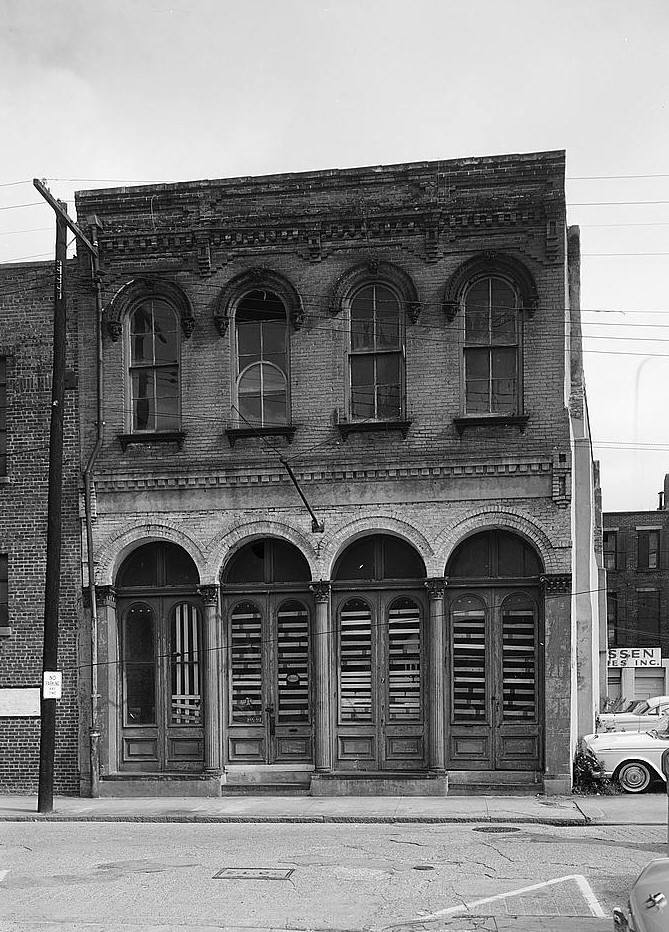 7 Saint Michael Street Mobile, Alabama, ca. 1960 The funeral took place near this building. (Historical building survey, Library of Congress)
It was for money solely that he was killed – for we understand that he was uniformly a mild, inoffensive man, neither drinking not profane, and who provoked no personal enemies. The deed must have been committed but a very short time after the Theatre was closed—persons were in and about it, at the time –the deceased passed by it, and the building adjoining, at the corner of which he was waylaid – the place was more public at this time of night, perhaps than any yet within ——murder and robbery done, —–perpetrators got off unseen, —- A person was ____up on suspicion, on Saturday, but ___ charged. Two more individuals were arrested yesterday, and placed in prison where they are awaiting their examination, which is to take place this morning.
The murdered man will be buried this day. the funeral will take place from his late residence on St. Joakim street, between St. Louis and St. Michael.
Faith and Courage: A Novel of Colonial America Inspired by real people and actual events, the family saga of colonial America continues with Ambrose Dixon's family. Faith and Courage presents the religious persecution of Quakers in Pre-Revolutionary War days of America intertwined with a love story.