First Court at Wedowee, Alabama Held in an Indian Chief's Wigwam
RANDOLPH COUNTY SEAT MOVED TO WEDOWEE
By J. M. K. GUINN1
Written for The Randolph Toiler, Wedowee, 1896
Number Six
Sometime in the fall of 1834 or spring of 1835 the county seat of Randolph County was moved to Wedowee.
Tradition says: The first court held at Wedowee was held in Wedowee's wigwam, a chief at the time who lived in the Indian village a half mile northeast of the present town of Wedowee.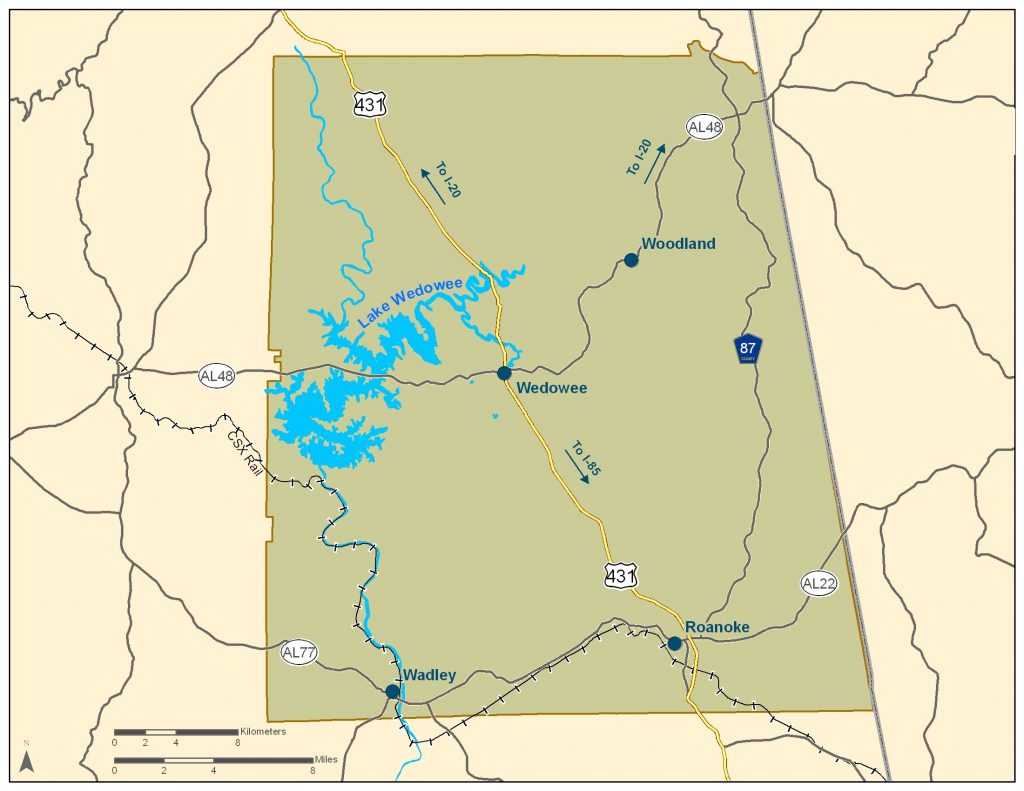 We suppose from what tradition says, his name originally was Wah-wah-nee or swift runner, Wah-hah-tah-nee or the fast runner, Wah-kee-bah-nah or the hard runner and Wah-wah-shee or the quick runner. Tradition, however, gives the following interpretations to the name Wedowee: First, rain or falling water; second, rolling or swift water; third, swift running water. We find it was written by some as Wa-daw-wee; others Wid-o-wee. Wah-wah-nee, swift runner, a chief from whfch the creek took its name, and the town from the creek, it seems to be conceded. Wah-wah-nee, or swift runner would, in our opinion, characterize the name of a chief Indian, and at the same time describe the creek clearly and exactly, for it is a swift runner. Rain or falling water does not describe the character of the creek, other than clear and pure. Rolling or swift water would do very well as a description of the creek but not so well for the name of the man.
Race tracks near the town used by the Indians
We found, seven years after Wedowee had been located and named, race tracks near the town, and said to have been used by the Indians. These race tracks were on the lower bottom field of Mr. William Traylor's the east and lower end of these race tracks was not far from the spring and run within a few paces of the present cotton house on the creek, and the west or upper end stopped near where a walnut tree now stands. These race tracks suggest another good reason for the name "swift runner". To the south of these race tracks on a ridge, and opposite and north of the "ten-foot hole", there was about 100 feet square, smooth and hard as a floor apparently, where it is said, the Indians had their brand dance.
At the time, tradition says the first court was held, the Indians were friendly with the whites. As you know there had been a treaty made with the Creeks on January 24, 1826, and a part of them had gone west. On March 2, 1832, the other Creeks in Alabama and the Muskogees of Georgia made their last treaty with the United States.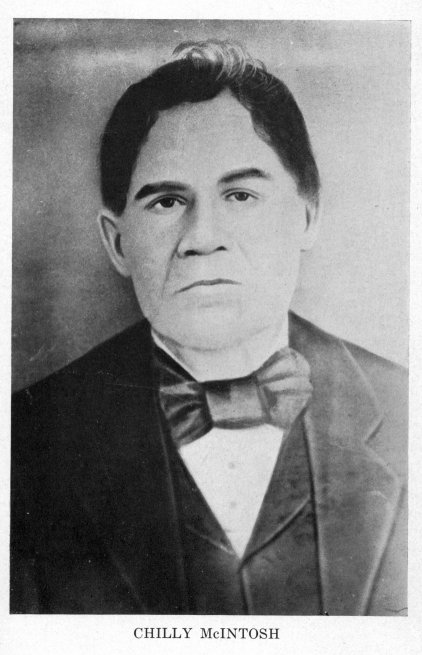 Chilly McIntosh (Chronicles of Oklahoma)
Selected reserve to reside on
Rolly and Chilly Mclntosh signed this last treaty. In the treaty of March 24, 1832, it was provided the Creeks should be paid for their lands, except half sections which were set apart for each head of family, to be selected by themselves on which they were to reside until their final departure west, the reserve then to be subject to sale by the United States and the proceeds to be paid to them the same as the other lands. The treaty provided protection in person and property.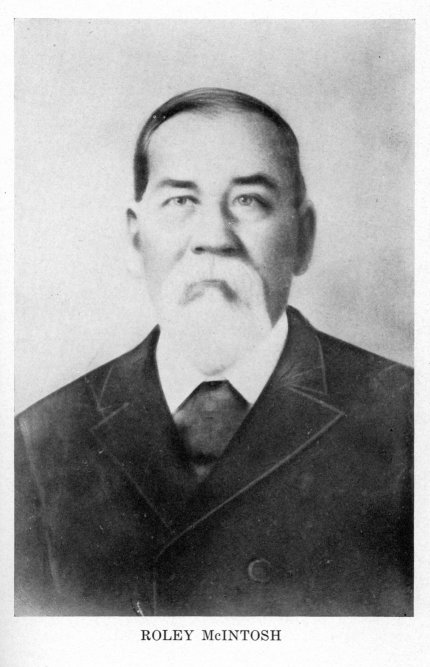 Roley McIntosh (Chronicles of Oklahoma)
Under these considerations, it would be very reasonable to suppose a court was held in Wahwah-nee's wigwam. J. W. Bradshaw, who lives near Wedowee said to us a few days since: "I was at the first and last Circuit Court ever held in the Courthouse at Wedowee." Knowing he came to Wedowee in 1836, and there had been Circuit Courts held at Triplett and Wedowee, as the records show, we were about to question his recollection, for his word is unimpeachable, when we happened to think it was a sell, of which he delights in; and, sure enough, it was, for he qualified the "first" and "last" court with the phrase "in the Courthouse".
First Courthouse was in a log cabin
There was no Courthouse in Wedowee until after March 14, 1836. The town was surveyed and platted by Hedgeman Triplett December 1st, 1835, and the first sale of town lots was March 14, 1836. The first lot sold was 13, on which Dr. J. R. Hoods' dwelling now stands. It was bid off by W. H. Cunningham, Circuit Court Clerk. William Hightower, then Sheriff, bid off at the same sales lot 108 and during 1836 a log Courthouse was built on this lot, near where R. T. West's store stands at present. So, J. W. Bradshaw was no doubt correct when he said; "I was at the first Circuit courts ever held in the court house at Wedowee".
Minutes kept on bark
We quote, J. J. W. Bradshaw again; he says: "The minutes of the court were kept on bark". At first, we thought he was talking through his hat, but when we began to think about how few white families there were here, no post office in the county and the nearest trading point perhaps at Wetumpka, then in Montgomery County, how strict the United States laws were over trade agents who were under $5,000 bonds and the little use they had for writing paper, we decided to believe him. Imagine, if you please how far from anywhere but home these people were and how many other things more needful than paper and you will believe him too. This accounts for the missing official records in the Clerk's office.
1JAMES MILES KILLIAN GUINN, author of this history of Randolph County, published in the Randolph Toiler, Wedowee, Alabama, in 1896, the third son of James W. and Catharine Ann (Dobson) Guinn, was born November 5, 1835, at Franklin, Macon County, N.C., and died at Langdale, Alabama, June 8, 1903, and is buried at Wedowee. He was educated in the common schools and in 1858 removed to Texas but returned to Alabama and volunteered for service in the Confederate Army and was mustered into service at Montgomery, July 28, 1861. He arrived at Richmond, Va., a few days later and was made Lieutenant of Company K, 13th Alabama Volunteers and afterward promoted to Captain. The Colonel of the Regiment was Birket D. Fry, a Californian, who was at the time living in Tallassee, Ala., holding a position with the Tallassee Mills. Mr. Guinn's regiment was in A. P. Hill's Division under Stonewall Jackson. He lost his left arm at Cold Harbor in the seven days fight. He was at Chancellorsville, in the Wilderness Battle and at the seige of Yorktown. He married first Emily F. Burton, at Wedowee, Ala., February 27, 1862, and three children were born of that union, Emily, Katy and Robert. His wife died November 6, 1865, at Alto, Texas. The next year he returned to Alabama and on February 21, 1869, married at Wedowee, Mary F. Foster, daughter of Byrd Culbertson. This wife died August 1, 1907. Mr. Guinn was a farmer, owned and edited the Enterprise Publisher, Wedowee, from 1873 until 1875. He was County Superintendent of Education between 1873 and 1879; was in the mercantile business in Roanoke, 1879 until 1883 and was U. S. Storekeeper and Guager under Cleveland's first administration.
SOURCE
Alabama Historical Quarterly, Vol. 04, No. 03, Fall Issue 1942.
First Mardi Gras in America

The Mississippi Bubble Burst

Royalists settle in Alabama

Sophia McGillivray- A Remarkable Woman

The Federal Road – Alabama's First Interstate