(excerpt transcribed from)
HISTORY OF COOSA COUNTY
by
Rev. George E. Brewer
(excerpt transcribed from
SCHOOLS AND CHURCHES
Other Church denominations in Coosa County
Of the Presbyterians, the first church was at Carolina, and for a time it was a strong church, but death and removals finally broke it down. The writer has been told that Alexander Smith deeded the land for the graveyard that was used by them and has since been used by others. Presbyterians in our section have not been given to occupying the country like Baptists and Methodists.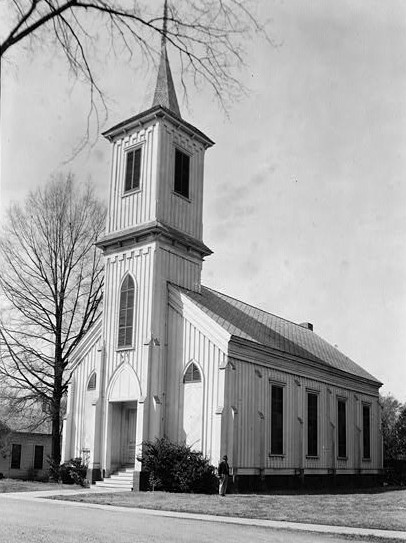 Wetumpka Presbyterian church in present-day Elmore County, Alabama (formerly Coosa County) ca. 1939 (Library of Congress)
The Presbyterians have another church above Sockapatoy called Webster, that had a pretty good membership, and still continues, unless the church at Goodwater has absorbed it.
There was a church also between Weogufka and Marble Valley that was kept up for some time from as early as the fifties. It may still be in existence.
Later there was another established at what was called Pine Flat, three miles above Nixburg. This was named McAlpine, and yet exists. There is a cemetery there.
If there were other Presbyterian churches in the county the writer has not been able to learn, except the small organizations of Cumberlands at Nixburg, Sockapatoy, and Rockford, kept up by Jonathan Mitchell for a number of years. He was a very earnest consecrated man.
It is not known by the writer whether the "Christians or Campbellites" ever succeeded in establishing any churches in the county or not, or others than those named.
Change in rowdy habits
It would have been much more satisfactory to have given a better view of the churches than has been given, for their influence has had much to do with changing the drinking and rowdy habits that prevailed in so many places for many years.
Most crossroads, and many other places had their drinking shops, and Saturdays and public days had much that was bacchanalian about them. The improvement went on gradually, until the temperance agitation from about 1848 to 1854 gave it a rapid forward movement.
By 1856 the crossroads doggeries, as they were called, were mostly gone. Since the war there has not been anything like the old practices of drunken rowdyism that prevailed earlier.
SOURCE
(Transcribed from HISTORY OF COOSA COUNTY BY REV. GEORGE EVANS BREWER CHAPTER VII SCHOOLS AND CHURCHES) 1907)