FREE AND ACCEPTED MASONS OF ALABAMA
From:History of Alabama and dictionary of Alabama biography, Volume 2
By Thomas McAdory Owen, Marie Bankhead Owen
(transcribed from an article written in 1921)
The first Masonic lodge in Alabama was Madison Lodge No. 21, at Huntsville, organized under dispensation issued by the grand master of Kentucky, August 29, 1811.
The first officers of this earliest lodge in the State were Marmaduke Williams, Worshipful Master, John C. Hamilton, Senior Warden, William Harrison, Junior Warden. A charter was granted to the lodge August 28, 1812, and the following officers were installed: Lewis Watson, Worshipful Master, Thomas Fearn, Senior Warden, John J. Winston, Junior Warden.
There were several other subordinate lodges in the State prior to the organization of the grand lodge, among them
Friendship Lodge No. 6, at Mobile, chartered September 4, 1813, under Louisiana jurisdiction, with James Lyon as Worshipful Master, S. H. Garrow, Senior Warden, and Charles Stewart, Junior Warden – declared forfeited July 1, 1820.
Friendship Lodge No. 65, at St. Stephens, under North Carolina jurisdiction – charter forfeited in 1816.
Alabama Lodge No. 21, at Huntsville, organized under Tennessee jurisdiction April 6, 1818, Dispensation issued by the Grand Master of Tennessee April 6, 1818 to William Atwood and others. and chartered October 14, 1818 – Delegates were sent to organize the Grand Lodge June 11, 1821.
Washington Lodge No. 23, at Hazel Green, organized under Tennessee jurisdiction July 6, 1818, with Daniel S. Leonard as Worshipful Master 6, 1818. This Lodge declined uniting with the Grand Lodge of Alabama, and continued under the jurisdiction of Tennessee until 1829, when it surrendered its charter.
Eureka Lodge No. 16, at Blakeley, chartered under Louisiana jurisdiction March 27, 1819, with William Coolidge as Worshipful Master. Sylvester Bell as Senior Warden, and E. G. Sheffield as Junior Warden – organized June 5, 1819 – forfeited charter prior to June 1821
Alabama Lodge No. 51, at Claiborne, chartered under South Carolina jurisdiction June 25, 1819, with John Murphy as Worshipful Master – Delegates were sent to organize the Grand Lodge June 11, 1821.
Rising Virtue Lodge No. 30, at Tuscaloosa, organized under Tennessee jurisdiction August 2, 1819, and chartered October 5, 1819. Delegates sent to organize the Grand Lodge June 1, 1821.
Halo Lodge No. 21, at Cahaba, organized under Georgia jurisdiction February 21, 1820, with John Taylor, Worshipful Master, Thomas Wood, Senior Warden, and John Brown, Junior Warden. Charter granted January 24, 1821. Delegates were sent to organize the Grand Lodge June 1, 1821.
Moulton Lodge No. 34, at Moulton, organized under Tennessee jurisdiction May 2, 1820, and chartered October 4, 1820, with George A. Glover as Worshipful Master;
Franklin Lodge No. 36, at Russellville, organized under Tennessee jurisdiction October 3, 1820 to Richard Ellis and others. John S. Fulton signed the Constitution as representative of this Lodge under the name of Russellville Lodge No. 36 and the Lodge chartered as No. 7, although his name is not recorded in the proceedings as being present.
Tuscumbia Lodge No. 40, at Courtland, organized under Tennessee jurisdiction March 3, 1821, and chartered December 18, 1821. Surrendered charter in 1824 and united with the Grand Lodge of Alabama.
Farrar Lodge No. 41, at Elyton, organized under Tennessee jurisdiction March 6, 1821, by Thomas W. Farrar and others. Delegates were sent to organize the Grand Lodge June 1, 1821.
St. Stephens Lodge No. — at St. Stephens, Alabama, organized under North Carolina jurisdiction April 12, 1821, with Silas Dinsmore, Worshipful Master, Israel Pickens, Senior Warden, and Samuel St. John, Junior Warden. Delegates were sent to organize the Grand Lodge June 1, 1821.
Marion Lodge No. , at Suggsville, Alabama organized under Georgia jurisdiction May 28, 1821. This Lodge united with the Grand Lodge of Alabama and received charter December 18, 1821, as No. 12.
Nine Subordinate Lodges when Grand Lodge was formed
When the grand lodge was formed in 1821, there were nine subordinate lodges represented. The number of their members is not available. In 1846 the number of subordinate lodges composing the grand lodge had increased to 78; and while there is no record available showing the membership, it is probable that the increase in the number of Masons in the State had been at least proportionate to the increase in the number of local lodges. In 1921 there were 565 lodges and 42,692 members in Alabama.
Standards are high to become a Mason
The intellectual, the moral, and even the physical standards for the individual Mason have always been high. In all three he must reach at least the normal. Defect in any one is sufficient cause for rejection of a candidate for initiation, and a serious lapse on the part of a member is likely to cause his suspension or expulsion after trial before his lodge.
Even a physical injury sustained after initiation, if it be such as to prevent the proper exemplification of the ritual, may stand in the way of progress to higher work and the more advanced degrees. The qualifications for admission to the order, as stated by the grand master in 1911, are as follows: "He (the candidate) must be a normal man, neither defective, dependent, nor delinquent.Physically, mentally and morally he must reach the normal standard. Neither wealth, influence nor power alone qualifies a man to be a Mason."
After a man becomes a Mason he is expected to preserve and cultivate these characteristics by the practice of the four following cardinal virtues: "Temperance, that curbs his sensual appetites, and 'keeps his words and actions within the due limits of decency and order;' Fortitude, that qualifies him to undergo any sacrifice rather than compromise his honor; Prudence, that foresees evil and wisely avoids it; and Justice, that enables him 'to do unto others as he would they should unto him.'"
Practically every volume of the Proceedings of the Alabama Grand Lodge contains references to one or more suspensions or expulsions for "unmasonic conduct" which broadly interpreted, means anything that contravenes the moral law, or the ethical code of the order.
Examination of these Proceedings for a number of years shows that Masons have been suspended or expelled from Alabama lodges for a multiplicity of reasons, among others the following: drunkenness, profanity, immorality, falsehood, cheating, slander, defrauding, embezzlement, gambling, dueling, manslaughter, felonious assault, threatening a person with a pistol, voluntary bankruptcy, attempted bribery, abuse of wife, abuse of a stepson, wife-abandonment, bigamy, seduction, being in public company with a woman of questionable character, getting money under false pretenses, attempting to defraud in the division of a crop, raising the amount of a receipt for a payment on a debt, refusing to pay a debt to a Master Mason though able to do so, borrowing money from a brother Mason and failing to repay it as promised, attacking the good name for truth and veracity of a brother Mason, casting a black ball for reasons which did not affect the character and qualifications of a candidate, failing or refusing to abide the result of an arbitration of a business matter, receiving information from a brother Mason under protection of the Masonic oath and afterward using it as the basis for the prosecution of a suit in the courts, communicating to a "profane" certain statements made to and received by him "on the square," and general worthlessness.
Masonic organizations are benevolent and fraternal
The activities of Masonic organizations include, of course, the relief of unfortunate members and their dependent families, and this is one of the important features, but not by any means the only one.
Masonry is benevolent, but is more; it is fraternal, but it goes deeper. It undertakes, by its precepts and its practices, by its symbolism and, by its code of morals, which is the practical exemplification of its symbolical teachings, so to influence its members as to make them better men in every relation of life.
Charity, then, is one of its activities, but not ostentatious charity. Records of charity bestowed are not kept, and public announcement of philanthropies is not permitted, either to the lodges or the members, nor may any Mason claim or receive praise on account of charitable deeds.
In addition to its functions with respect to fraternity, charity, education, and morality among its members. Masonry has its social features. In the local lodges the workers frequently are called "from labor to refreshment," and during the communication of the grand bodies, good-fellowship is promoted by social intercourse and diversion. Thus Masonry makes its appeal to all sides of men's natures, and, when its precepts are mastered, tends to develop the "four-square man."
Charity is one of the corner stones of Masonry, but it is nevertheless difficult to give a definite statement of the character of its practice or of specific benevolent actions. The lodges keep no records of their charities, and boastfulness or "publicity" of charitable deeds is held to be unmasonic.
However, many instances of relief of individual cases of need become known to persons outside the order, and its organized benevolencies can not be concealed. The latter have taken the form of support of educational institutions, contributing to worthy public' charities, and the maintenance of Masonic institutions for the care of indigent brethren and their dependent families and the dependent widows and orphans of deceased Masons.
Charity is practically universal among Masonic organizations
As stated in the address of the grand master to the Alabama Grand Lodge in 1911, charity in one form or another is practically universal among Masonic organizations.
"In almost every Grand Jurisdiction in our country," he said, "provision is made in some practical form for the indigent brother, the Masonic widow and helpless orphan. The methods adopted may differ, but in all cases, however, there is that same willingness to provide for that brother who has fought and lost in the battle of life, his widow and orphan children."
The outstanding feature of Masonic benevolence in this State was the Masonic Home near Montgomery for indigent Master Masons and the widows and orphans of deceased Master Masons, which was opened in January, 1913, and maintained by the Grand Lodge. The institution, both with respect to its equipment and its management, reflected great credit upon the spirit of liberality of Alabama Masons.
The Alabama Masonic Home
The postmark date on the back of this postcard is August 14, 1917
from Alabama State Archives
Montgomery. Masonic Home. Opened 1912; conducted by the Grand Lodge, A. F. & A. M.; for "indigent master masons in good standing, and widows and orphans of deceased master masons;" both sexes admitted; estimated value of property, $126,007.29.(History of Alabama and Dictionary of Alabama Biography, Volume 1)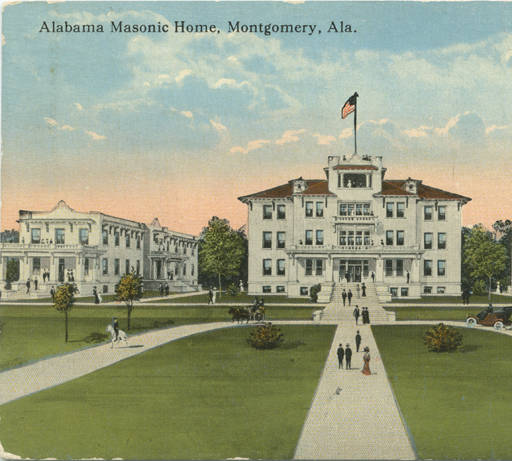 While the Masonic Home was the great official benevolent activity in the State, on which the main efforts of the grand and subordinate lodges was bent, it did not supplant all other forms of charity. "The Home did not relieve the Mason from his duty to contribute to the very best of his ability to the relief of distressed Master Masons and their families; nor did it relieve the subordinate Lodges of their responsibilities as Lodges to the same purposes."
Masonic organizations in Alabama have always given encouragement and practical aid to educational endeavor among the children, not only of their own members, but of the entire community as well. The subordinate lodges and the several grand bodies have contributed liberally to specific educational undertakings, and have given their moral support to the principle of public schools for all children in the State.
Prior to the War, before the establishment of a State supported public school system, several Masonic lodges founded and furnished the necessary financial support to schools, usually called academies or institutes, both for boys and for girls, in different parts of the State.
The first of these Masonic academies was the Dayton Literary Association, for young women, organized in Marengo County in 1842 and incorporated February 14, 1843. Its name was changed to The Masonic Institute, January 24, 1848. It was empowered by the legislature to grant diplomas or certificates and to confer the customary degrees "in the arts and sciences."
The Central Masonic Institute, of Dallas County, was incorporated February 17, 1848, by "the most excellent William Hendrix, Grand High Priest of the Royal Arch Chapter of the State of Alabama, and the Most Worshipful Rufus Green, Grand Master of the Grand Lodge of the State of Alabama and Charles G. Edwards, Nimrod E. Benson, John M. Strong, William Seawell, William M. Lapsley, William Waddell, Jr., George W. Gayle, Wiley Milton, John R. Somerville, Abner Jones, and Thomas B. Carson." It also was authorized to grant diplomas and confer the usual degrees.
The building below was completed by the Selma Fraternal Lodge No. 27 of the Free and Accepted Masons in 1847.The organization had it built, at a cost of $15,000, to serve as a school for orphans and the children of indigent Masons. It first opened its doors in October 1848 as the Central Masonic Institute. The school was not a success, and within a few years the mortgage on the property was lost by the Masons. It served as a Confederate hospital during the Civil War, then a Freedman's Bureau Hospital, and the Dallas County Courthouse until 1902. It was leased to Selma Military Institute until 1908 and Vaughan Memorial Hospital in 1911. The City of Selma owns it now and it reopened as the Historic and Civic Building.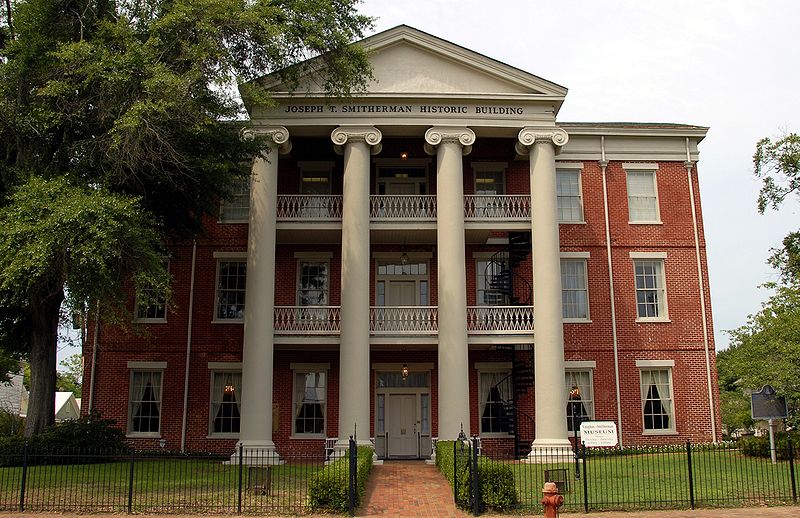 In 1849 the trustees installed a military department; and, by joint resolution of the legislature, January 19, 1850, they were authorized to receive from the United States Secretary of War a supply of arms suitable for the military training of the pupils.
On February 5, 1852, the name of the institution was changed to the Masonic University of the State of Alabama. Besides the foregoing, there were several other institutions of learning founded by the Masons and incorporated by the legislature, among them the following:
Dallas Masonic Academy, of Dallas County,

January 13, 1846; (later became Selma High School)
East Alabama Masonic Institute, at Oak Bowery, Chambers County, February 11, 1850;
Dadeville Masonic Female Seminary, February 3, 1852, under the patronage of Tohopeka Lodge No. 71 and Dadeville Chapter No. 45;
Dadeville Masonic Academy, of Dale County, February 9, 1852;
East Alabama Female Institute, at Talladega, February 9, 1852, under the auspices of Clinton Lodge No. 38;
Courtland Masonic Institute, February 18, 1854, sponsored by Courtland Lodge No. 37.
East Alabama Female Institute by Frederick Manning ca 1933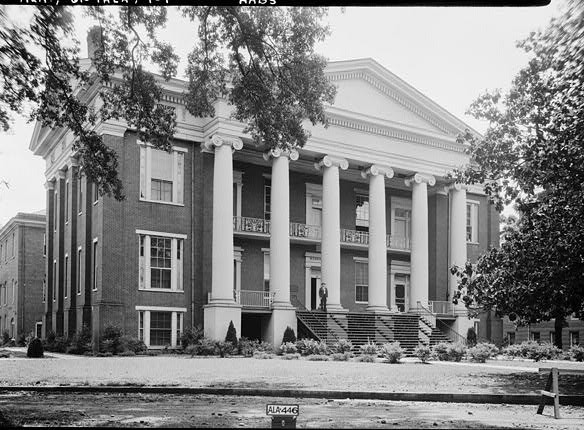 The spirit by which Masons are actuated in their support of education was summarized in the report of the committee on education of the Grand Lodge of Alabama in 1848, as follows:
"Our brethren have not contented themselves to clothe the naked, and feed the hungry orphans of deceased brethren. The relief of their physical necessities would not distinguish the Mason from the humane of every order and class of society. But animated by a higher and a more noble aim, they are striving not only to enable those dependent upon the Craft to live, but to make their lives useful.
To cultivate the moral feeling, the soul. To make them not only living monuments of the excellence of our order, by qualifying them for all the duties incumbent upon them as citizens, but to fit them as living stones for that spiritual building, "that house not made with hands, eternal in the heavens."
In many Alabama towns, Masons built the first schoolhouse, usually it was two stories with the Masonic Lodge on the first floor and schoolhouse on the bottom floor as below.
Students and faculty in front of the second school built in Dolomite, Alabama, located on Edwards Street ca. 1913 – Masons met in their Masonic Hall on 2nd floor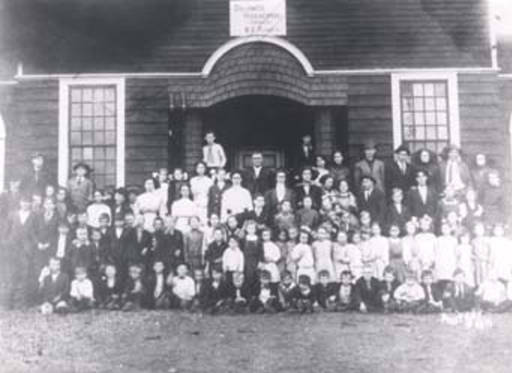 Dolomite school on Edwards Street

Masonic bodies do not concern themselves officially, or as organizations, with political contests, whether of candidates or of measures. It has been a cardinal principle of Masonry that the fraternal spirit of the order and the brotherly relations between the members of its various general and local bodies should never be permitted to suffer on account of anything outside the order.
In their lodges, members are expected to lay aside all disagreements and animosities; and in their councils nothing which does not concern Masonry is given consideration. It was considered matter for congratulation that the gubernatorial contest of 1894, one of the most bitter in the history of the State, did not disturb the fellowship of Masons nor affect the proceedings of their organizations.
Notwithstanding its policy of "keeping out of politics" and standing aloof from all contests of parties and of individuals, Alabama Masonry has not hesitated to endorse, either officially or through its prominent members individually, any principle of genuine progress or reform; and it has stood ready at all times to assist in creating a public sentiment favorable to the adoption of such principles.
It has favored education for all classes of people, and the Grand Lodge maintains a standing committee on education; it has advocated temperance, and many local lodges debar from membership all persons connected with the retail liquor trade. It has, in fact, usually thrown the weight of its great influence and prestige to the side of any policy of a social as distinguished from a merely political significance.
The constitution of the Grand Lodge requires that its headquarters be maintained in the city of Montgomery. Since 1846 its annual communications have been held there. Since 1898 they have been held in the Grand Lodge hall, on the third floor of the Masonic Temple erected during that year. This building occupies a lot 112 feet on South Perry Street and 150 feet on Washington Street.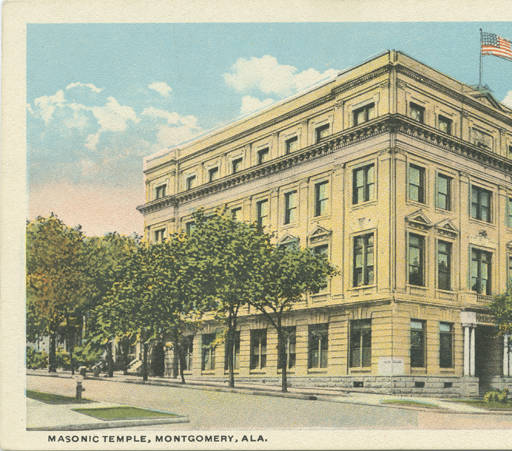 The "Temple" is a three-story building of pressed-brick, simple in design and of great architectural beauty. It fronts Washington but also has entrances on Perry Street. It is heated by steam supplemented by grates, and is equipped both with electric and gas lighting systems. The first floor is occupied by the executive offices of the grand lodge and the library; the second floor, by the rooms of the local subordinate lodges; and the third floor, by the grand lodge hall. (Note: this was written in 1921, the Grand Lodge Building has since moved from this location and is currently located in Millbrook, Alabama, a suburb of Montgomery)
In 1869 the Grand Lodge adopted a resolution requiring every subordinate lodge to pay to the grand secretary the sum of 50 cents for each member, in addition to all other dues, "for the purpose of creating a fund to be used in erecting a Grand Lodge Hall."
In 1871 a resolution was adopted directing the grand secretary to request the subordinate lodges to instruct their delegates to the next annual communication how to vote upon the questions of removing the Grand Lodge from Montgomery, and if so, to what point. The referendum resulted in a decision to continue Grand Lodge headquarters in Montgomery.
In 1872 a committee, appointed to secure a grand lodge hall and rooms for the Grand Secretary's offices, reported that suitable quarters could be obtained in the fourth story of "the new Masonic Temple," at the northwest corner of Bibb and Commerce Streets, under a lease for a term of 20 years. The building referred to was the one occupied by the Imperial Hotel. The recommendation was adopted, and the headquarters of the Grand Lodge remained in that location until the completion of the temple in 1898.
During the year 1874 a proposal was submitted to the Grand Lodge that it purchase the building known as the "Masonic Temple," but it was adversely acted upon; and in 1883 efforts were made to have the lease of the Grand Lodge rooms rescinded, but without result.
In 1889 the question again arose, and a committee reported that the lease could be canceled; also that investigation had disclosed only two buildings in Montgomery suitable for Grand Lodge purposes which could be purchased, one the Pollock Building, on Dexter Avenue, the other the building then occupied. In 1890 it was resolved to renew the existing lease for a term of 10 years.
The per capita tax of 50 cents levied by the Grand Lodge in 1869 was found to be inexpedient and was soon abolished. In 1875 a permanent trust fund, designed for the eventual purchase or erection of a Grand Lodge hall, was founded.
By 1893 the amount of this fund had reached $28,000, invested in 4 per cent bonds of the State of Alabama. This fact occasioned renewed interest among Masons in the acquirement of a permanent home for the Grand Lodge, which should be its own property.
Accordingly a committee was appointed in 1893 "to look out for a suitable site for a Grand Lodge building, upon which were made improvements, and which would pay a reasonable rate of interest upon the money invested . . . and at the same time would secure to us a suitable place to erect a Masonic Temple, when the proper time arrives." No action was taken by the committee, however, for several years.
On January 6, 1896, the Grand Lodge purchased from H. L. and John D. Roquemore, the lot on which the temple was to be situated; and proceeded to adopt a plan and advertise for bids to erect the building. The completion of these arrangements was temporarily postponed because of the depreciation of Alabama bonds in the financial markets; but on June 22, 1897, a contract for the erection of the building, at a cost of $28,000, was let to Cook & Laurie, of Montgomery. The dedicatory ceremonies for the temple were performed at 3 o'clock in the afternoon of December 7, 1898.
The Grand Lodge of Alabama was formed on June 11, 1821, in the hall of Halo Lodge No. 21 at Cahaba, by the representatives of nine subordinate lodges, as follows:
T. A. Rogers, T. O. Meux and W. B. Allen, Halo Lodge No. 21, Cahaba;
David Moore, Gabriel Moore and F. Weeden, Madison Lodge No. 21, Huntsville;
B. S. Smoot and Israel Pickens, St. Stephens Lodge No.__:
C. Perkins, Thomas Owen and D. McFarlane, Rising Virtue Lodge No. 30, Tuscaloosa;
John Murphy, G. W. Owen and J. H. Draughan, Alabama Lodge No. 51, Claiborne;
T. W. Farrar and J. Brown, Farrar Lodge No. 41, Elyton;
C. C. Clay and John M. Leak, Alabama Lodge No. 21, Huntsville;
Anderson Hutchison and Lewis B. Tulley, Moulton Lodge No. 21;
John S. Patton, Russellville Lodge No. 36.
T. W. Farrar was chairman and J. H. Draughan secretary of the organization convention, and the committee appointed to draft a constitution consisted of Messrs. Farrar, McFarlane and Rogers.
The convention elected a Grand Master, a Deputy Grand Master, Grand Wardens, a Grand Secretary, and a Grand Treasurer; and the Grand Master was empowered to appoint the rest of the Grand Officers.
The following make up the list of the first grand officers of Alabama Masonry:
T. W. Farrar, Grand Master;
Horatio G. Perry,First Deputy Grand Master;
Frederick Weeden, Second Deputy Grand Master;
John Elliott, Third Deputy Grand Master;
John Murphy, Senior Grand Warden;
Thomas Owen, Junior Grand Warden;
Thomas A. Rogers, Grand Secretary;
David McCord, Grand Treasurer;
Rev. J. B. Warren, Grand Chaplain;
David Moore, Orator;
Dugald McFarlane, Lecturer;
William B. Allen, Senior Grand Deacon;
Constantine Perkins, Junior Grand Deacon;
Bartholomew Labuzan, Master of Ceremonies;
Seth W. Ligon, Grand Pursuivant;
John W. Thorington, Grand Marshal;
Luther Blake, Grand Sword Bearer;
John Cox, First Grand Steward;
George Kreps, Second Grand Steward;
Robert B. Watson, Tiler.
The first five annual communications of the grand lodge, 1821-1825 were held at Cahaba, the next 21, 1826-1846, at Tuscaloosa and all subsequent ones, at Montgomery.
In 1836 there was not a sufficient number of delegates in attendance to constitute a quorum, and the Grand Lodge of Alabama was, therefore, declared to be extinct, and those present resolved themselves into a convention to adopt a new constitution and create a new Grand Lodge.
A third constitution was adopted by the Alabama Grand Lodge on December 4, 1854. The nature and purpose of the grand lodge are stated in section 6 of its constitution, as follows:
"The Grand Lodge has original and exclusive jurisdiction over all subjects of Masonic legislation, and appellate jurisdiction only from the decisions of the Subordinate Lodges; and its enactments and decisions upon all questions shall be the Supreme Masonic law of the State. It shall prescribe such rules and regulations for the government of the Subordinate Lodges as will, in its judgment, conduce to the welfare, prosperity and happiness of the Craft; and may grant Dispensations and Charters for the establishment of new Lodges, and may revoke and annul the same for such causes as it may deem sufficient; shall prescribe the manner, and shall require a uniform mode of working, but in no case to alter, remove, or displace the ancient and established landmarks of Masonry; and may require from them such reasonable dues and fees as will at all times discharge the engagements of the Grand Lodge."
The Grand Masters of Free & Accepted Masons of the State of Alabama 1811-2011