(Transcribed and unedited story from a WPA (Works Projects Administration) writer, William P. Burke.  "First Monday in Scottsboro, Alabama is held each month beginning on the Saturday before the first Monday of the month in Downtown Scottsboro at the Square. It's a trade day for local craftsman, food vendors, and anyone who wants to come sell or trade their items."
FIRST MONDAYS
Scottsboro, Jackson County, Alabama
written ca. 11/22/37
by William P. Burke
The center of an agricultural section, Scottsboro has its busy Saturdays when farm folks come to town. But the Saturday squeeze around the square is nothing compared to that on the first Monday in every month. Then, everbody (sic) and his dog in neighboring Marshall and DeKalb counties as well as Jackson trekes (sic) to Scottsboro mostly to barter, but also to buy and sell for cash.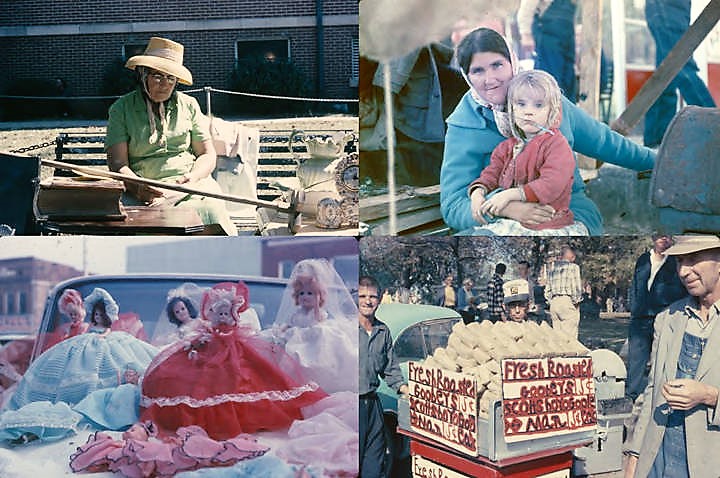 First Monday ca. 1960s by photographer Jim Peppler, Southern Courier (Alabama Department of Archives and History)
The "First Monday" scheme was originated and promoted 15 years ago in letters mailed broadcast by Pop Dealer, Walter Daniel, and Mule Trader Sam Swearengin containing a blanket invitation to all Jackson Countians (sic) to assemble with their swapable (sic) horses and mules.
First Monday's grew in popularity, broadened in scope until now (1938) anything from pocket knives to fat porkers are subject to dickering. Families complete with kids, pets and in-laws invade the town, pack the broad street around the square, spread their lunches on the courthouse lawn.
Ref: Alabama Magazine
Issue of 11/22/37
Prior to statehood, Alabama was a vast wilderness with a large Native American population. It is only natural that when new immigrants from other states arrived, conflicts over the land would arise. Soon, these small conflicts exploded into war.
Alabama Footprints Confrontation is a collection of lost and forgotten stories that reveals why and how the confrontation between the Native American population and settlers developed into the Creek-Indian War as well as stories of the bravery and heroism of participants from both sides.
Some stores include:
Tecumseh Causes Earthquake
Terrified Settlers Abandon Farms
Survivor Stories From Fort Mims Massacre
Hillabee Massacre
Threat of Starvation Men Turn To Mutiny
Red Eagle After The War
READ THIS BOOK FOR FREE ON YOUR COMPUTER!
THEN SIGN-UP FOR THE 30-DAY FREE TRIAL BELOW: