(Margaret Eades was the wife of Jeremiah Austill of the Legendary Canoe Fight. She, like her husband, was an early pioneer of Alabama. In this autobiography, we hear the actual words of her experiences. Jeremiah Austill's autobiography is also on Alabama Pioneers. The autobiography was published in The Alabama Historical Quarterly in 1944)
LIFE OF MARGARET ERVIN AUSTILL
Life in the Fort
Part III
One night our sentinels were hailed by Jere Austill, they came and awoke Father, who went out immediately and let him in. He told Father that the Fort Sinquefield had stampeded, the people all making for our Fort or St. Stephens, and the people in his Father's Fort, near Suggsville, were in the act of breaking up too, but they had concluded to send him down to the arsenal for a Company of Regulars, and if they could get them, they would hold the Fort.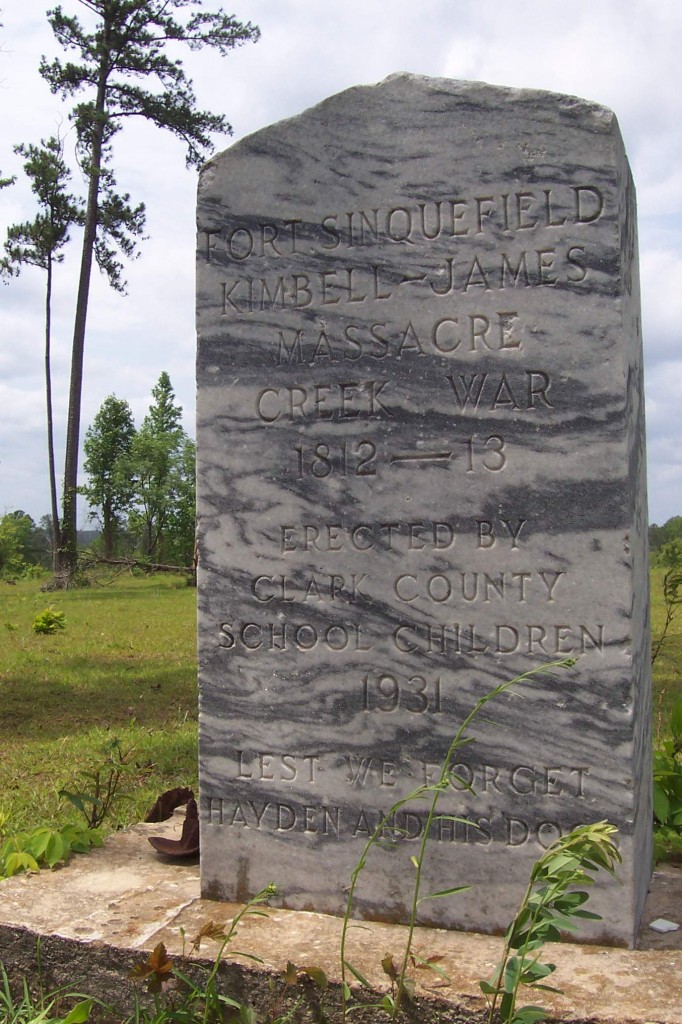 Mother roused the cook, and gave Jere (Austill) a nice supper at midnight, Father put him over the river and saw the General, told his business, and was glad to hear the order for the Company to come back with him, but Jere begged to be excused, said "Send the soldiers, but I must travel alone."
Hannah stayed home
We fared very well in the Fort, thanks to Hannah, the faithful servant that stayed at home. She made the garden, milked the cows, churned the butter, raised chickens, and came every other day to the Fort with a large basket on her head. Mother would say, "Hannah, you are a jewel, what would we do without you, thanks to your blue eyes." So often she said she saw moccasin tracks in the path.
Time passed on with fear and trembling with the grown folks, but we children engaged every moment. I was in every tent in the day, some laughable things would occur. There was a Mrs. Smith, quite an original, she was a very good woman, but violent tempered. The boys took great delight in teasing her, she often threw hot water on them, one day the carpenters were at work building a blockhouse to mount a cannon on the top, two of the men became outrageously mad with each other, and Garner, a great bully, who was always kicking up a fuss, drew a broadax on a defenseless man, screaming he would split him open.
She thought she killed him
The man took to his heels and Garner after him, threw tents over women and children, finally the man ran through Mrs. Smith's, and Garner after him, full tilt, the old lady grabbed up a three-legged stool, saying " — dead", but I let him have it, one corner of the stool struck Garner on the temple, and down he went, blood spurting from his nose. She thought she had killed him dead. She ran over to Mother's tent and said, "Where is Captain Eades? By the Lord I have killed Garner, and he must put me over the river, for Garner's folks will string me up if they catch me."
She ran to meet Father, and he took her to the river and set her over in the canebrake. She said, "Now you go back, and if Garner is dead, you come to the bluff and whistle on your thumbs, then by the Lord Old Betsy Smith is off to the Choctaw Nation." When Father returned, Garner had been brought around, and after that became a very quiet and peaceful man, never bragged or bullied more during the war.
SOURCE
The Alabama Historical Quarterly, Vol. 06, No. 01, Spring Issue 1944. (Margaret Eades who has left this hitherto unpublished account of her experiences as a young girl, daughter of a pioneer and witness of many of the bloody scenes of the Creek Indian War of 1813-14, married Jeremiah Austill. Mrs. Austill died in 1890 having borne several children whose descendants still live in South Alabama and other sections of the country.)
Save time and avoid pitfalls in your research. Where Do I Start? is filled with simple, no-nonsense instructions to set you on the path of your families' ancestry with the following information:
WHERE TO FIND – on-line resources, experienced genealogists will not be aware of many of these.
COURT RESEARCH – how to do court house research, where to find birth, death, social security records free on-line.
EIGHTY – ONE QUESTIONS – you should ask your elderly loved-ones before it's too late.
TIPS ON BREAKING DOWN THE WALL – Everyone faces some difficulties in research, often called a 'brick wall' but WHERE DO I START? provides suggestions for overcoming them.
Download WHERE DO I START? Hints and Tips for Beginning Genealogists with On-line resources
to your Kindle in less than 30 seconds or to your PC, iPAD, iPhone, MAC or Android device with FREE Apps from Kindle.