EARLY ALABAMA
by
J. D. DRIESBACH
(posted as public story on ancestry.com)
(This is a letter from J.D. Dreisbach to Lyman Draper in response to Draper's request about Native Americans about some historical facts about early settlers in Alabama.)
This is typed from a photo copy taken from microfilm in the DAR archives in Washington, D.C. There are a few words that have not yet been figured out, some spellings may vary and punctuation is very haphazard since the writer tended to run sentences together. Tried to make it more readable without taking away any meaning by putting in paragraphs where he seemed to start a different thought. I also took out some connecting words to make sentences. William C. Bell.
——————————————————————
From Draper Manuscripts
Vol 1 Series V
Georgia, Alabama and South Carolina Papers
Baldwin Co. Ala. – July – 1874
Lyman E. Draper, Esqr.
Madison, Wisconsin
Dear Sir,
In compliance with your request, I give you a few historical facts in regards to the early settlers and pioneers of Alabama. I have gathered my information on this subject from personal intercourse with some of the parties and from family papers and other old musty records of the dim past which I find amongst my father-in-law's (David Tate) papers. Particularly many incidents in the history of Alexander McGilvary and Wm Weatherford they both being relations of my wife. McGilvary being the uncle of my wife's father, William Weatherford being his (Tate's) half brother. Tate's and William Weatherford's mother being a sister of Alexander McGilvary.
Alexander McGillivray born 1750 Little Tallassee near Montgomery, Alabama – son of Lachlan McGillivray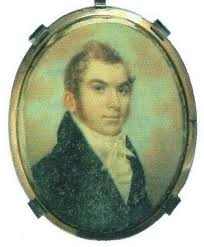 The McGilivary's
Lauchlin McGilvary, the father of Alexander McGilvary was descended from a Scotch Nobleman, he came to Savanna, Georgia sometime in the early part of the seventeenth century. From there he went to the Creek nation then in the upper part of this state, there he took for a wife a full blooded Indian woman of the Tuskegee, or Wind family. The Wind family being the most aristocratic in the Creek or Muscogee Nation.
He had five children by this wife, named as follows Alex, Sehoy, Jennie, Elizabeth, and Sophia. Alex, was the General Alexander McGilvary mentioned in Pickens' History of Alabama and was no doubt one of the most remarkable men that this state has ever produced, white or red.
When he visited General Washington (during Washington's Presidential Term) he took with him his son and my wife's father who were then boys about ten and fourteen years of age. He left them there at school under the eye of Washington, who took charge of them and boarded them in his own family.
They remained there five years and were then sent to Scotland to school where they remained two years where young McGilvary died. My father-in-law then returned and spent a portion of his time in the Creek Nation where he removed to Baldwin County in this state where he remained until he died in 1829.
Sehoy, the eldest of Alexander McGilvary's sisters married Col John Tate who was at the time acting as agent for the British Government at the commencement of the Revolution. Tate raised a large body of Indians (about 1500) and went to Savanna, or started then when he became deranged and was carried back to the Nation where he died. By his marriage with Sehoy he had but one child named David, who was the father of my wife and of Elouisa Tate who married Col.
George Tunstall of Virginia by whom she had seven children. The eldest son was named Tho Tate Tunstall who was U.S. counsel at Cadis in Spain when the war broke out in 1861. He was arrested by order of the U.S. Government for sympathizing with "The Lost Cause" and carried to Boston in chains. He was released form Fort Morrow and again arrested in Washington City as a spy, but not being able to convict him as such he was released on conditions that he would be sent to Europe, there to remain until after the close of the war. He was sent over on a Government "Man of War" where he remained until 1866.
Clement Claiborne Clay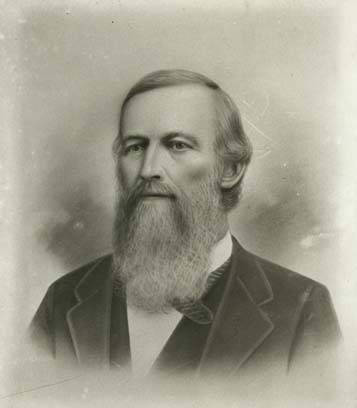 His father had two brothers who occupied high social positions, one being a physician of high standing and the other was Secretary of State during Bagby's term as Governor of Ala. The doctor was the father of the wife of U.S.
Senator C.C. Clay of Ala, she was one of the most popular and fascinating ladies who visited Washington City. She is still the idol of her family as well as of a large circle of friends and admirers. David Tate had two other daughters, one of whom is dead and the other one in Texas.
General Alexander McGilvary has no children living. He had three; Alex, Margaret and Elizabeth. Alex died in Scotland as I mentioned before. Gen McGilvary's wife was a full blood of Tuskegee Town of Indians.
After the death of John Tate his wife, Sehoy Tate, married Charles Weatherford (an Englishman) by whom she had six children, named as follows: William, John, Elizabeth, Major, Mary and Rosannah who was the youngest and is still living.
William Weatherford
William Weatherford (who was the terrible hero of Fort Mims and the (Hotspus ??) of the Creek Indians) was born at Talisse (sic) in the upper part of this state about the year 1774. He was reared to manhood in his native forest with the book of nature spread out before him which was his only teacher or guide.
He was well skilled in all the arts of hunting and woodscraft as well as the rudiments of war as practiced by his people. Nature appeared to have been lavish of her favors in the physical adornment of his person, for he was said to have been in form a perfect man with all the physical graces which nature can bestow. He was 6 feet and 2 inches in height and weighed about 175 lbs with a form of perfect mould with the bearing and air of a Knight of the olden times. In activity and muscular power he had no peer amongst his people and as he stood forth in his pride of manhood he looked as though he was born to command "and that there was none to dispute his sway".
Though fierce and terrible in battle, he was gentle and kind as a lady to the weak and helpless and generous and liberal to all when nature had its sway. It was this noble generosity of his nature which came very near being the cause of his losing his life at the massacre of Fort Mims in this county during the war of twelve and fourteen.
The night before the attack on the fort, he camped with his 600 warriors near where I am now living. He made them a talk and proposed to them that in the event they took the fort not to kill the women and children, he said that they had come to fight warriors and not squaws. The warriors accused him of having a "forked tongue and white heart" and told him that he wanted to spare his relations, several of whom were in the fort. There was several attempts made during the night to assassinate him.
He led them on and attacked the fort the next day and as soon as the Indians had fired the roofs of some of the houses in the fort and commenced cutting down the pickets he (Weatherford) rode off and went to his half brother's (David Tate) plantation. He took all the slaves on the plantation and hid them in the canebrakes to keep them from being carried off by the Indians as they returned to the Nation.
This was corroborated by several of our old family negroes who are still livin!g and who testify that it was about 4 o'clock P.M. on the day the fort was taken that Weatherford came to the plantation and carried them all off and hid them in the cane.
David Tate and a full sister of Weatherford was in Fort Pierce when Fort Mims was taken. Fort Pierce was about 1 1/2 miles from Fort Mims. My mother-in-law (Mrs Tate) lost two sisters in Fort Pierce when the Fort was taken. I have often heard her say that Weatherford had told her that as soon as he was satisfied that the fort would fall that he rode off as he had not the heart to witness what he knew would follow, to wit; the indiscriminate slaughter of the inmates of the Fort.
There are many incidents related of Weatherford which go to show the nobleness of his nature. Amongst them was the daring act of arresting (single handed) the murderer and desperado (Collins) who had wantonly and without cause murdered in cold blood an old man who was unable to defend himself. Collins had defied his (passeconnitatis ??) and swore he would kill the first man who approached him and not one would go to his arrest.
Weatherford was present and offered to take him single handed. He approached Collins who cowered beneath his eagle eye and submitted to Weatherford who tied him and carried him to Claiborne and delivered him to the authorities at that place.
He was always to be found on the side of the weak and defenseless and from the first days of his manhood believed that his peoples' rights had been trampled upon by the whites. Nevertheless he was opposed to his people joining the British in a war against the U.S. He used all the powers of his eloquence to induce them to remain neutral, he told them that when the Americans were weak and unprepared for war, they made the "British Lion howl and drove him back to his den".That now the Americans were strong and would be more certain to conquer again.
He said that it would be ruin to his people to join either side. Both the Americans and English were their enemies, that England talked to them with a forked tongue as did the Americans. That the palefaces were the enemies of the red man and cared not for his welfare or destruction. He said that he was willing to lay down his life for his people if it would benefit them and drive the white man from their country but that he was satisfied this would not be accomplished by their joining either side. These were some of the arguments he used to induce them to remain neutral.
This speech was made in presence of Tecumshe at the time he visited the Southern Indians to get them to join the Indian Conferency to exterminate the whites. Jimboy, Big Warrior, Little Prince and several others of the leading chiefs favored the views of Tecumpsee. But Jimboy and Big Warrior backed out, Weatherford said they failed to join the hostiles through cowardice.
Tecumtha from Alabama State Archives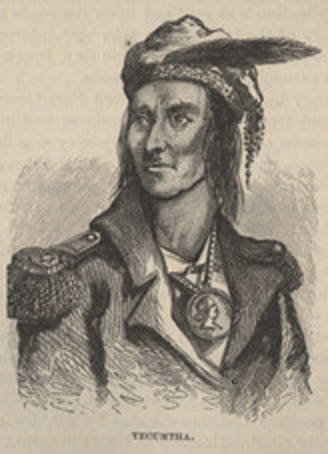 I will now give you some of the reasons which obtained with Weatherford to cause him to join the hostiles against the Americans. Himself and Sam Moniac (his brother-in-law, who was married to Weatherford's sister Elizabeth) had gone to (Chickasahay ??) with a drove of beef cattle and when they returned they found the warriors in council where they had decided to join the British. They had been influenced to take this course by Tecumshe and his prophet, Seekaboo who was a ( naspieanatta ??) chief, who spoke good English. (I spell Tecumpsee as the Indians pronounced it, Tecumshe).
The Indians had Weatherford's wife and children and threatened to put them to death if he did not join them. He made them the speech as above stated, and while he found that they were determined to go to war he told them that they were his people, that he had been born and raised amongst them, and that he would cast his lot with them though he believed it would be the cause of his ruin as well as t!hat of his people.
He told General Woodward after the war had closed that one great reason why he joined the hostiles after he found that they were determined to go to war was that in many instances he could be the means of preventing the hostiles from committing depredations upon defenceless citizens, particularly women and children. Aside from this he believed that the Americans would not thank him for joining them and would no doubt attribute it to cowardice as they did with many Indians who had done so.
In surrendering to General Jackson he did it from a magnamaneous and lofty patriotism, he did it to save his people from certain and impending ruin. At what period of the world's history was there a great and grand patriot and hero who performed a greater act of heroism?
He had every reason to believe that in surrendering to General Jackson that he was signing his death warrant for in the event that Jackson did not have him put to death for his participation in the terrible massacre of Fort Mims that the warriors and friends of those who perished there were thirsting for his blood and would seek the first opportunity to seek their vengeance upon him. Death stared him in the face on all sides, yet he went forward and offered himself as a sacrifice to save his people.
Mural by Roderick D. MacKenzie depicting the surrender of William Weatherford to Andrew Jackson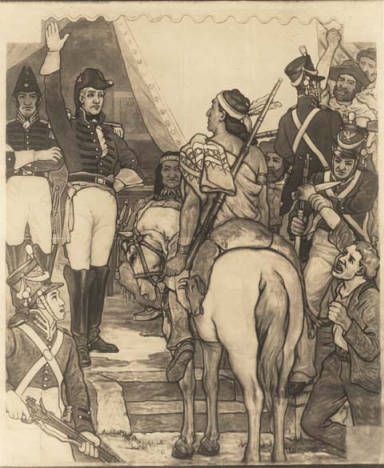 I have often heard the account of his surrender to Jackson from one who was partly raised with him. It was as follows. After Weatherford had determined to give himself as an offering as hostage for his people he rode boldly forward to Jackson's camp.
He was dressed in full Indian costume and as he approached the camp he met several officers outside of the lines. They did not know him and supposed him to be one of the friendly Indians, who were often passing in and out of the encampment. He inquired of a sentinel for Jackson's headquarters.
As he rode up to Jackson's tent Col. Hawkins the Indian Agent was sitting before the tent and instantly recognized him and exclaimed, "By the great Alexander here is Weatherford". Jackson, sitting in his tent writing, immediately sprang from his seat and came out sword in hand.
The news spread throughout the encampment like wildfire and the officers from all parts of the encampment rapidly approached Jackson's tent whilst from the so!ldiers came the cry of "Kill him, hang him, shoot him, etc."
Col Hawkins introduced him to Jackson and Jackson introduced him to the other officers as they came up. Jackson appeared to be somewhat excited at the loud and furious exclamations of the soldiers and swore by the "Eternal" that not a hair of his head should be harmed whilst under his protection, that he was a brave man and should be treated as such.
Weatherford told him (Jackson) that he (Jackson) was a great warrior and that he fought him as long as he could, but that many of his warriors were slain, that their bones lay upon many battle fields, that it was useless to continue against him any longer. But, could he animate the bones of his dead warriors he would fight him still. He said he knew that he was not ashamed of what he had done and did not fear death, that he had come to offer himself as a hostage for the future conduct of his people.
He said that Jackson could do with him as he saw proper and that he had done Jackson all the harm he could. After he had concluded they spent the night together in talking over the incidents of Weatherford's eventful life. Weatherford said that Jackson had a jug of rum in his tent and that Jackson put it on the table between them and that they shook hands and handed the jug many times during the night.
All who were present when Weatherford made his speech or talk were struck with the dignity and grace of his action. He was entirely uneducated but was a natural orator and is said by those who have heard him in the council that his burning eloquence unchained all hearsay. He spoke the English language with great propriety and astonished those who conversed with him when they learned that he had no claims to an education.
I will here relate an incident of Weatherford as told by Judge _____ a distinguished citizen of Mobile. He said that when he was a young man and reading law in Mobile his health failed him and the doctor advised him to get a horse and take a trip into the country. He said he crossed the Alabama river at Montgomery Hill in Baldwin Co. and wanted to go to Claiborne in Monroe Co. He went by Montpelier where David Tate (Weatherford's half brother) was then living.
He had a letter of introduction to Tate, was kindly received and hospitably entertained by Tate. In the course of conversation he asked Tate if he knew any thing about the history of "that blood thirsty monster Weatherford" and where he then was. Mr Tate replied that Weatherford was his half brother, that he was then at his house on a visit, had been there for some time and had just come in and was then in an adjoining room and that he would take great pleasure in introducing him to Weatherford.
The Judge said that he began to feel pretty wild and had some serious misgivings about losing his scalp. Dinner was announced in a short time and after they were seated at table, in walked Weatherford with the step and courtly grace of Prince (as the Judge had it). The Judge was introduced to Weatherford by Tate.
Weatherford seated himself opposite the Judge whilst they were eating. The Judge conceded to take a good look at Weatherford and raised his eyes for that purpose and as he did so he found the "eagle eye of Weatherford resting upon him" with an intenseness of gaze that made him drop his eyes upon his plate and he again thought of the dubious security of his scalp.
The gaze was a bit of mischief and humor gotten up by Tate as he had discovered that the Judge was not much acquainted with the history of Weatherford and not informed as to the relationship which existed between them. This incident took place a few years after the war had closed and the Judge was not living in Mobile during the war. The Judge had designed to spend a few days with Mr. Tate but the close proximity of the blood thirsty Weatherford caused him to change his mind.
After dinner! he informed Mr. Tate that he had very important business in Claiborne.  Judge's horse was brought out Mr. Tate informed him that his brother (Weatherford) would go with him and assist him to cross Little River which was between there and Claiborne. Holy St Patrick, there was a fix, however with many misgivings as to the crown of his head he could not then back out.
They started and when they arrived at Little River Weatherford told the Judge to take off his saddle and cross on a foot log and catch the horses as they came out on the other side. The Judge said that he had never unsaddled or saddled a horse in his life but that he would lay a wager that he unsaddled his horse as quickly as any hostler in Mobile could do it.
He said that if dispatch in promptly obeying the bloodthirsty monster's commands did anything in the way of security for his scalp he had accomplished that end. After they had crossed Little River and had gone a short distance Weatherford bid him good day and left him. The Judge said that he never bid a man as hasty good day in his life. He said he afterward became well acquainted with Weatherford and was charmed with his kind and cordial deportment. The Judge said that he never had seen but two men that he could not "look square in the eye" and them two men were Daniel Webster and Bill Weatherford.
After close of the war Jackson invited Weatherford to go to the Hermitage with him, Weatherford went with him and remained there nearly two years until after the excitement incident to the war and the massacre of Fort Mims had partially died away in the neighborhood of this terrible event. Jackson presented Weatherford with two fine horses which Weatherford brought home with him, one of which he presented to Captain Gordon of the U.S. Army.
The Hermitage – President Andrew Jackson's home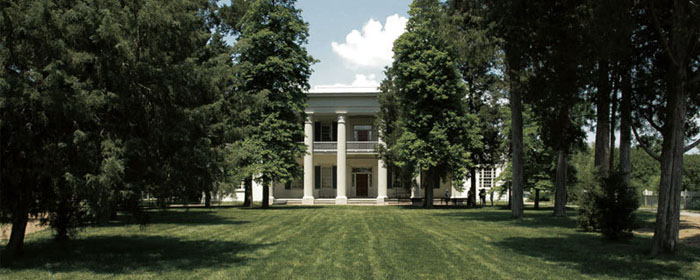 In regard to Weatherford's celebrated leap from a bluff on the Alabama River, I will give it to you as I got it from Mr. William Hollinger of this county, now dead, who had it from Weatherford himself. Weatherford was surrounded on all sides by a company of calvary and his only chance of escape was to take to the river.
He was riding a fleet and very powerful black horse that was perfectly under his control and (as Weatherford expressed it) "could make him go anywhere". He selected a place where the water from the hills had cut a gully down to the river bank, he rode down this gully until he came to the edge of the bank which was here about 12 feet high. By this time the dragoons had surrounded him on all sides, above and below, and several shots were fired down the gully.
He grasped his rifle in his right hand and spoke to his horse and gave him the spurs after facing him towards the bluff. The horse sprang forward and made two desperate bounds or leaps, the second one !carried him full ten feet clear of the bank into the river, the horse going entirely under the water and carried Weatherford down with him up to his waist. The gallant horse arose in a few seconds and struck out for the opposite bank with Weatherford upon his back.
After he had gotten about thirty yards from the bank, which he had leaped, the troops on the bank above and below him commenced firing upon him. He heard one of the troopers shout "don't shoot him, don't shoot him" but they continued to shoot at him until after he reached the opposite bank. The balls were striking the water on both sides of him whilst he was in the water, one ball cutting out a bunch of his horse's mane.
He said that he felt more anxiety for his horse than he did for himself as he was much attached to the noble brute who had shared with him many hardships and carried him safely through many perils. As soon as he reached the shore on the opposite side of the river he dismounted and took off his saddle and examined his horse to see if the had been struck by a __and replaced his saddle. He then made a gesture of defiance to the troopers and shouted to them to come over, mounted his horse and disappeared.
Had I time and space I could relate many startling incidents of this extraordinary and might I say wonderful man. Take him all in all he was one of the most remarkable men of his race or time. In connection with this declaration I will state that in 1837 I heard Dr. Webb of Greensboro, Ala says that he had heard General Jackson say that he looked upon Weatherford as one of the most remarkable men he had ever met. He said that he was emphatically the ("Marshall Sey" ??) of the Red Man on this continent and the elements of greatness so prominent in his organization and character. And had he lived under different circumstances he would have made an indelible mark upon the page of history.
For courtly and knightly sentiment and demeanor he was the peer of any man with whom he had ever had intercourse with. That he had personal intercourse with him under his own roof at the Hermitage for nearly two years and the more he saw of him the more he was impressed with the conviction that "Nature had certainly singled him out as one of her special favorites in concentrating in him so much of the true and great man which was _____ ?? over administration."
Weatherford was possessed of a large property in land, slaves, horses and cattle. He owned two plantations on the Alabama River and after the close of the war spent most of his time in attending to his farming interest and stock. He has two sons still living in this county named Charles and Alexander. Charles is his oldest child and is now 72 years old. In nobleness of character and all which goes to make up the true man, he has not a superior. He has always been highly respected and esteemed by all who know him.
He received the rudiments of an education in boyhood, is a man of fine sense and business capacity. He had a fine property in land and slaves when the war commenced but like thousands of others in like circumstances, was ruined by the war and is now poor and has to labor for his daily bread.
Alexander is about 56 years old and in personal appearance said to resemble his father. He is a man of fair education and always occupied a respectable position in society. He had another son, named William who went to the Creek Nation beyond the Mi (Mississippi ??) about 25 years ago and has not been heard of for many years. He is supposed to be dead. Weatherford's youngest sister, Rosannah, is still living, she is now 70 years old (in 1874) lives in Mt. Pleasant in Monroe county in this state.
She is truly a remarkable woman, was educated in North Carolina. She was said to be one of the most beautiful women of her day and noted as well for her lovely character as for her personal beauty. She married Capt. Joseph Shomo of the U.S. Army by whom she had seven children, four of whom are still living in Monroe Co. They, like their mother, have ever been highly esteemed for their strict integrity and high moral character. Her eldest son is a physician of high standing in his profess!ion, is a gentlemen of culture and high standing.
He is esteemed and respected by all who know him for his strict integrity and a manly trait of character and I may truly say that no gentleman in Monroe county occupies a more enviable position in society. Her youngest son is a farmer, a man of education and fine sense and like his brother respected by all who know him. Her other two children are daughters and like their brothers, esteemed by all for their moral worth, their lovely disposition and purity of character and personal charms.
Their mother reminds me of some of those grand old ladies of the olden times. All are impressed with the gentle and quiet dignity of her manners and feel that they are in the presence of no ordinary woman and no one in any community where she has lived has commanded a higher respect from all who knew her.
Head stone of Creek Nation, Sehoy III Tate Weatherford.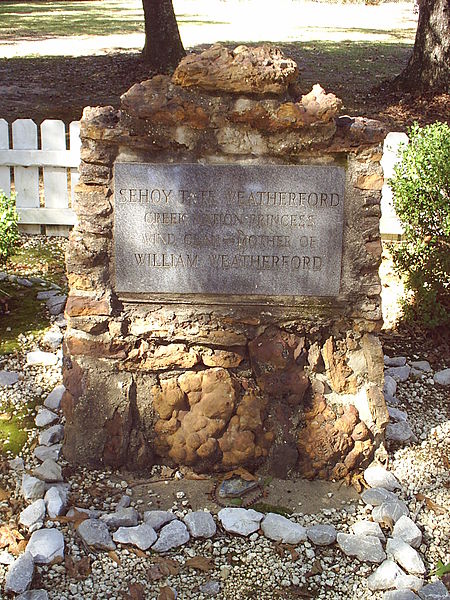 Weatherford's brother John did not join him in the war. He was fair and would have passed for a white man, he was tall and commanding in appearance. He always dressed with a great deal of ease and paid a good deal of attention to the adornment of his person. He had more the appearance of a gentleman of elegant leisure than a "man of blood".
He was a man of some education and general information, of strict integrity, of fine presence, gentlemanly deportment and high respectability. He was genial and cordial in disposition and a gentleman in every sense of the word. He left a family of three children, two of whom are sill living, a son and daughter. They are educated and intelligent and have always occupied highly respectable social positions.
David Tate
Next to Gen Alexander McGilvary the most prominent man amongst the Indians and early settlers of this county was my wife's father, David Tate. He was a man of great natural abilities, was well educated and a man of general information, of large means. His being the nephew of McGilvary exerted a greater influence over the Indians than any other man in this county after McGilvary died.
His views and opinions in regard to the policy of the U.S. Government in regard to the Indians was endorsed and respected by the government and went far to shape its course in negotiations with them. His influence over the Indians was greater perhaps than that of any other man.
He was very reserved and rather austere in his manners to strangers, but very cordial with those with whom he was acquainted provided he had confidence in their sincerity of purpose. I presume I can say with safety that there was no one who did more for the early settlers of this part of Alabama than David Tate.
His memory is still held in high estimation by all who knew him and particularly those who had seen aid at his hands. A special Act of Congress was passed for his benefit (in 1820 I think it was) and the General Assembly of Alabama passed a similar act for his relations and descendants in 1855. He died at Montpelier in this county in 1829.
He left four daughters, the youngest of whom is my wife. And if it was not overstepping the bounds of modesty or good taste there is nothing I could say in commendation of any lady in the land that I could not with truth say of my wife and her sisters. And in connection I hoped I may be pardoned for quoting the language of one of the most distinguished ladies of the South who in speaking of my wife said that "in her veins runs the very best blood of the south".
Weatherford died in 1824 and was buried (within three miles of where I am now living) on the spot where he camped with his warriors on the night before he attacked Fort Mims. His mother (Sehoy), his brother John and several other relations sleep by his side.
The following Memorial was prepared for his tombstone by Judge A.B. Meek of Alabama.
___________
A Memorial
of
William Weatherford
Head Chief, Warrior and Orator
of
The Creek or Muscogee Indians
in
The War of 1813 and 1814
under
General Jackson
A true Patriot, he defended his
Beloved Alabama
with the greatest courage, Genius and Eloquence
And "never yielded whilst hope remained"
___________
The battles of Fort Mims, the Holy Ground, Tohopeka and the Horseshoe, with many others distinguished in history witnessed his prowess and his misfortunes. His defeat was the downfall of his nation. His famous speech to General Jackson is the finest specimen of aboriginal eloquence and saved the sad remnants of his tribe.
After the war he resided near this spot where he lies buried, until his death, honored by all who knew him.
___________
He was born at Talisee in Ala 1774. Died at Montpelier in this state 1824. Leaving many children and relatives who intermarried with the present population.
___________
Though fierce his deeds and red his hand, he battled for his native land. Forget his faults, his virtues know a Patriot warrior sleeps below.
Sam Moniac
General Alexander McGilvary was connected with an extensive trading house, the firm of "Panton Forbes Co." located in Pensacola. After his death there was soon a litigation growing out of his interest in the firm and in this way the standing and title of his father Lauchlan McGilvary was ascertained. He was a Scotch Nobleman of the House of (Drummageglass ??). The Hon. John A Campbell of New Orleans, I think was the attorney in the case and furnished this information.
Weatherford's sister Elizabeth, married Sam Moniac a halfbreed, a descendant of a Hollander, who came into the Creek Nation in the middle of the seventeenth century. Sam Moniac's mother was the youngest sister of Osceola the celebrated Florida Chief. David Tate Moniac, a son of Sam Moniac and Nephew of Weatherford was a graduate of West Point.
He distinguished himself in the Florida war of 1836. He was promoted for gallantry to the rank of Major by brevet and was shortly after killed in a battle with the! Seminoles, commanded by Osceola his uncle. David Tate Moniac left two children and his wife, who are still living and all highly respectable citizens of this county.
Osceloa Billy Powell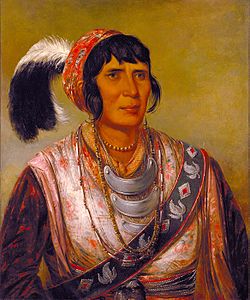 Sam Moniac visited General Washington in company with Gen McGilvary and Washington presented him with a medal which Moniac wore until he died in 1836, when the medal was buried with him. Moniac was always a true and consistent friend of whites though he married Weatherford's sister and Weatherford himself were great friends before and after the war.
I will here relate a daring deed of Weatherford and Moniac. There was a man by the name of Bowles who came into the Nation and represented himself to the Indians as a British Col. He raised a large body of Indians to go to war against the Spanish.
The Spanish authorities at St. Marks, St Augustine, Pensacola and Mobile complained to our Government and expected the Government of the U.S.A. to prohibit Indians residing within her limits to make encroachment upon their territory. Col. Hawkins, the Indian Agent of the U.S.A. was instructed to arrest Bowles.
The Agency was then at Pole Cat Springs in Macon County. Hawkins took Bob Natlon (known as the swamp singer), Old MadDog, Weatherford and Sam Moniac. Weatherford was then quite young. As they approached the camp of Bowles the Indians (under Bowles) presented a menacing attitude.
Hawkins told them that he wanted to hold a talk and after his talk they could shout him if they wished. Hawkins told the Indians that Bowles ! was a bad man and would bring harm upon them and that he had come to take him and that they must give him up.
The Indians began to menace and presented their guns, when Weatherford and Sam Moniac stepped boldly forward and seized Bowles and tied him. Hundreds of guns were cocked but the daring of Weatherford and Moniac startled and cowed the Indians and Bowles was carried off a prisoner. Weatherford and Moniac carried him to Mobile in a canoe and delivered him to the Spanish authorities with a letter from Col Hawkins. An old negro named Jonah belonging to my wife's father carried a letter from Col. Hawkins to the Governor of Florida at Pensacola notifying the Governor of the capture of Bowles.
Gen. Thomas Woodward informed me that Col Hawkins told that for inflexibility of purpose, reckless daring and consummate skill in executing whatever he undertook that Weatherford was without a peer. He said that no one but Weatherford with the limited means at his command could have contended as he did with the force brought against him, to subdue him and then was overpowered and not conquered or subdued.
That he only surrendered for the good of his people and that he believed that if he had thought he could have accomplished anything by it, he would have fought Jackson's whole army single handed.
Chief McIntosh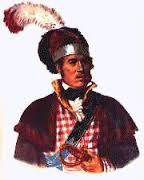 The Grand old Sachem (?) of all the Creeks or Muscogee Indians was James McQueen and there is scarcely any Creek Indians of the present day who has not some of McQueen's blood in his veins. McQueen was a Scotchman and came into the Creek Nation in 1716. He said he was in the British Navy in the service of Queen Ann. He had landed at St Augustine and that whilst on shore he struck one of the officers of the vessel and fled to the Creek Nation.
He took an Indian woman for a wife and from him sprang all the McQueens and their descendants now in the Creek Nation. He said the McQueens and their descendants are now as leaves in forest. Osceola was a grandson of James McQueen. Ophatholahola, the present speaker of the Creeks is a descendent of the McQueens. The McIntoshes, Rosses, Ridges and in fact nearly all the prominent Indians now in the Cherokee and Creek Nations are in some way connected with the McQueen stock.
I must now draw this hastily written and imperfect sketch to a close as the bread and meat question is the one which commands all of our leisure time in this poor unreconstructed (Pachalie ??) at this time.
I could tell you of one John Haque (white) who was captured by the Indians on the frontier of Pennsylvania when a child before Bradfords defeat. How Haque raised a son by a white woman at Detroit who took his mothers name of Girty and was called Simon Girty. How this same man Simon Girty contributed to General St (Calains ??) defeat in 1791.
How this same John Haque raised a family of children by an Indian woman and how the youngest son was the bloodthirsty and (sonocess ??) "Savanna Jack" who no doubt was the most relentless for the white man had in the Creek Nation. Even after the war closed it is said he never let an opportunity pass to kill or whip a white man. I have two old family negros who know Savanna Jack well and they corroborate the (halamanls ??) about the implacable hate that Jack maintained for the white man.
And they say that the only man that Savanna Jack was afraid of was "Mass Billy Wederford *" and him not much. I may resume at some other time.
I have the honor to be
Very Respectfully
Your obt Svrt
J.D. Dreisbach
PS Gen McGilvary's youngest sister Jennie married a French officer and was taken to France and all traces of her have been lost.
* Weatherford
Shop Amazon Warehouse Deals – Deep Discounts on Open-box and Used Camera Equipment
ALABAMA FOOTPRINTS Confrontation: Lost & Forgotten Stories (Volume 4)

a collection of lost and forgotten stories that reveals why and how the confrontation between the Native American population and settlers developed into the Creek-Indian War as well as stories of the bravery and heroism of participants from both sides.
Some stores include:
Tecumseh Causes Earthquake
Terrified Settlers Abandon Farms
Survivor Stories From Fort Mims Massacre
Hillabee Massacre
Threat of Starvation Men Turn To Mutiny
Red Eagle After The War