Jeremiah Austill ((1793- 1881) was one of the participants of the famous Canoe Fight that took place in Alabama in 1813. We hear his actual words in this autobiography from him. The autobiography was published in The Alabama Historical Quarterly in 1944 and the fifth part of the article is transcribed here which tells of some of his travels in 1818.
JEREMIAH AUSTILL AUTOBIOGRAPHY
Part V
I remained with my Uncle till the first of April, 1818. I set out on sail for New York, taking on some seven hundred bales of cotton, a storm came on when passing the bar, and was driven high and dry, had the cargo taken out and reshipped, in going through the channel were fired into by a whom we were approaching to speak to. We tacked about. Some days after, came very near being captured by a pirate, and but for a finer looking vessel approaching, which was captured, and we escaped and arrived in New York the 8th of May, 1818.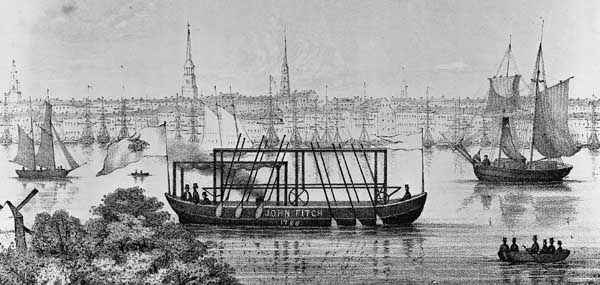 Returned to Claiborne 1819
The cotton was sold at thirty-two to thirty-five cents, I purchased a stock of goods, and shipped out for Files and Austill. Then came on to Baltimore, to settle some bills of my Uncle, and meeting with Major K we went down and spend a day with the officers at Fort McHenry. The next day the Major and myself returned to Philadelphia, settled some bills there, thence back to New York, where I remained until the 12th of December. I then returned by Charleston to Augusta, where I obtained a horse, and reached Claiborne the 5th January, 1819, to which place my Uncle had moved our store.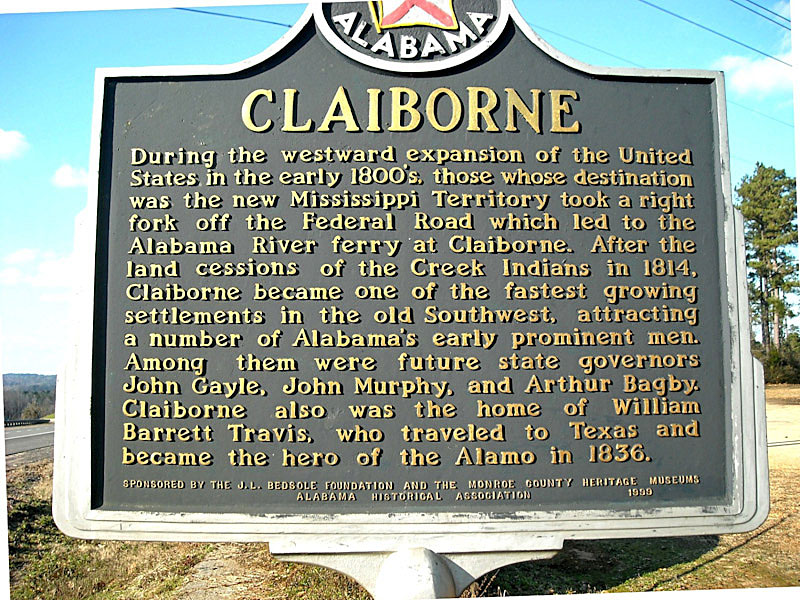 In 1820, we sold our stock at auction, having previously sold by wholesale to merchants at Cahaba, Montgomery and Greensboro, all of whom failed, as cotton fell from twenty cents to seven or eight cents, causing a general bankruptcy. My Uncle had been appointed Marshal for South Alabama, and on the 20th of October, died of the same year, leaving me much involved in debt.
Married Martha Hayse of Burnt Corn
I was married on the 9th of March, to Martha Hayse, daughter of Captain James Hayse, at Burnt Corn, the same year, and she died on the first of November, 1820. My father died on the 18th of October, 1818, from disease contracted in Florida, in pursuit of Indians, who had killed two families in what is now part of Butler County, he being Captain of a Cavalry Company at that time. After my wife's death, I sold my farm at Burnt Corn, and paid off some seven thousand dollars of my liabilities, and returned two negroes given to my wife by Captain Hayse.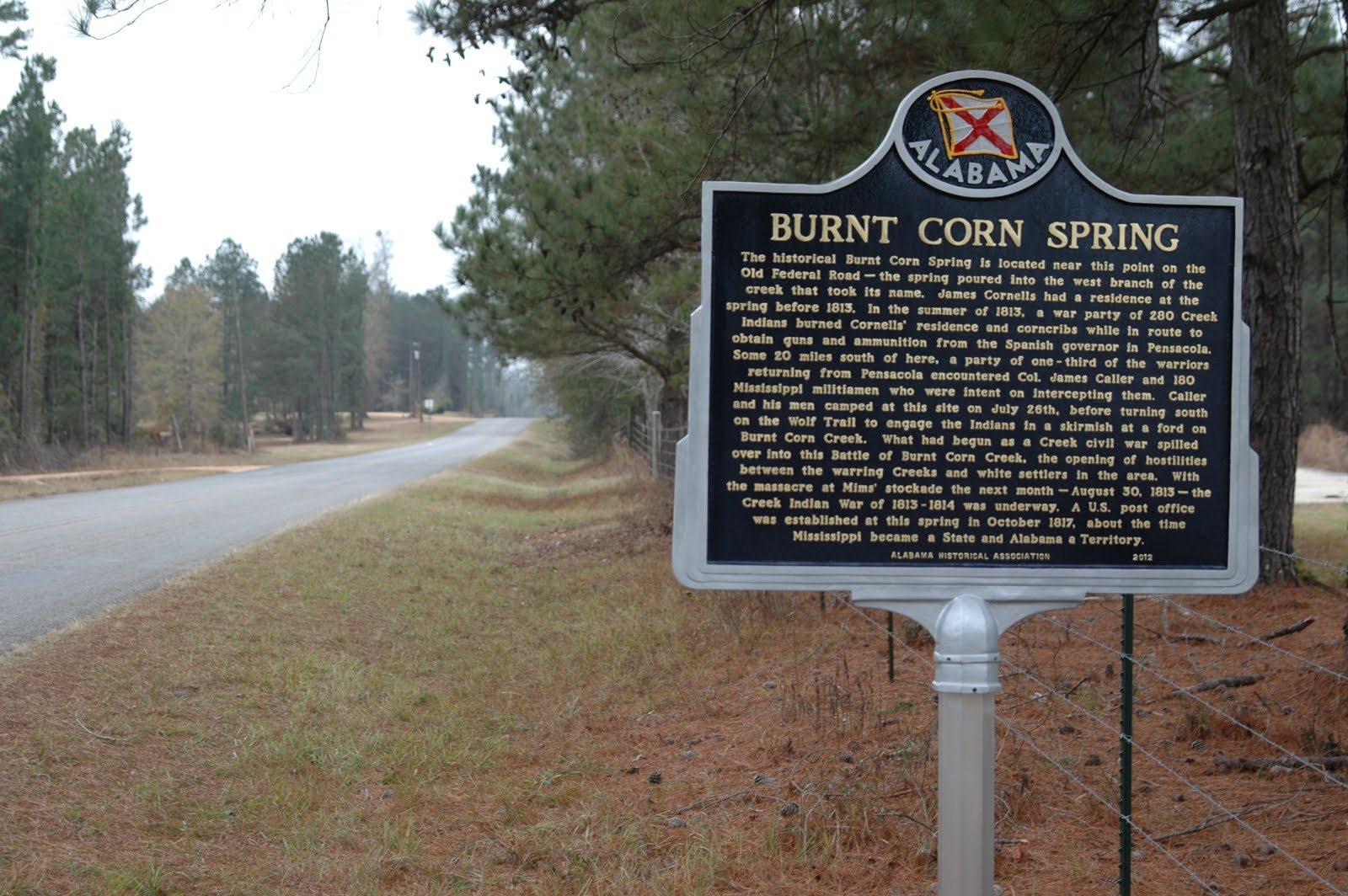 They all died of different diseases within three days
I transferred my interest in my Father's estate to my Mother, and of three fine horses I owned. They all died in the space of three days, of different diseases. Tolliver Livingston was appointed Marshal for the unexpired term of my Uncle, who being a cripple, appointed me Deputy, to discharge the duties of Marshal, which place I filled until the fall of 1823, when the Judge appointed me Clerk of the District Court at Mobile. I then settled there, and was appointed weigher of cotton, which was then weighed with English a slow process.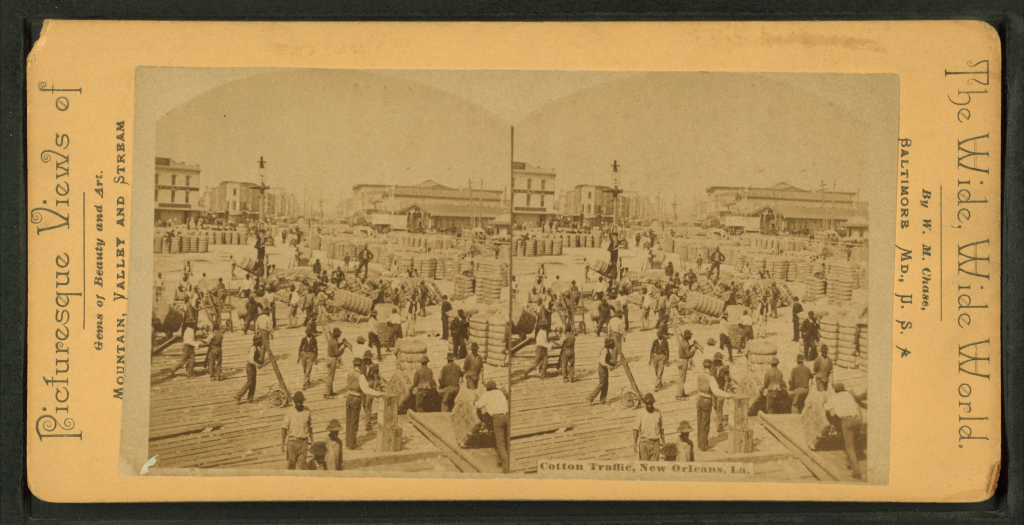 I soon after had the calipers made, by which I could weigh seven hundred bales or more in the day. Soon after the planters commenced sending their cotton to sell, which increased so much that I was compelled to resign the clerkship, going then entirely into commission business. In all this time, I bought a negro woman for my Aunt, and supported the family for two years.
The Irish Greens was made up in 1825
In 1825 a Volunteer Company of Irish was made up, called the Irish Greens, and elected me their Captain. And after being well organized and uniformed, the yellow fever killed all of the Company but six or seven, and broke up the Company in 1826; and in 1827, the first Hook and Ladder Company was formed, and I was made Foreman of the same, which place I occupied until February, 1829, when Thomas Rhodes and myself contracted to carry the mail to New Orleans, by land to Pascagoula, and thence by water to New Orleans.
We were to build the road for four thousand dollars, and carry the mail for fourteen thousand per annum. The contract was entered into in 1828, we completed the road and commenced carrying the mail in the fall of the same year. But from the increase of the passengers, and softness of the road during winter, caused several failures, and our boat did not answer the purpose.
I was in time to witness General Jackson's inauguration as President
Well, I determined to go and have a new boat built at Pittsburg, proceeding by the way of Washington, which place I reached in time to witness General Jackson's inauguration as President, and such was the crowd that not a vacant bed could be had within ten miles of the city. After trying in vain, I hired a chair to sleep in by the fire. About eleven o'clock at night, Col. Dinsmore came in from a large book sale and discovered me, and rousing up, gave me half his bed whilst I remained. After the inauguration, I drew eight thousand dollars on account of the contract, and to my astonishment, found the stages engaged for three days ahead.
General Jackson's inauguration as President
I got on board a steamer for Baltimore
A day after, however, a steamer left for Baltimore. I succeeded in getting on board, and found so many that no more than one half could even lie down that night. The next day we reached Baltimore, finding a number desiring to take the same route. We had a hard race for the office, I reached it first, and entered my name and a friend, making five, with three of the city. The Governor of Ohio and his suite, six in number, slipped off to the contractor, and were taken ere it came round for the first three. Seeing the trick, I got in the stage and shoved two of the suite overboard, and called in my friends. The result was, the Governor got out with the balance I of his suite, the first three got in, and off we drove.
SOURCE
The Alabama Historical Quarterly, Vol. 06, No. 01, Spring Issue 1944. The autobiography of one of Alabama's most distinguished pioneer citizens. (This valuable paper was presented to the Alabama State Department of Archives and History in 1912 by R. T. Irvin, of Mobile. It had probably come into Mr. Irvin's hands through Judge Henriosco Austill, son of Jere Austin. It was through Judge Austill that a very beautiful oil portrait of his father was presented to the Department and hangs on the walls of the World War Memorial Building in Montgomery. Judge Austill came to Clarke County with his father in 1813 and took part in succeeding years in the perilous border warfare of that day. He was only nineteen years of age when he participated in the famous Canoe Fight with Sam Dale and others. In his mature years he became an extensive planter, raising huge cotton crops. Descendants reside in South Alabama, Virginia and other sections of the country. He died in 1881.)
Stories include:
The Yazoo land fraud;
Daily life as an Alabama pioneer;
The capture and arrest of Vice-president AaronBurr;
The early life of William Barrett Travis in Alabama, hero of the Alamo;
Description of Native Americans of early Alabama including the visit by Tecumseh;
Treaties and building the first roads in Alabama.