JOHN C. D. 'MAT' TROTT
BIOGRAPHY and GENEALOGY
(1809 – 1883)
Bibb County, Alabama
John C. D. "Mat" Trott son of Benjamin and Sarah (Jenkins) Trott, was the first Trott pioneer we find in Bibb County, Alabama. His parents were from North Carolina and his father died in 1835. His mother probably died in Cannon, Tennessee where she was listed in the house of her daughter Sarah Patton (Trott) Webb.
The Trott family originated in England or Northern Ireland and were found in Maryland around 1688. John C. D. Trott's direct ancestors moved to Rowan, North Carolina then to Tennessee where many remained. Evidently, caught up in "the Alabama Fever", John C. D. "Mat" Trott (born June 16, 1809) moved to Bibb County around 1831. He married Celia "Cely" Parker September 20, 1832, by a Justice of the Peace. Cely (b. October 5, 1810, Laurens Co., South Carolina d. February 6, 1893, Bibb County, Alabama) was the daughter of John Parker and Sarah Brown and the sister of Elisha Cottingham, Jr's wife, Nancy Parker also pioneers of Bibb County, Alabama.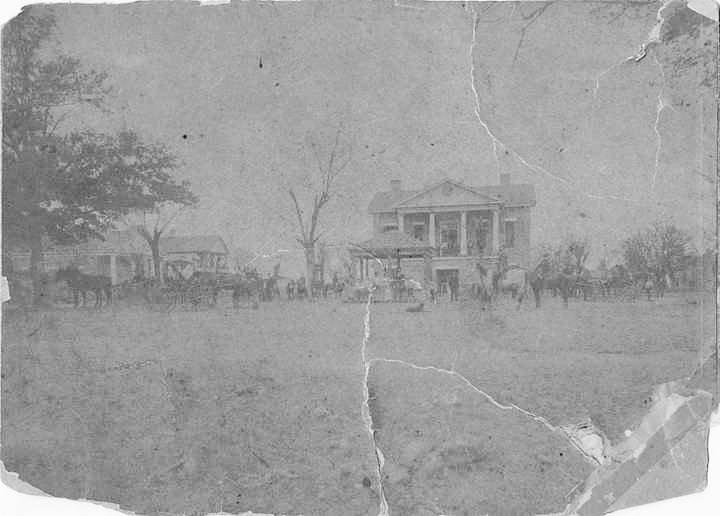 Bibb-County-Courthouse-in-Centreville-Alabama.-Looking-north.-The-structure-was-built-in-1859-and-was-razed-to-build-the-current-courthouse.-(Alabama Department of Archives and History Q60053)
John and Celia Trott settled in the Six Mile area of Bibb County, where he became a farmer. They had eight children, five boys and three girls. Known children are:
Samuel Parker Trott, the eldest son, was born March 24, 1835, in Bibb County, Alabama and little is known about him. He may have died early.
Evilina H. Trott was born April 30, 1836. She married John D. McKinney June 14, 1853. They had 3 sons, James Winston, William and John D. and one daughter Milly G. McKinney. William born 1856 died in 1861 and John D .born 1858 died in 1862. Milly G. McKinney was born Feb. 28, 1862, but Evilina died May 7, 1862. Mlliy G. and James Winston were living in the household of Pleasant McElroy in 1870 in Bibb County, Alabama.
John and Cely Trott's second daughter, Sarah Amanda married Hiram Crockett McKinney August 12, 1855, in Bibb County, Alabama. Sarah Amanda was born May 22, 1838, in Bibb County, Alabama and died August 6, 1920. Hiram and Amanda were living in Panola, Mississippi according to the 1870 census. They had six children with them in 1870.; John b. 1855, David b. 1858 AL, Mary b. 1860 AL, Crockett b. 1863 AL, Evaline b. 1864 AL, Celia b. 1869 AL. Sarah Amanda had been living in Panola, Mississippi but she returned to Alabama by 1880 after her husband died in 1879. She was listed in the household of her nephew James Winston McKinney and his new wife Nancy Abigail (Lowery) McKinney in Bibb County, Alabama.
Benjamin Franklin Trott was born August 22, 1840, to John and Cely Trott He married Cinthia Louise Trucks, daughter of Andrew Jackson and Jane Bryson (Potts) Trucks. They had ten children, eight daughters and two sons: Annie, William J. Mattie, Elisabeth, Beatrice, Sela, Samuel J. Sally, Mamie, and Da Rosa All were born in Six Mile, Bibb County, Alabama.
John C. Trott was the third son of John and Cely b. 1843. He moved to Panola, Mississippi next door to his sister Sarah Amanda (Trott) McKinney in 1870 along with his younger brother Wiley Rucker Trott b. Nov. 22, 1845. Wiley was single in 1870 but John was married to Mary b. 1843 in Alabama. John and Mary have 2 daughters in 1870, Zenia 3, and Minta 1 according to the Mississippi census and four more children; Belle 11, John 9, Mary E. 7, and Cora 4 in the 1880 census. John C. and Mary Trott's son John married Josie Shields in Mississippi and moved to Oklahoma by the 1920 census.
Wiley Rucker Trott, the fourth son was born Nov 22, 1845, in Six Mile, Bibb Co., AL. He married Mary Ellen Mitchell either in Mississippi or Bibb County, AL after 1870. Their first son Wiley Rucker Trott, Jr. was born Apr. 1870 in Mississippi. They had two other sons Benjamin F. Trott born Dec. 16, 1876, in Bibb County, AL and Jim Trott birthdate unknown and one daughter Sallie C. Trott. Wiley R. Trott is living with his daughter Sallie (Trott) Roberson and son-in-law Mane Robertson in the 1910 census of Six Mile, Bibb County, Alabama. He was listed as a widower.
William C. "Billy" Trott was the youngest son of John and Cely Trott.. He was born July 1, 1848, in Six Mile, Bibb County, Alabama. He married Lucinda A. Cottingham, the daughter of John Pinckney and Mary Amanda (Cochran) Cottingham on March 2, 1870. Lucinda was born March 24, 1850. They had seven children: Almedia, Charles H., Floyd L., John M., Andrew, Annie Lou, and Clara Mae Trott. Almedia died at the age of 24 and Floyd L. died at the age of four. William C. Trott was Commissioner when the Court House of Bibb County was built in 1902 and the first steel bridge was built across the Cahaba River at River Bend, Bibb County, Alabama. He was also a trustee of Six Mile Academy, a Mason and an elder at Wesley Chapel Methodist Church. William C. Trott married a second time to Mattie Daniel in 1898 after the death of Lucinda May 9, 1894.
John C. D. Trott and two of his sons, Benjamin and William C. were very involved in the Churches of Enon, Six Mile and Wesley Chapel in Bibb County, Alabama. He died October 11, 1883, and Cecelia died February 6, 1893. They are both buried in the Enon Church Cemetery in Bibb County, Alabama.
"An obituary quote from the Bibb Blade: October 18, 1883, says "Died at his residence near this place, on Thursday last, Mr. John C. D. Trott, in the 76th year of his age. Mr. Trott lived in this county for half a century, having always been recognized as a good honest and worthy citizen. He was a member of the Baptist Church for a number of years, and his conduct has been that of an upright, Christian gentleman." He was living with his son W. C. Trott at the time of his death."

SOURCES
According to Bible Records, John C. D. Trott and Celia Parker were married September 20, 1832. (The Brown Family -Written by Dovie Casey June 1954)
Tombstone, Baptists of Bibb County, by Howard McCord
1850 Bibb County census
Daniel Snead Cottingham compiled records
Fern Langston compiled records
Findagrave.com # 76590031 # 76590059 # 70859189 # 70859138 # 111933895 # 111934438
Biographies of Notable and Not-so-Notable Alabama Pioneers Volume I