The following article is an excerpt from The Alabama Historical Quarterly, Vol. 08, No. 01, Spring Issue 1946 that describes some historic sites and ghost towns in Hale County, Alabama
Hale County Historic Spots
Excerpts from HISTORIC SPOTS IN HALE COUNTY by Mrs. Jeff J. Powers, Moundville, Ala.
In addition to this site (Moundville) of ancient historic interest, Hale County has several interesting spots of antebellum date: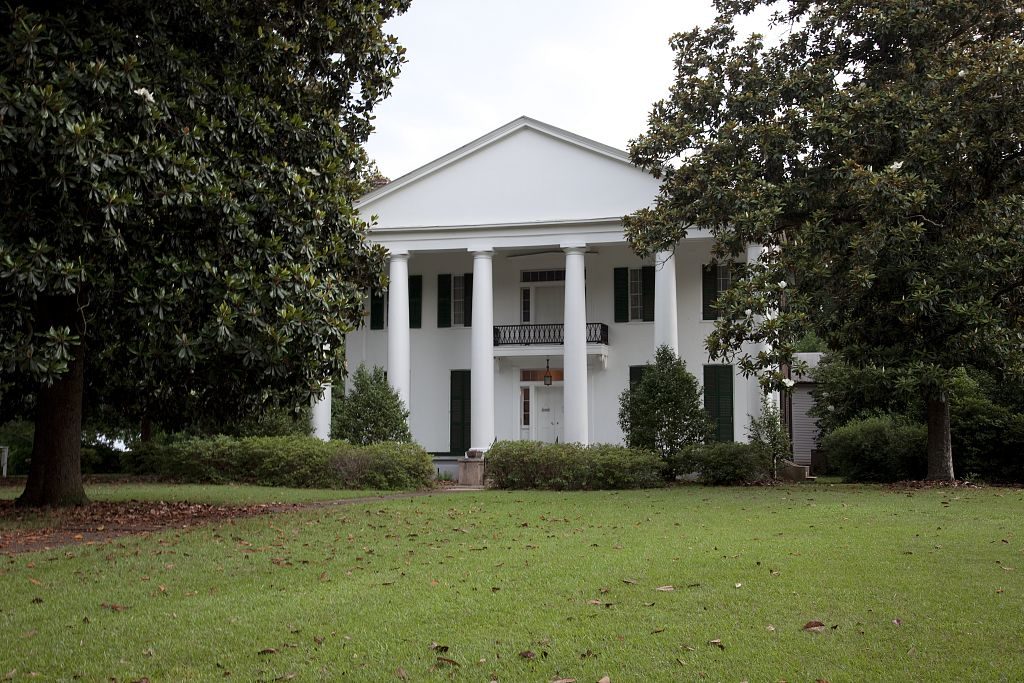 Magnolia Grove dates back to 1830 – picture is from 2010 by Carol Highsmith (Library of Congress)
"

Magnolia Grove"

, a "befo-de-war" brick mansion where Richmond Pearson Hobson, of Merrimac fame, was born and raised.
Southern University, an old church college founded before the War Between the States by wealthy Methodist philanthropists. This old college, which was merged some years ago with Birmingham College, to form Birmingham-Southern, stands as a memorial to hundreds of Alabama's most distinguished citizens—not only ministers, but also prominent professional men, businessmen, planters, and some governors and members of Congress, who were trained in its halls and classrooms. (Tornado destroyed it in 1973)
Several old churches in Hale County date back to the antebellum period, among these are:
Carthage Presbyterian, at Moundville, Alabama.
Mt. Hermon Methodist, at Mount Hermon, Alabama.
Five-Mile Baptist, at Mt. Hebron, (here the first company of Hale County soldiers gathered to leave for the battlefields of the Civil War.)
St. Pauls Episcopal, at Greensboro, Alabama
St. Andrews Episcopal, at Prairieville, Alabama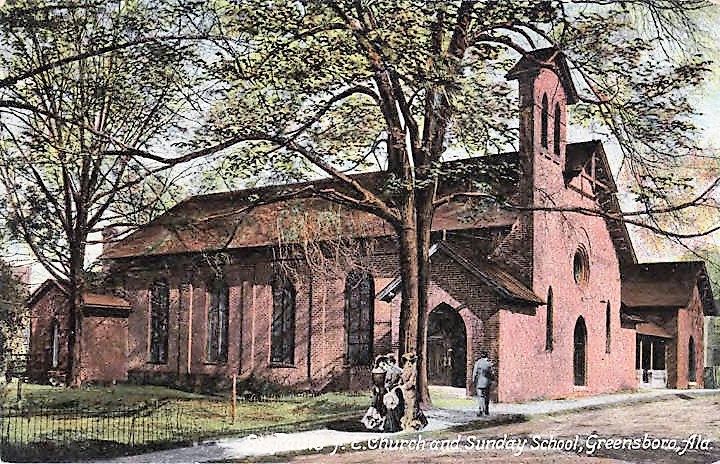 St. Paul's P.E. Church and Sunday School, Greensboro, Ala, ca. 1890 postcard (Alabama Department of Archives and History)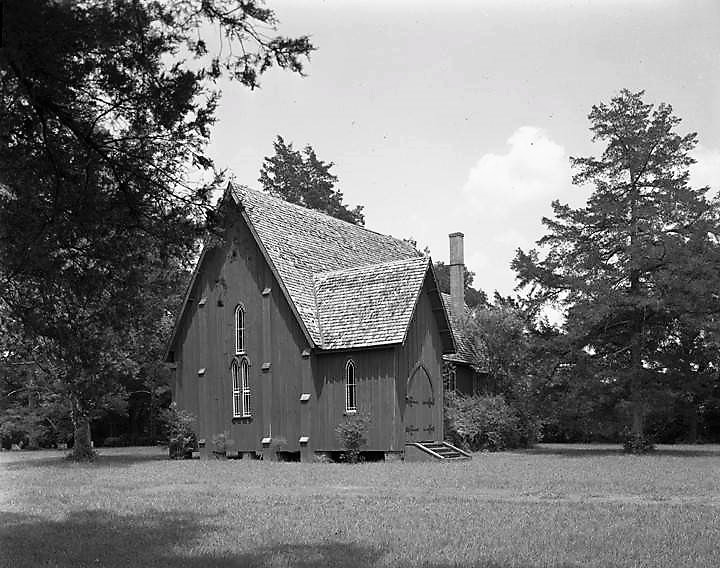 St. Andrew's Episcopal Church in Prairieville, Hale County, Alabama July 18, 1962 by John E. Scott, Montgomery, Alabama (Alabama Department of Archives and History)
Hale County also has several "ghost" sites—locations where towns or places once flourished in bygone days, and then vanished, leaving very little trace of their former activity.
One of these was Green Springs, where Professor Henry Tutwiler, (Miss Julia's father) conducted a famous boys school during and after the Civil War. It was located near Havana, in the central part of the country. Only a few brick nearly covered with wild vines and undergrowth, are left to show the place where the boys of the '60s learned not only English, math, history, and other studies, but received from a great teacher, a philosophy of life which fitted them for gracious and refined living.
Another ghost site is found near Sawyerville, on the banks of the Warrior river. Here, Erie, once flourished as a thriving river town. Now only scattered piles of bricks are left to show where some of Hale County's early citizens "lived, and moved, and had their being". Hollow Square, also near Sawyerville is another "has been" location. It was never as large as Erie, but it was a small community where several planters lived. A small graveyard is all that remains now. Arcola, in the very southern-most end of the county, and on the banks of the Warrior river, was once laid off for a town by the "Vine and Olive Company" settlers who has migrated from the Demopolis group, for some reason, though, the town never did attain the proportions that its founders planned, and even the plantation owners gradually left that section for Greensboro or other towns.
Today, all that remains of Archola, is the handsome old Hatch Mansion, (which has passed into the hands of out-of-state owners), and the old Strudwick graveyard, where on fallen gravestones, one may read the names of those who once dreamed of a South Hale River Town.

Wallpaper depicting the Vine and Olive Colony, an early French settlement near present-day Demopolis, Alabama (Alabama Department of Archives and History outside the Hale Room)
All of these historic spots in Hale County have been visited by the Hale County Historical Society, which is endeavoring not only to keep alive in the minds of its people the past history of Hale County, but also to secure and preserve, wherever possible, records which will keep for the future generations, the story of an age unexcelled in the art of gracious living.
Faith and Courage: A Novel of Colonial America

Inspired by real people and actual events, the family saga of colonial America continues with Ambrose Dixon's family. Faith and Courage presents the religious persecution of Quakers in Pre-Revolutionary War days of America intertwined with a love story.