Great day to celebrate Hank Williams, Sr.'s birthday. Start with a visit to the museum of his boyhood home in Georgiana, then end it with a visit to Hank Williams Museum in Montgomery, Alabama 
Georgiana is Hirarm "Hank" Williams, Sr. boyhood home. Hank was born September 17, 1923, in Mount Olive on a farm southwest of Georgiana, but he lived in Georgiana from the age of seven to eleven. (More about Hank Williams' life) When Hank was eight, his mother bought him a guitar for $3.50. Black street musician Rufus (Tee-Tot) Payne became his teacher. "They would play the guitar on the front porch and during the winter, they would crawl underneath the house to play and sing near the warmth of the fireplace. After school, Hank sold peanuts and shined shoes at the depot to help support the family" and sang on the streets for tips.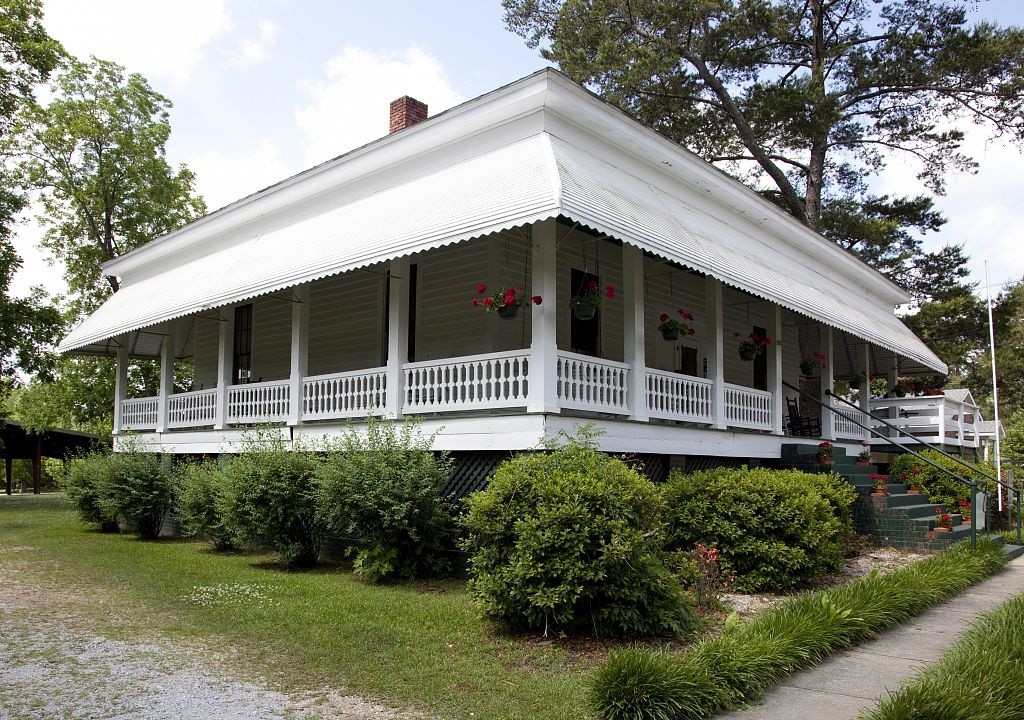 Boyhood home of Hank Williams Butler county by photographer Carol Highsmith 2010
Hank Williams Festival
His family moved from Georgiana to Greenville in 1934, and then to Montgomery in 1937. Today, the cottage where he lived has been restored as a Hank Williams museum. Each summer the Hank Williams Festival is held in Georgiana as a "Salute To A Legend."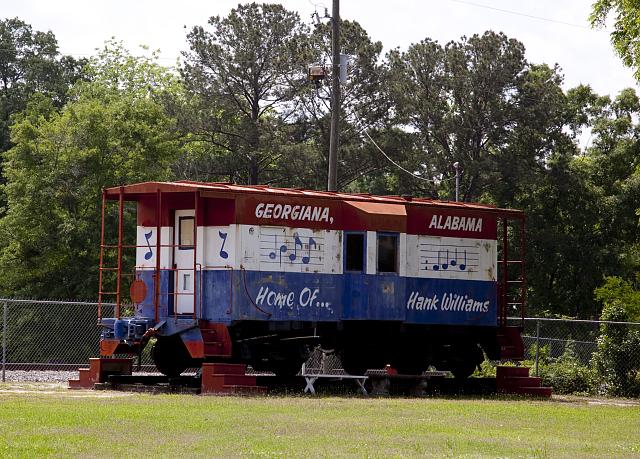 Train car at Boyhood home of Hank Williams Butler County by photographer Carol Highsmith 2010
Settled in 1824
Georgiana is located in Butler County in the southern part of Alabama. The locality was originally settled in 1824 by John Shepherd who came from Georgia. Other pioneers from Georgia soon followed.
Locality was renamed
The town itself was founded by Pitt S. Milner, a Baptist minister, who came from Pike County, Georgia after the Louisville and Nashville Railroad constructed a rail line through the area and called it Pittsville. He settled the place later called by locals, the old Milner place, in 1855 and established a post office that same year. Rev. Milner did not like the name Pittsville so he renamed the location Georgiana which was a combination of his daughter's name Anna and the name of his home state, Georgia.
Other early settlers of the town were Peter Mason, Michael O'Brien, Dr. Clements. John R. Kene, T. H. Powell, Miles and Peter Simpson, John W. Wheeler and the Stockton family.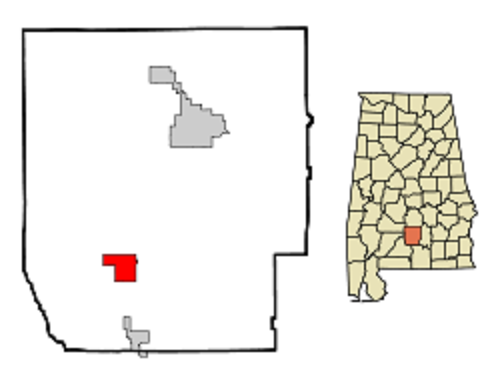 Location of Georgiana, Butler County, Alabama (Wikipedia)
Stores opened
Once Rev. Milner opened the post office, John M. Smith arrived in the area and several more people followed. In 1858, Rev. Milner opened a general store in 1858. T. H. Powell soon followed with a grog-shop (saloon) and the liquor business became quite profitable. Miles and Peter Simpson and John W. Wheeler each started a store the same year.
In 1866, the mercantile business grew. Merchants bought 3,400 to 4,000 bales of cotton per year.
Roads constructed
In 1862, the Commissioners of Georgiana ordered a road to be cut to Bear's store. They also ordered a 2nd road cut to Oaky Streak through South Butler the same year.
Churches and schools built
The first school was a log building with Miss Eunice Eskew as the teacher. In 1868, a large building was erected for the Georgiana Academy.
Rev. Pitt S. Milner started the Baptist Church in Georgiana in 1865 and began preaching in it in 1866. This church was followed by the Methodist Church the following year.
E. C. Milner, Rev. Milner's son, operated a steam saw and grist mill in 1858. In 1867, Jerry Fail established a mill which was still in operation in 1885.
The town was incorporated
In 1866, the mercantile business grew. Merchants bought 3,400 to 4,000 bales of cotton per year. The town was incorporated in 1869 and was incorporated as a city in 1872. In 1885, Major A. N. Glenn was the Mayor with 600 people living in the incorporated area and Prof. J. M. Thigpen was principal of a flourishing school.
By 1885 there were ten stores, two drug-shops, two hotels, one livery and feed stable, one cotton warehouse, public mill and ginnery, shoe-shop, blacksmith-shop, etc. The City Hall was used for public meetings and theatrical troupes that came to the town.
Video below posted on Youtube by Mildred Stinson Brown who has completed considerable research on Georgiana.
SOURCES
Little, John Buckner The History of Butler County, Alabama, from 1815 to 1885: With Sketches of Some of Her Most Distinguished Citizens, and Glances at Her Rich and Varied Resources, Elm St. Printing Company, 1885