Hayes Family Crosses the Alabama-Tennessee Line
(Posted in Public Pages of Ancestry.com  by Sharon Hayes December 20, 2009)
It was 1861, the outset of the Civil War when Edmond Hayes came into the world. He was born in Bibb County Alabama to James Richard Hayes and his second wife Nancy. Ancestry records show James was a resident of Bibb County as early as 1840. In 1850, James & family along with his father Jesse lived on the West side of the Cahaba River, an area of pioneer settlements in the early 1800s.
Cahaba River in Bibb County, Alabama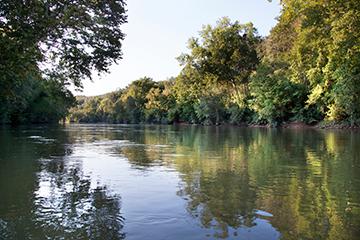 Moved to Tennessee
In 1883, Edmond & Millie Spivey were married in Bibb County, where they started their family. The growing household ultimately ended up in the hills of Northern Alabama with nine children in all. Under circumstances lost with the passage of time, the family loaded the wagons sometime around 1918 and moved from Lawrence County, Alabama to Lawrence County, Tennessee, which became their home for more than a decade.

At some point in the 1930s, during the midst of the Great Depression, Edmond & Millie returned to Alabama. All of the children were now grown. Some stayed in Tennessee, some returned to Alabama, while others journeyed on to California. The branches had spread.
A parting of ways in Tennessee a defining moment
The parting of ways at the Lawrenceburg, Tennessee crossroads had to be a defining moment for this close family. Moreover, the painful loss with the untimely death in 1936 of daughter/sister Alice, mother of eleven, would have brought the family even closer in their shared sadness.
The farewells certainly would not have gone without planning for a future family gathering. So with little doubt, the tradition of Hayes family reunions would have been borne with a parting promise to always come back together.
Start researching your family genealogy research in minutes for FREE! This Ebook has simple instructions on where to start. Download

 

WHERE DO I START? Hints and Tips for Beginning Genealogists with On-line resources 

to your computer immediately with the FREE APP below and begin your research today!