[NOTE: This old film is long but a true historic treasure that will bring tears to your eyes. It will make you proud to be an Alabamian and an American. You'll even hear Jesse Owen actually narrate part of this film and tell what was happening among the America Olympic delegation in the back-ground. There are several close-ups of Hitler's reaction when he sees Jesse win the gold.]
Adolf Hiltler was in power during the 1936 Olympics
The memorable Olympic event of 1936 involved Alabama-born, Jesse Owens, in the summer Olympics that was held in Berlin, Germany.
At the time, Adolf Hitler was in power and German nationalistic feelings were at an all-time high. Hitler advocated Aryan supremacy and insisted Jews and Blacks should not be allowed to participate in the games. He only relented when numerous countries threatened to boycott the games.
Jesse Owens, 1936 (Library of Congress)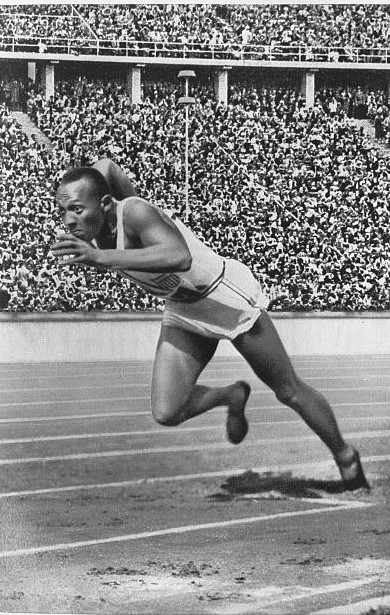 It wasn't supposed to happen
Alabama born Jesse Owens wins the gold, 1936 Olympics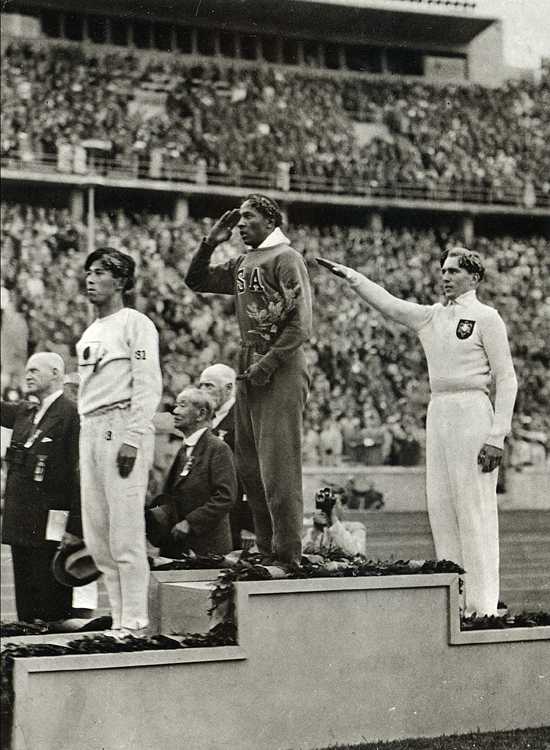 Jesse Owens was at the center of the controversy
At the center of the controversy was James Cleveland "Jesse" Owens (b. September 12, 1913 – d. March 31,1980), the son of sharecroppers Henry and Emma Alexander Owens, from Oakman, Alabama. Owens was the grandson of a slave, but he was destined to achieve what no Olympian before had accomplished.
Owens captured four gold medals in the 100-meter dash, the 200-meter dash, the long jump and the 400-meter relay. Owens' victories are considered among the greatest athletic feats of all time."1 He received four gold medals and Hitler, who believed Germany would win, was infuriated at his success.
Jesse Owens narrates the real story in this film
I have heard and read about Jesse Owens for years, but nothing could prepare me for this extraordinary film by the legendary sports filmmaker Bud Greenspan.
Jesse Owens returned to Berlin and narrated the actual footage of the 1936 Olympics, including the opening ceremony where there was a controversy over the Olympic salutes. Watch Hitler's reaction as Owen continues to win and Owen's personal thoughts and experiences during the race.
The film is long but well worth watching
The film is long but well worth watching. At the end you'll see and hear Owens own words when he returned to Germany in 1951 and he was welcomed by the German people with open arms. This remarkable film is an amazing piece of history and make you proud to be an American.
The Jesse Owens Museum – Jesse Owens Memorial Park in Danville, AL

Museum is located in Danville, Alabama
The Jesse Owens Museum is located in Danville, AL and is a great facility to find out more about Jesse Owens life and the Olympics
The Jesse Owens Memorial Park Museum immortalizes Owens' memory by depicting the moments that made Owens great and portraying the people who shaped him as an athlete and as a man. Glass display cases showcase rare memorabilia including programs from the 1936 Olympics, replicas of track uniforms and shoes, medals, and trophies from Owens' high school days. In addition, the museum offers visitors interactive kiosks that highlight Owens' life and accomplishments.
Jesse Owens still holds a strong place in people's hearts as one of his gold medals recently went up for auction in December. It sold for $1.5 million, setting the record price for Olympic memorabilia.
Some stories include:
The true story of the first Mardi Gras in America and where it took place
The Mississippi Bubble Burst – how it affected the settlers
Did you know that many people devoted to the Crown settled in Alabama –
Sophia McGillivray- what she did when she was nine months pregnant
Alabama had its first Interstate in the early days of settlement