W. W. MORRIS
BIOGRAPHY and GENEALOGY
(1805-1883)
North Carolina, Tennessee, Texas, Coosa County, Alabama
(Excerpt from History of Coosa County: by the Rev. George Evans Brewer, 1887)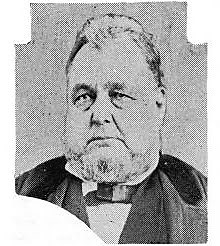 W. W. Morris was a native of Tennessee and came perhaps with Joseph Bradford from there to Alabama in 1834 or 1835. He was a lawyer, and such was his ability in his profession that he soon took the lead and held it for several years.
He was the first County Judge, and representative the county had in the House, which was in 1837. He then lived in Wetumpka. But after his return from Tuscaloosa, he moved to Rockford. He was very popular and was returned to the House in 1838. In 1839, A. B. Dawson defeated him by a few votes, but in 1840 he beat Dawson by a large majority. In 1841 he ran before the Legislature for solicitor of the Eighth Judicial Circuit, but was beaten by Sampson W. Harris. In 1843 he and William L. Yancey ran for the Senate on the white and mixed basis issue. Yancey defeated him. In 1845 he ran before the Legislature for Chancellor of the Middle Division. Again he was opposed by a fellow county man, Wiley W. Mason, and was again beaten. These successive defeats chagrined him, and he moved to Texas, where he soon secured a good practice, and after some years became a popular judge in his adopted State. His religious connection is not known
Additional information and photograph of W. W. Morris from The History and Geography of Texas as Told in County Names By Zachary Taylor Fulmore Press of E. L. Steck, 1915
W. W. Morris was born in Halifax County, North Carolina, in 1805, and he was there reared and educated. About the year 1840, he removed to Alabama, where he taught school and studied law. After practicing his profession in that state he came to Texas, in 1849, and located near Henderson, in Rusk County. He practiced in the courts of Marshall, Gilmer, Quitman, Nacogdoches, San Augustine, Carthage and adjoining counties, and in the higher courts of Texas.
He served two terms in the Legislature, and in his later years gave much of his time and money to the construction of railways in that part of Texas. He died at his home near Henderson, in Rusk County, June 3, 1883.
Faith and Courage: A Novel of Colonial America (Tapestry of Love) (Volume 2) In this action packed novel depicting true events the family saga from Tapestry of Love continues with Ambrose Dixon's family. George Willson witnesses the execution of King Charles II and is forced to leave the woman he loves to witch hunters in 17th century England as he flees to his sister, Mary, and her husband Ambrose Dixons home in Colonial American. Ridden with guilt over difficult decisions he made to survive, George Willson and the Dixon's embrace the Quaker faith which further  creates problems for their existence in the New World.