Elyton in Jefferson County, Alabama was the location of many early settlers of Jefferson County. This story reveals some of the earliest residents.
(Please note – This has been transcribed from Chapter Two of- Jefferson County and Birmingham History 1887 by Teeple & Smith Publishers – language used is from that era)
After several years' residence there, (Jefferson County, Alabama) Williamson Hawkins moved to the farm four miles west of Birmingham, where Mr. Thomas is now erecting his furnaces.(1887) It is a beautiful plateau of 2,000 acres on Village Creek.
Village Creek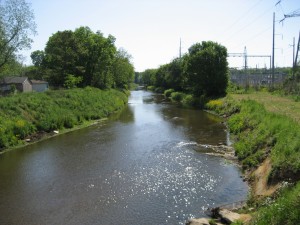 At the start he cleared and cultivated much of the land with his own hands, but he afterward became wealthy, and in 1860 was the owner of 150 negroes and made 100 bales of cotton per year, and large quantities of grain. Mr. Hawkins died soon after the surrender, and has left a numerous offspring, among whom were the late lamented Dr. Hawkins and his son James, the present able solicitor of our county.
Village Springs dates back to 1821
In coming from Nashville or Huntsville, and going toward Tuscaloosa, a person would enter the county at Village Springs, in which neighborhood, as far back as 1821, he would meet with many persons whose names have since been well known throughout the county. I think they were mostly Tennesseans, among whom were Joseph D. Harrison, John Hanby, Sr., Christopher Deavers, John Cantley, Jeremiah Randolph, and others.
A little lower down Turkey Creek they would find Jonathan Liverman and George Powell, and proceeding down the Tuscaloosa road you would soon come upon another neighborhood of South Carolinians, consisting of Dr. Hagood, Robert H. Green, Horton B. Chamblee, James H. Hewitt, George L. Green, George Starns, John Burford, and others, some of whom, and their descendants, have filled the most important offices, from representative in Congress down to justice of the peace.
Turkey Creek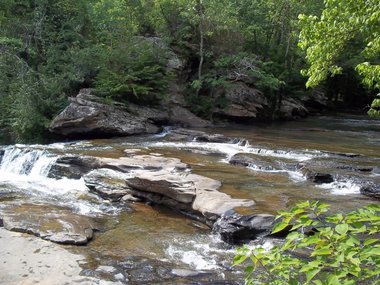 Seat of Justice was at Elyton in 1821
The first regular term of the circuit court, I think, was held in a place called Carrollsville, now owned by Mrs. Nabers. The seat of justice was moved to Elyton in 1821.
The principal citizens there at that time were David Prude, John Martin, James Hall, Stephen Hall, John M. Dupuy, J. W. McWilliams, Stephen Reeder, Daniel Watkins, and others. The population increased rapidly, James Mudd, Sr., Jonathan Steel, E. W. Peck, Thomas W. Farrar, William B. Duncan, Samuel S. Earle, and Baylis W. Earle being among the early settlers.
The first merchants in Elyton were Slaughter & Labuzan, Jonathan Steel, Charles McLaran, W. A. Walker, Sr., and Thomas W. Rockett.
The bar of Elyton soon after that time consisted of some of the ablest lawyers of the State. Among them were William Cochran, George N. Stewart, George W. Crabb, Harvey W. Ellis, John F. Forest, Walker K. Baylor, R. E. B. Baylor, Pleasure H. May, Daniel E. Watrous, Samuel W. Mardis, John W. Henley, Thomas W. Farrar, etc.
Our physicians were Samuel S. Earle, Peyton King, and William B. Duncan. For several years they did most of the practice of the county. There was nothing like a drug store known in the county at that time.
The physicians had neat saddle-bags, with numerous departments and pockets for the different kinds of medicines and surgical instruments.
Early Birmingham 1873 (Library Samford University)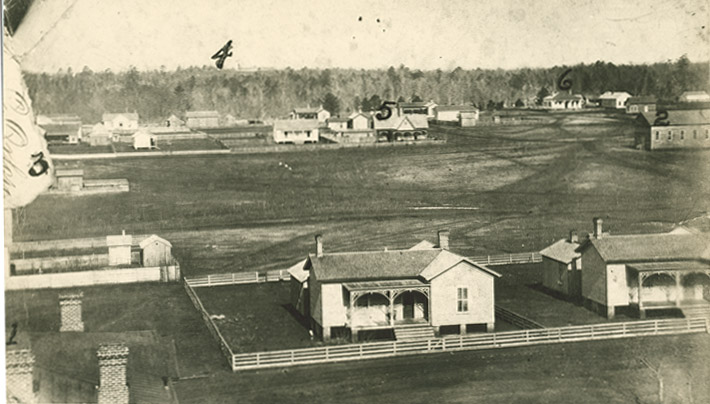 Judiciary System was elected by the legislature
Our judiciary system at that time was a supreme court, which was composed of the different judges of the circuit court, who also exercised chancery jurisdiction. A county court, presided over by a judge who, as well as the other judges, was elected by the legislature, and a clerk of the county court, as well as of the circuit court, a sheriff and a coroner, all, except the judges, elected by the people.
The judges of the county court, as far as recollected, were P. Walker, John Brown (red), and W. K. Baylor.
The clerks of the county court, before the change to a probate court, were James Thompson, H. W. Goyne, Baylis E. Grace, and Joab Bagley .
The clerks of the circuit court were James Dodds, M. H. Gillespie, and Hugh Morrow, Jr.
The sheriffs of the olden time, before the war, were Levi Reed, Stephen Reader, John McWhorter, John B. Ayers, William A. Scott, Peter Anderson, B. E. Grace, W. C. Eubank, and A. Killough.
The names of the general administrators and guardians were Samuel S. Earle, B. E. Grace, and A. J. Waldrop.
Side Note: Williamson Hawkins, mentioned above, was one of the original pioneer settlers in Jones Valley, with his friend, John Jones. In later life, he donated a church bell to the first Episcopal church in Birmingham, St. John's Episcopal Church, in Elyton. This was the parent church of The Episcopal Church of the Advent, which further branched to form St. Mary's on the Highlands. As years went by, St. John's at Elyton became St. Johns Episcopal Church for the Deaf.
When the original building was abandoned due to infirmities of age, the church moved to Cahaba Heights and brought the original bell with them, where it silently rested upon a pedestal in the parking lot.
When the congregation was informed of the importance of the bell in 2009, they voted unanimously to donate the bell to the Birmingham-Jefferson History Museum.
Check out genealogy and novels by Donna R. Causey
Discordance: The Cottinghams (Volume 1)

 – 

A novel inspired by the experiences of the Cottingham family who immigrated from the Eastern Shore of Virginia to Alabama