December 12, 1929
As a boy, I lived in Greenville, Alabama, where Colonel John T. Milner then lived, and as a boy, I first knew him, and until his death, my admiration and respect continued and increased.
When I learned that the pleasure would be mine to voice, in a feeble way, a tribute to the memory of the man for whom this Bridge is named, I wondered how I could speak of him fairly and faithfully within an allotted time. It were (sic) much easier to write pages and pages of his life's efforts, achievements, and successes than to select the outstanding incidents only that time and the occassion (sic) compels me to speak of today.
John Turner Milner (1826-1888)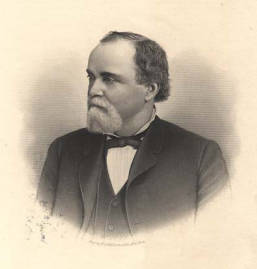 Born in Pike County, Georgia, September 29, 1826, he died in Birmingham August 18, 1898, and from a very early age, these years were useful, strenuous, exciting and devoted to the bettering of the condition of his State and Nation.
Expected to become a lawyer
Colonel Milner was of prominent ancestry, and was afforded educational advantages that a well-to-do father approved, required and could give, and thus he was able to attend for three years the University of Georgia, the best seat of learning available to him. His father expected him to be a lawyer, and with this Colonel Milner was sympathetic, but quite soon, both he and his father realized that he had an unusual mathematical turn, and in fact was a born engineer, needing only the opportunity to practice and develop. President Andrew Jackson's fight against State Banks so affected the finances of Colonel Milner's father about the time of his entrance into the University of Georgia, that his first year's expenses at the University were obtained from Colonel Milner's first mining experience. John T. Milner had a little negro all his own, named Steve, who followed him about "like a shadow" Colonel Milner's father was experimenting in North Georgia in what was then called a gold mine, and he told his son, John T., that if he and his little negroes should strike gold there, that he could go to College. The boy, with a few of the Milner slaves, went to work, dug through a very deep alluvial deposit, and found the pay-streak. College was then open to him.
John T. Milner bridge being built in Cochrane, Pickens County, Alabama – workers on top (Alabama Department of Archives and History)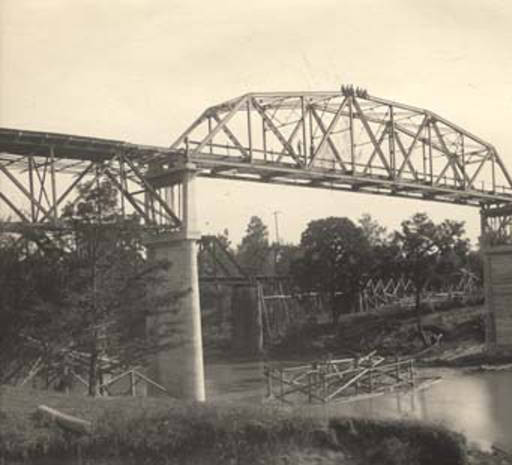 Decided on engineering
After leaving the University of Georgia, Colonel Milner definitely decided upon engineering, and his next experience was with Mr. George H. Hazelhurst, a distinguished Engineer, then building the railroad from Columbus to Macon, now a part of the Central of Georgia Railway Company.
The '"Forties" of the last Century called to him, and still under twenty-one years of age, he joined a cavalcade of covered wagons from Georgia to Oregon, California, and the unknown West, taking his turn as a driver of the ox teams. A dangerous and arduous journey—a trail marked by bones of men and animals, and infested with savage Indians. This over-land trip restored Colonel Milner's health, and enabled him to undergo and even enjoy the hardships of the life that confronted him.
He met General Riley, then Provisional Governor of California, and by appointment of General Riley, Colonel Milner performed the duties of a Surveyor General. He constructed the first Stamp Mill erected in California, extracted the first gold at what afterwards became Georgetown, Colorado. This Western experience was of great value to Colonel Milner. He learned to speak Spanish fluently, which, together with a good knowledge of Latin acquired in his earlier days, was of invaluable assistance. He had many close shaves, among them, with the aid of a friend, but with great difficulty, he successfully insisted that he be not buried, but those who were carrying him to the cemetery, when remonstrated with by Colonel Milner and his friend, replied that they thought he would be dead by the time they got him to the cemetery.
Life after gold-mining
Deciding to return home, he was persuaded to take the trip via Isthmus of Panama, where Major Childs, of the United States Army, was then at work surveying for the United States, and he desired John T. Milner's assistance. Major Childs' report must have been unfavorable, as we next find the Isthmus of Panama Canal effort in the hands of that great French Engineer, DeLesseps. This experience and subsequent study convinced Colonel Milner that the route through Nicaragua was the better for a canal, and it is said that our grand old Senator from Alabama, John T. Morgan, had such respect and confidence in Milner's ability as an engineer, and in his wisdom and integrity, and from his own studies and researches, that he chose and advocated the Nicaraguan route rather than the Panama, and Senator Morgan's position was approved by the United States Engineers, but was combatted and over-ridden by Theodore Roosevelt.
Some of you will yet see Senator Morgan's and Colonel Milner's preference as an established fact.
Upon his return to the States, Colonel Milner visited one of the railroad construction camps belonging to his father. Railroad engineering was not then the finished science that we now know, and a reverse curve could not be laid out by every engineer. At this camp, the President of the Railroad under construction happened to be present, and was strenuously expressing his opinion about an engineer who had for some time tried to put in the reverse curve and failed. Introducing himself to the President, Colonel Milner offered to put, and did put in the curve, quickly and well, and from that day until he voluntarily retired, was connected with some railroad in Alabama.
Involved with Rail Road
Under an Act of the Legislature of Alabama of 1858, John T. Milner was commissioned by Governor Moore to survey and locate a railroad to connect the navigable waters of the Alabama River to the Navigable waters of the Tennessee River, and today, this survey and location from Montgomery to Decatur is one of the main stems of the great Louisville & Nashville Railway System. The location and survey, while difficult, was the easiest part of his labors. He was Chief Engineer and General Superintendent of the Railroad. The construction of this railroad was the great work of his life.
Civil War intervened, and Colonel Milner was needed by his Country, the Confederate States. His services were devoted to her cause, and history again recounts his great, untiring and patriotic labor. Long after the war, a Federal General, who had possession, of part of the railroad running from Montgomery South, in conversation with one of Colonel Milner's daughters, expressed deep curiosity as to what had become of the cotton that he knew had been stored in Montgomery, and had not gone out over the railroad. He was informed by this young lady that her father was not only a railroad engineer, but a boat-building engineer, and it was in this way the cotton escaped the Federal Troops.
Colonel Milner's work in locating the South and North Alabama Railroad developed Graces Gap as the most feasible way, and the only way, without prohibitive tunnelling, for a railroad leading South from Birmingham, but more, and a great deal more, was unfolded, with the help of Professor Michael Tourney,—the vast mineral wealth of what is now the Birmingham District.
Crowd gathered for the dedication of the John T. Milner Bridge in Cochrane, Alabama ca. 1920 (Alabama Department of Archives and History)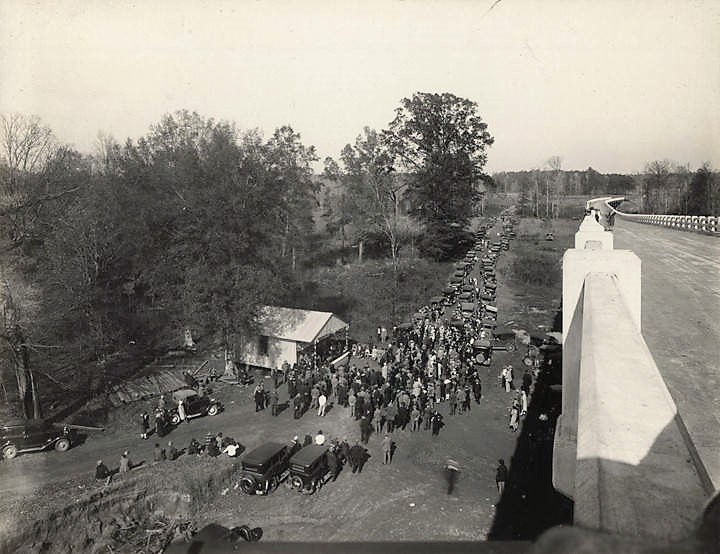 It would take a book to detail the work of building the railroad through the Birmingham District, the over-coming of obstacles almost insurmountable, combating trickery, deceit and dishonesty of Stanton and others, that at times were enough to shake the stoutest heart, but we all now know the answer—an Imperial City, a great railroad, a fabulously rich district, a tribute to the great foresight, character and almost super-energy and ability of John T. Milner and others, who labored faithfully, as did he.
Founding the City of Birmingham
Another book would not be sufficient to tell of his efforts in assisting in the founding and building of the City of Birmingham. In this effort, it was always his pleasure and fairness to stay in the background, and give great credit to the wonderful assistance of his friend, Josiah Morris, of Montgomery, without whose financial backing and equally strong confidence in the future, the birth of the City of Birmingham would have been delayed. On December 19, 1870, Colonel Milner was present in Montgomery when Josiah Morris bought and paid for 4150 acres of land, and on the following day, the incorporation papers were filed for what became the Elyton Land Company, the purpose being stated in the papers "to build a city at or near the Town of Elyton".
Colonel John R. Powell, the "Duke of Birmingham", Mr. Frank Gilmer, Dr. H. M. Caldwell, and a few others, were in the circle of those inspired with prophetic vision, and they, too, did more than prophesy.
They were of those who built Birmingham and developed the mineral district.
It would not be fair to fail to give credit to many others to whom credit is due, but this cannot be done on this occasion, but I cannot refrain, in speaking of the Birmingham District, and the City of Birmingham, from referring to the fact that this development required railroads, with long and short, railroad equipment and thousands of dollars of money that it was impossible to obtain in Alabama. In the construction of the South and North Alabama Railroad, Colonel Milner had become acquainted with and made friends of the officials of the Louisville & Nashville Railroad Company, and among them, that great Captain of railroad building and railroad operation, Mr. Milton H. Smith. It was Mr. Smith's confidence in Colonel Milner, and confidence in the future of the mineral district, and his true prophetic vision, that caused the Louisville & Nashville Railroad Company to pour into Birmingham and the mineral district the money needed for its development from a railroad standpoint, a thing but few railroad Presidents, and fewer railroads, would have done, and while, by men now living, proper honor and credit is given to Milton H. Smith, still, the State of Alabama should remember him as one of the greatest developers of the State; a developer who promoted not only the mineral riches, but the agricultural, timber interests, and all other natural wealth of Alabama. Men like James J. Hill and Milton H. Smith have been few.
In 1876, Colonel Milner published his book entitled "Alabama As It Was, As It Is, and As It Will Be". We find in this book, inserted by the Printer, a little note credited to one of Colonel Milner's little grand-daughters, Miss Bessie Milner, in which she said: "Grandfather always had a rather curious and remarkable dream sense. He could visualize strangely, and see things in the dark". Those of us now living can see the truth of Miss Milner s statement.
Water transportation from the Mineral District to Mobile is young in years, but prior to 1876, referring to this transportation, Colonel Milner said: "If water transportation is ever needed from the Mineral District to the Gulf, the Warrior and Cahaba Rivers cutting as they do so deeply and smoothly in the strata, can be easily improved. The water in the river opposite Blount Springs is only one hundred feet above water-level at Tuscaloosa". He then gave the elevation at Tuscaloosa, and added: "such a basis for slack-water navigation is unknown in any mineral region in the world". There may be some who still think that the idea of navigation from Birmingham to Mobile originated with them. Many equally remarkable predictions and prophecies can be found in this work published more than fifty years ago.
Time will not permit to make more than casual reference to Colonel Milner's opening and developing the coal mines at Coalburg and New Castle. These were extensive operations in those days.
I must, however, make mention of Colonel Milner's pioneering in the lumber industry, In partnership with Doctor Caldwell, who has been referred to heretofore, and with that remarkable Flowers family, under the name of Milner, Caldwell & Flowers, one of the largest and best paying lumber enterprises was launched, and successfully operated for many years at Boiling, near Greenville, Alabama. The success of this enterprise was largely due to the Flowers family, who were in direct and sole charge of its operation.
Colonel Milner cared nothing for political preferment, but late in life, he permitted the Senatorial District in which he lived to elect him a member of the State Senate of Alabama, where he was immediately recognized for what he was, one of the great men of the State. I cannot take your time to refer to more than one incident while he was a Senator in the State Legislature. In 1893, a resolution was introduced in the Senate of Alabama to make an appropriation to provide for the collection, arrangement and display of products of the State at the World's Columbian Exposition at Chicago. Senator Milner objected to the passage of this resolution, and in explanation of his objection, he said:
"Mr. President:
We are confronted now by the passage of what is termed a force bill by the Federal Congress at Washington. This measure, in my judgment, is an attempt by the political department of the Federal Government to degrade the political department of the State Government of Alabama. The people of my district are anxious to be represented at the Columbian Exhibition at Chicago, but I cannot recommend our State to so undignify herself as a State around the festive board at Chicago with her sister States with the mask of infamy placed on her brow by the Federal Government in the passage of the Force Bill.
Mr. President — In 1876, the Centennial Exposition of American Independence was arranged to be held at Philadelphia, The States of the Union were invited to be present and to participate in the proceedings.
In August, 1874, the people of Alabama succeeded in overthrowing the carpet bag element and succeeded in electing that grand old man, George S. Houston, as Governor, and a Legislature composed of the wisest and best men of the State.
In 1875, in the exuberance of our spirits on account of our political delivery from the control of strangers, and with a desire to join in the grand celebration, the Legislature passed a bill electing the commissioners to represent the State in its corporate capacity at Philadelphia. Honorable Peter Hamilton, the Senator from Mobile; Hon. R. O. Pickett, of Florence; Hon. W. H. Barnes, from Lee; Mr. Kennedy, of Tuscaloosa, and myself were elected as commissioners. I, as the Chairman, was actively engaged in the preparations for our being properly represented. The amount to be appropriated by the State was unanimously agreed upon in the House Committee.
Suddenly, the Force Bill of 1875 was taken up in Congress, and every effort was made to pass it. Our grand old Governor, and the Legislature stood appalled. The effort to pass the infamous measure fell like a wet blanket on the new and springy hopes of our people. The Legislature for two weeks met daily, and adjourned without transacting any business at all. The appropriation Committee failed to make their report. Finally, Senator Hamilton, from Mobile, one of the Commissioners elect, stated in his place in the Senate that the Commissioners could only appear at Philadelphia in the habilaments of woe, and in sackcloth and ashes if the Force Bill became a law. So now, Mr. President, Although representing; as I do, on this floor, the great mineral interests of Alabama, I cannot vote to undignify the State of Alabama by requiring her to appear in her corporate capacity around a festive board, where the brand of infamy and degradation has been placed on her brow by the Federal Government of the United States by the passage of the Force Bill, now pending at Washington. I would move, sir, as a substitute to the motion of the Senator from Madison, to refer this Bill to the Committee on Federal Relations, that it be laid on the table without reference, and that 74 copies be printed." and it was so ordered.
It must not be understood by you that most of the incidents that I have here spoken of have originated with me, but rather have been learned from the reading of the various histories and accounts written of Colonel Milner, and of these, there are many, of which fact his friends and family should be extremely proud.
Colonel Milner married on December 30, 1855, in Greenville, Alabama Miss Flora I. Caldwell, daughter of John Caruthers and Elizabeth Black Caldwell. Four children were born to this union: Henry Willis Milner, still living; Bessie (Mrs. Howard Douglas), now deceased; Lillian (Mrs. C. P. Orr), still living; and Florrie (Mrs. James Weatherly), now deceased. Children born to this distinguished and useful couple, and their children, have faithfully cherished the heritage bequeathed to them.