REFLECTIONS OF A BACHELOR
Transcribed From Our Mountain Home (Talladega, Alabama)
March 21, 1900
Lots of women save all their classic music for other people and love their husbands in rag-time.
The average man has an idea that being kind to his wife only means not being unkind to her.
Every woman has two or three souvenirs that she has had so long she can't remember who gave them to her.
The main trouble with the world is that people are always old enough to guess before they are old enough to know.
A woman's idea in buying a trousseau is that it will last 'till she has made the man love her so he won't care what she has on.
Country Courtship 1882 (Library of Congress)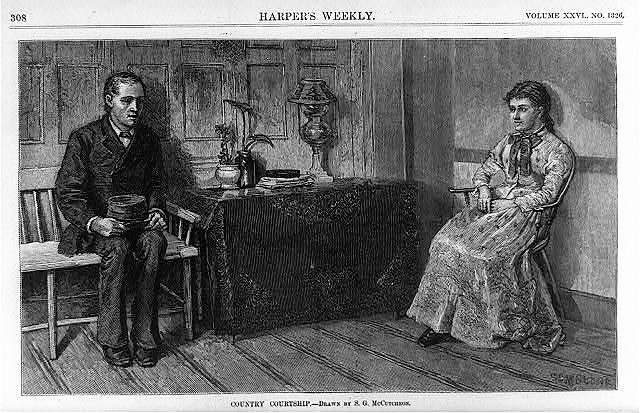 Discordance: The Cottinghams
 Inspired by true events and the Cottingham family that resided in 17th century Somerset, Maryland, and Delaware, colonial America comes alive with pirate attacks, religious discord, and governmental disagreements in the pre-Revolutionary War days of America.