Thirty Unionists in Montgomery
In the small city of Montgomery, Alabama of some ten thousand people, around 1861,  there were approximately thirty who were Unionists during the Civil War. They maintained loyalties under adverse circumstances and ardently opposed the Confederate States of America. (Read story and see film below)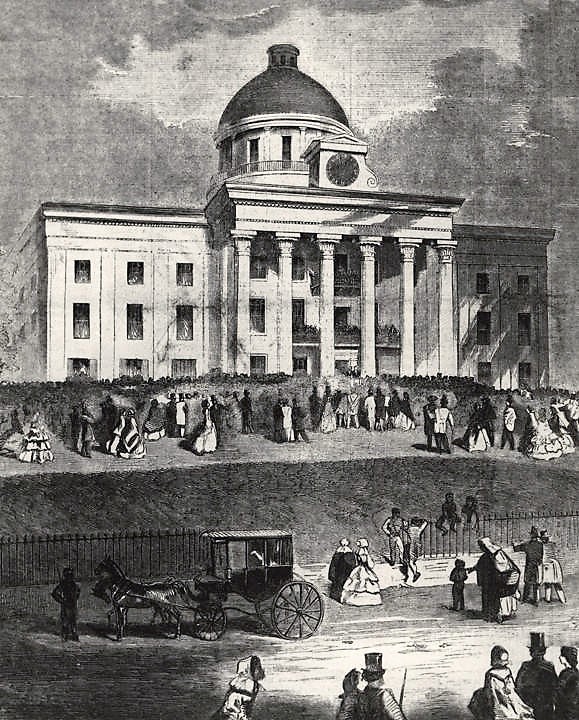 Montgomery was selected as the capital of the Confederacy
Montgomery had been the capital of Alabama since 1846. Located near the headwaters of the Alabama River, the state capital was also a center of cotton trade in the Black Belt. One of every two residents was a slave.
Montgomery's central location in the lower South had much to do with its selection as the capital of the Confederate States of America.
Help us save more lost & forgotten stories, plus earn FREE books and other rewards—-Click to learn how to
Become a Patreon/Patron member
Unionists who remained became spies and guides
After the Union Army invaded Alabama in early 1862, Unionists had more opportunities to flee behind Union lines for safety and the possibility of employment as soldiers, spies, or laborers. Those who remained at home, both within Union-occupied territory and behind Confederate lines, also actively assisted Union forces as spies and guides. In some cases, they collaborated with local African Americans (most often their own slaves) to aid and abet the Union Army or pro-Union men in their neighborhoods.
Ostracized and ridiculed by neighbors
Most of the men and women who supported the Union after Alabama's secession faced great difficulties. Many were ostracized and ridiculed by neighbors, called before community vigilance committees for questioning and intimidation, or actually harmed for endorsing the Union. Such treatment was most commonly meted out to those who publicly asserted their views; those who kept quiet and did not interfere with volunteering were often left alone during the first year of the war.
Subject to arrest after conscription
After Confederate conscription began in April 1862, however, community tolerance of Unionists waned. Individuals who resisted the draft, for whatever reason, were subject to arrest and imprisonment. Family members who supported resisters were frequently threatened with violence or exile by conscript cavalry who hoped to pressure men to come in from the woods or mountains and surrender. In addition, it was not at all uncommon for the families of Unionists to be targeted for punitive foraging or arson by Confederate forces or local conscript cavalry.
A few years ago, a play, The Flag Maker of Market Street,  written by Elizabeth Gregory Wilder, presented the play at the Alabama Shakespeare Theatre in Montgomery. It was based on the Unionists who met secretly in Montgomery.
Bestselling novel

RIBBON OF LOVE: 2nd edition – A Novel of Colonial America (Tapestry of Love Book 1)

 

is the story of a first family  in colonial America who eventually migrated to Alabama – today, Ebook can be downloaded immediately to your computer for only 99 cents.