This biography is also in the book Biographies of Notable and Not-So-Notable: Alabama Pioneers (Volume 1)
ABSALOM PRATT
BIOGRAPHY and GENEALOGY
(1793-1845)
Bibb County, Alabama
Absalom Pratt was the second son of Richard and Rebecca (Beavers) Pratt. He was born June 22, 1793, in Stokes County, North Carolina. He was single when he bought a farm of 80 acres but sold it in 1817 to follow his brothers Hopkins to the newly opened Alabama Territory. Their parents and two brothers, John and Joab followed them a year or two later.
The story of his marriage to Mary Dickerson comes from tradition passed down through the family. Mary Dickerson was born in Edgefield County, South Carolina in December 1800 but her father moved to Warren County, Tennessee when she was young. Mary's mother died when she was sixteen and her father married again.
Sarah Dickerson, Mary's sister, married Hopkins Pratt March 7, 1816, in Warren County, Tennessee and they were living in Bibb County, Alabama. Mary was lonely and unhappy after her mother's death and her sister's move to Alabama so in 1817, her father gave her a spirited horse and put her in the care of some people who were passing through Alabama on their way out west. They saw her safely to her sister's home in River Bend.
It is told that one day fun-loving Mary, on finishing her dinner, placed a wishbone over the door, telling her sister that she would marry the next man who walked under it. About this time, Absalom, unexpected in Alabama walked in, under the wishbone and the story goes that they fell in love and were married around 1821. (See Mary Dickerson Pratt's biography in this volume for at list of their children)
Absalom built their home from hand-hewn timber and hand-chiseled stone chimneys as his brother Hopkins had done. Mary and Absalom's home faced Hopkins home on the opposite side of the county road. It was located just a short distance from the limestone bluff that drops in a steep incline to the Cahaba River. From the crest of the ridge, Absalom and Mary's house had a commanding view of the Cahaba river below. The house was lived in by members of the Pratt family until the 1980's. A few years ago the house was donated by the Pratt family to Brierfield State Park and it was moved to Highway 25 between Montevallo and Centreville. Part of the house has been restored and serves as the information building to Brierfield State Park.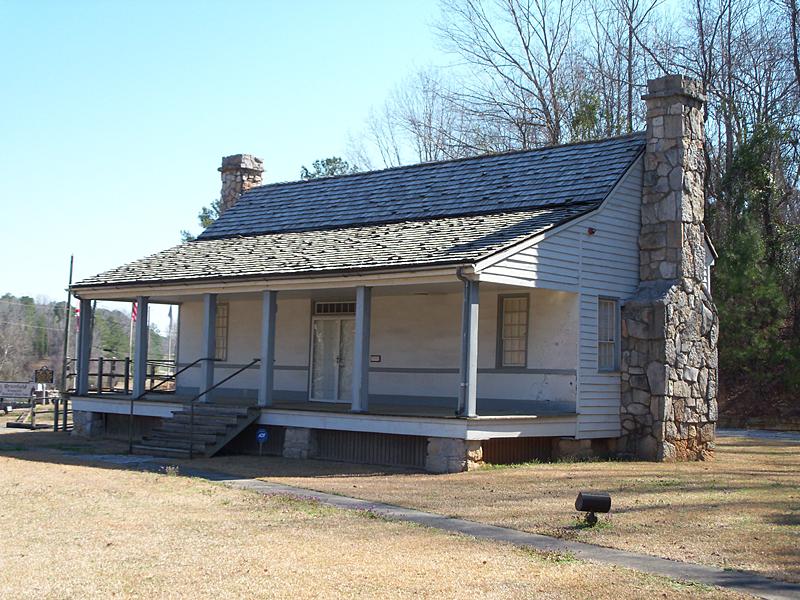 Absalom Pratt home at Brierfield State Park, Alabama
Absalom Pratt was about five feet seven or eight inches in height; his hair and complexion were dark. But his eyes were the same vivid blue that characterized all Pratts for generations. He was not handsome but had a great charm, and, as was said of him, he had "a winning way". His educational advantages were very limited, but he was very ambitious to gain knowledge, and with the help of his mother he learned to read and write and "figure". He could calculate any mathematical problem in his head with great accuracy, and seeing the need for an education took an active part in the education of his own children
When Jackson was President, Absalom was a Democrat but about 1840 he became a Whig. Absalom joined the Baptist Church and was baptized by his brother, Rev. Joab. Pratt, in 1839. Mary and Absalom had twelve children, six boys and six girls, all born before 1845. Their children are recorded in the biography of his wife, Mary (Dickerson) Pratt
Three years after his marriage, Absalom became interested in military tactics and attended military school. "He was appointed Lieutenant Colonel of the 23rd Regiment, 15th Brigade, 3rd Division, Alabama militia and was commissioned on June 3rd, 1835. In 1839 he was elected to a colonelcy, and in 1841 he received his commission from the Governor as Colonel Commandant of the County. His uniform consisted of a three-cornered blue hat, knee pantaloons, silk stockings and slippers. His sword is still in the possession of his descendants. Just before his death, Absalom Pratt was spoken of as a suitable candidate for General of the State Militia, but death intervened."
A typhoid epidemic raged through Bibb County in 1845 and Absalom after a short illness died from it on July 9, 1845. Mary was left to raise their children, alone. The typhoid epidemic did not just take her husband from her, but sadly she had to make three other pilgrimages to the lonely Pratt Cemetery on top of the knoll, a few miles from River Bend. "The inscriptions on the grey limestone, hand-hewn slabs, still standing in the old cemetery, tell their own story. Martha Amanda, the youngest child, died first on June 9, 1945….less than a month later Joab, twin of John died on July 5th…then, exactly one month later Absalom died on July 9th. Little Mary, age six, passed away just six days later on July 15th, 1845.
SOURCES
The Heritage of Bibb County, Volume IV by Nan H. Duke and Josephine Harris Wasson

Ellorine Cottingham Morgan compiled records

Find A Grave.org. Memorial # 118295621 # 118295598 # 118295530# 118295820# 118295835# 118295705 # 118295890# 118295804# 30076290# 20101734

The Pratt Family written by L. C. Pratt, Jr. July 1898
Biographies of Notable and Not-So-Notable: Alabama Pioneers (Volume 1)