John Turner Milner, born 1826 in Pike County, Ga., moved to Alabama after his trip to California and was one of the surveyors of the Montgomery and West Point Railroad. Later he surveyed the route of the old South and North which eventually became the Louisville and Nashville, and also selected the route of the Alabama and Chattanooga Railroad, which two roads figured in the controversy which subsequently resulted in the selection of the site and development of the City of Birmingham. When he was in California, he wrote many letters home to his family in Pike County, Georgia. These letters reveal much about the typical lives of those who left the South to take part in the California gold rush. The drawings are from the Library of Congress. The letters have been transcribed as written with misspelled words.
JOHN T. MILNER'S TRIP TO CALIFORNIA Letters to the Family
Ft. Childs,
300 miles in The Indian County,
May 18th, '49
Dr. Sister:
We are now at Ft. Childs on the Platte river and I find an opportunity of sending a letter back. I am well and hearty and have not seen an Indian except 7 friendly ones, nor had any mishap in any way. There are thousand of men going along the road in fact it looks like the wagons hauling cotton to Macon just after a rise in the staple. I believe that there are wagons stretched in sight of one another for 500 miles. I can't give you any items now, only that I am getting along finely and feel as safe as I would travelling from Burnside to Columbus. We just drive all day, turn our stock out on the Prairie grass at night and cook our supper and get in our wagons and go to sleep, except those who stand guard. There is not much game. We expect to get to California in August. The nearer we get the more cheering are the prospects. If I don't make any thing however I will be at home soon. I will write you again shortly from Ft. Laramie. I tell you don't be uneasy I am just as safe as men generally get to be. My love to all.
Your Aff. Bro. J. T.
(Cover) Austin, Mo. June 14. 10 Forward 5
Milner, Ga. July 23rd. 15
To: Miss Lilly E. Milner, Milner, Pike Co., Georgia Cusseta, Ga.
July 14, 1849, Bay of Panama, California Gold Rush wood engraving (Library of Congress)
—–
San Francisco Nov. 14, '49
Dear father
Uncle Ned will bring this to you and I reckon it may for a moment be a matter of surprise to you that I am not with him. I hope however you will be reconciled when you learn the circumstances. I have heard nothing from you since I left and consequently am almost tempted to come home and see you. I tell you it is the hardest thing I ever did to forego the pleasure of seeing you all at home; but I hope you will conclude with me that it is best I should stay this winter at least and if you are still anxious and say say you had rather I would come and see you just write and I will leave everything and come. Uncle Ned will tell you all I can make money here and every one of our family who will come here can make money and a plenty of it. I would like to see you out here. Yet I don't think I want you to come and go to the mines without bringing with you some six or eight good hard working hands white hands for they are all out upon negroes in this country it is in fact a perfect Yankeedom but the Georgians can beat them in the gold mines. Steam saw mill with every thing complete will do well here if it comes pretty soon. It is true thousands of men die here but I think a man properly protected can enjoy better health than in the States, for if men were to live in Georgia as they do here they would all die and no mistake. I have enjoyed better health since I have been in California and I ever have in my life. Uncle Ed can tell you how things are etc. and it therefore needs not much comment from me.
I think however I can make a future here next year and I don't think it will pay for me to come home and back again in the spring, which I would be certain to do besides the trip is not very pleasant and I know the parting would be as bad as ever. I hope you will be satisfied that I stay from a conviction that it is for the best, and I hope also to meet several of our friends out here next April, don't come after April, for they will miss the best season for operations. Write to me often at San Francisco.
My love to all. Your obt. Son,
John T. Milner
N B I have thot (sic) that I would like to have Benny out here then I am afraid he would get sick and probably die and knowing pretty well the consequences of such an event not only to me but to all of our feeling I am afraid to ask you to send him; besides if he stays at home and assists you I shall be better satisfied and I hope he will lose nothing by it. Bear with my absence a little while longer and if I have committed an error in staying let me know and I will come straight home. I have to day rec'd a commission from the Governor as surveyor for a large district of country. The most beautiful I ever saw, and I must fulfil my contract. It was gotten by the assistance of men of high standing in this country, and I must fill it. It is a good business I get 20 dollars a mile and there is not a sprig of anything in the way and it is as level as a house floor. I am dividing up large Spanish grants of some 5 or ten or twenty thousand acres into 20 to 40 acre tracts, besides we have a hotel that can't clear less than 100 dollars pr day, the frame cost here 25.00 and you sell it at home for 30 dollars. Lumber here is from 3 to 400 dollars pr M feet and worth that to get it framed. Uncle Ned will bring home part of our money and expects to buy a sawmill. If you and Uncle Ben like we would be glad to have you join us and I would like for you to select the machinery and hire some good clever fellow to put it up. It can't but make a fortune here in one year to all concerned. I would like to have three or four of our hard fisted Georgians out here I would give them good wages. Uncle Ed is coming back in Feb. I wish some of our family or friends would bring their wives out here. I would give them a house just for the sake of having a home myself. We have made about fifteen thousand dollars since we have been here have had about three thousand stolen out of our ten and 700 more hooked before our eyes. Uncle Ben will tell you all.
Your obt. son,
J, T. Milner
Willis J. Milner, Esq.
Milner, Pike Co. Georgia
Photograp
---
Photograph shows a miner's camp and large log cabin on hillside; prospectors, some with shovels and pix axe pose near ditch and flume. ca. 1849 (Library of Congress)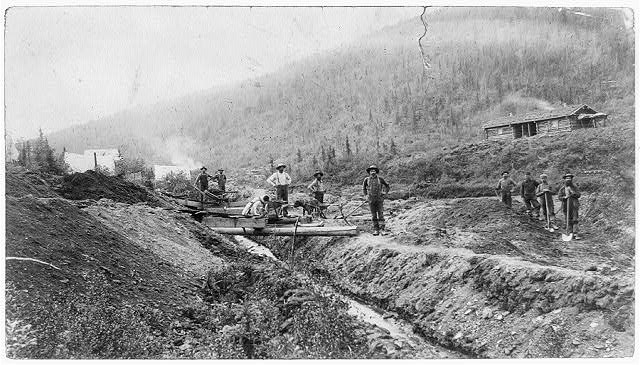 Pueblo San Jose
Nov. 25, 1849
Dear Father
I send you a few lines in order to let you know how I get along without Uncle Ed. I am well and doing so. I am fitting up our house have ten rooms renting for 1500 dollars pr month and 500 dollars worth per month of house besides, I have a good room ten by twelve as a surveyors office and sleeping room. I will make money here this winter and live as comfortable as in Columbus, Ga. as far as room and eating are concerned. This is the finest and most civilized town in California, the seat of government and convenient to the mines. Flour and Pickled Pork and Bacon and Sugar must pay well if started from the State in Jan. or the first of Feb. Frame houses however will pay probably better. Flour is 45 dollars pr bbl. and bacon in proportion. There will be a great quantity started here by this—news and the first that gets here will pay well.
Uncle Ned can tell you all however.
My love to all and if you want to see me very bad just write and I'll come.
Your obt. Son,
John T. Milner
Willis J. Milner, Esq.
Milner, Pike Co.
Georgia
—–
Pueblo San Jose
Dec. 23, 1849
My dear father and mother, sister and brothers
I will keep my promise to you about writing even if have deceived you about coming home. I rec'd your letter of the 1st of July I had rec'd two from Uncle Isaac and Aunt M of the 28 August the last intelligence I have had from home. I know however you have written, but those mail contractors for Cal. manage the business most miserably. I will get all of your letters this mail I reckon. I am glad you are satisfied that I came to Cal. and I do hope it may all end well. Uncle Ned will tell you what we have done and how we got here so I will tell you what I am doing here. I have a house in this town containing fourteen rooms rented for 1650 dollars pr month and have other business amounting to about four hundred dollars pr month besides my profession which brings me from 20 to 100 dollars pr day according to whether it rains or not. As I promised you I never will expose myself unnecessarily and when it rains I keep in my office around my stove reading, writing, mapping eating, ground peas (I've bot every one in Cal about 25 bushels and sell them at 16 dollars pr bushel I gave four) talking with friends &c. I can be as comfortable here as I can anywhere except at home and have a good room and live as well as I ever did in my life. My board costs me only five dollars pr day and I have No. 1. I have a good cot, a mattress and two pr of machinow and one of common blakets and I do believe I have as many friends here as I ever * had anywhere, but they can't be like home friends of course, but with Uncle Ed I used to feel just as if I was knocking about home and if some of the family Uncles Benj. Jonathan or if Benny could come out I would be satisfied. But it is too much for me to ask you to part with him. Uncle Ned can tell you how things are and if you can consent to send him do so; I want to come home as soon as possible. I am making more money here in one month than I can in one year at home. Uncle Ed asked me if I wanted you to come out? I told him I would state facts or would get him to do so and if you come I would be glad and would make your sojourn pleasant if no more, if I was able but if you concluded not to come, I would hope to see you again settled and happy at home. As to Uncle B. & J. I want them to come, I don't want Uncle Pitt or Uncle Henry or hardly Uncle Charley to come. Cousin Cicero could make a fortune by coming here. I believe candidly it is the best place for Cousin J. B. Arnold. I believe if he was to make from four hundred dollars to one thousand pr month by honest industry he would do well—at all events I do most anxiously want him to come. I do believe it would have the best effect on him. Webster is here and is as cool as -a cucumber, has set into business and is doing well. There are men here that I knew in Ga. worse than cousin J. B. ever was, who are for the sake of friends at home and on acct. of the opportunity offered of redeeming the past, are making and saving their money. Cousin Billy S would have been independent had he have come out with me and Uncle. The money I now have invested is paying sixty pr cent a month or 720 pr year. Now is the time to make a fortune here. I was solicited yesterday to run for Surveyor General of the State of Cal. and would have been elected but the pay was small—only five or six thousand dollars pr year, and I now have engagements in my profession worth more than that—It was the first office I was ever offered by a legislature, and it looked like too long a leap from a gold digger to Surveyor Gen, This Town and Dist. went for me. Part of the San Francisco and part of the Sacramento besides other influences for which I was much obliged to all of 'em as they had no means of knowing me except from the citizens of this place. I am doing well enough and living comfortable as any man in California. I have money a plenty and if I get sick I can hire somebody to wait on me even if friends desert me. I will come home next winter if I live and you don't want me to come sooner. It is a very poor chance to make gold here in the winter. Altho there are thousands now in the mines. It rains here all the time when it does rain and consequently it must be very disagreeable working in the mines in the rainy season. I would not expose myself as they are for 500 dollars pr day. But in the spring all will be well. If any of Pikers come out do tell them to get here on the March Steamer at farthest the April Str. I will leave my whereabouts at San Francisco either in the P. O. office or at Leonard & Fay s commission Merchants foot of Washington St. I think I may go to the mines about the 1st of April. But don't know certain if I can't get an excellent business here I will throw up my commission and go to the mines. I can hire men a plenty and put them to work. My experience little as it is worth a fortune. Any Georgia miner can make a fortune here. I do not know one of them who has not made money, in the mines. The vein mines in this country are just opening. The richest I ever saw. I am going to the Marijosa on the head of the San Joaquin, the best vein mines in the country, and have seen specimens worth 100 dollars pr bushel. I have seen gold got ten out of two rocks picked up on the surface about one foot square each 93 dollars. I do want the Pikers to come out heie and make money. I believe they will all do well. Saw old Dan out here, he can make fifty dollars a day laughing. He won't run off from me I reckon.
San Francisco, 31st Dec 1849
Uncle Ned
I wrote you last week on our business matters which you will see are in a pretty used up fix, for I tell you I am master of naught from naught, & nothing shorter. But I have this consolation, I know how a rich man feels which I would not have known had I not come to California. For until I found out old Leonard & Davenport didn't intend to pay us I felt pretty sick. But I now know for the first time how a fellow feels when he is broke & worse than broke. But I am like old Taylors Volunteers at B Vista altho whipped I wont own it as I dont know it, dr Uncle Ned, It is worse denying the fact & its no use crying about it neither. I simply thank God, that I have been able to stand up as well as I have under the blow, & that I have a prospect of making up the difference, here that is making California pay for itself, since Running the above I have seen Hawley & my lawyer thinking I might get some ideas I have not had before. But matters grow worse. Hawley now says the mill never was according to contract & that the B Vista vein will pay 3 cents per lb., and he Hawley has been inquiring very particularly about our land in Texas &c. O my God I have thot I have seen hard times but I have never known trouble before. I am in debt to day for 1 weeks board, & must pay up, tight papers but cant be helped, I have my bucket full of notes & due bills yet I cant act a meal for five thousand dollars as hard earned money as any man ever earned. I wrote you last week all about our business & find now the aspect of things are not altered.
I want our Texas land turned into money some how for I now owe $2500 here & must pay it up & to tell the truth Uncle Ned it looks like a hard shot for me to dig it out here in California, yet I cant do anything else but dig for I have nothing to commence business on. I feared this when you left which was my great objection to you going. I always feared that when the trip came Old L & D would show their white feather. But Uncle Ned don't consider at all that I blame you for anything concerning our disappointment for I know you must have acted in all sincerity. But what I do hate is the great disappointment & to my father Mother Sist & Bros, at home. I can stand it & so can Benny. They as I wrote you have already or will soon institute suit against us for damages. They the whole of that motley crew of coyotes up there swear anything they please & may get us I tell you the old mill is in a bad fix It looks bad & is a poor concern apparently Our Texas land may pay our debts & I will be just where I started three years ago. I sometimes think of coming'home & going to study medicine or something, yet I cant tell what. Write me at San Francisco as I don't know where three months may find me. Probably in Oregon surveying on the Sandwich Islands or China or Texas, or Georgia. I know not now what a day may bring forth, nor can I now say I will or can do anything tomorrow. Tell my father Mother Sists & Bros & Friends the cause of my not being able to come home. You cant probable assist me here now, but you can look out for yourself at home. As for me I have nothing & cant be hurt much no way, Our land will pay our debts probably even if I be so unfortunate as to make nothing here this year. In a word Uncle Ned we are swindled cheated of everything we have in Cal. & have made here. I am broke & four thousand miles from home, where I once had friends to day they know me not so good bye John, you no business having such luck
John T Milner
Uncle Ned if you will take or can get any body to take over Brazos land (I say Brazos for I would not look one moment but just take that tract as I hve & everybody says it is a bargain at 12 dollars an acre) & advance enough to pay our debts & I would be willing to come home but I dont want you to trouble yourself or our friends to pay our debts unless you can do it through the land. I will stay here & dig it out before I would ask my friends at home to sacrifice anything for our losses here. Just settle the point with Kyle immediately & morgage (sic) or sell the land for money enough to pay our debts and My God knows I will come home, for I hate to look at these infernal Yankees. Yet I dont want to run away for this would ruin me forever. Settle with Kyle next week as Hawley will write by the next mail I fear. But dont sacrifice it, if you can help I had rather morgage the land.
SOURCE
The Alabama Historical Quarterly, Vol. 20, No. 03, Fall Issue 1958
Discordance: The Cottinghams
 Inspired by true events and the Cottingham family that resided in 17th century Somerset, Maryland, and Delaware, colonial America comes alive with pirate attacks, religious discord, and governmental disagreements in the pre-Revolutionary War days of America.