TEARING AWAY THE GRASS
Re-formatted from the Logbook of Joy Chichester, September 7-8, 2004
It was the possibility of predecessors' intersections with history, and the mystery of my unknown grandfather that sent me on my journey through the family tree. Before 2004, my only research tools were the microfilm census records at the National Archives at the Denver Federal Center. An inherited 1941 news article mentioned my grandfather's childhood in Columbus, MS. A fantastic three-month motor home trip across the country was offered by Homer Ramsey, so I was determined to go to Columbus and find something, anything…

It rang my chimes!
Entering Columbus, we found the Mississippi Welcome Center, which is housed in Tennessee Williams' home. I saw "The Blue and the Gray" poem on the Friendship Cemetery brochure in the rack. This immediately rang my chimes!
One of only three tidbits of information that I inherited from my grandfather had been a booklet titled "The Blue and the Gray". It's a poem! I wondered why Willis E. McCracken sent the book to my father in 1924, with comments about his parents in the accompanying letter. Now the connection is revealed! It must be that his parents are buried in this cemetery! (The other tidbits are photographs and news clippings, and are with my stored goods. Many times since I put them there, in 1998, I have wished to see them again, in hopes of finding granddad's parents' names.)
From the brochure: "An early memorial ceremony honoring the Civil War soldiers buried in Friendship Cemetery has been credited as the forerunner of the modern Memorial Day. It was at Friendship Cemetery on April 25, 1866, that four Columbus women … first decorated the graves of both the Confederate and Union dead with spring flowers. The impartiality of the women … was honored … in a poem written by New England poet Frances White Finch, "The Blue and the Gray" … first published in September, 1867 …"
We went to the Columbus and Lowndes County Library. In the parking lot across the street, Homer parked under a shade tree, set up his lawn chair, and waited for me.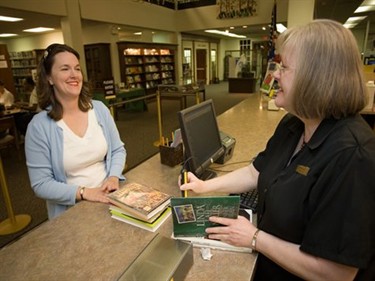 Who were his parents?
The librarian, Wanda personally jumped into my search for Willis Emile McCracken. Very soon, she ran into the blockade that I was trying to breach: who were his parents? She asked what I had found in the 1880 Census. I sheepishly admitted that I hadn't looked at it yet. I missed it during that hurried visit to National Archives on July 22. So Wanda looked, and there he is: Willis E., age 11, in Columbus, MS. Even so, it is still an assumption. All across the South there are several McCrackens named Willis.
In that news article I inherited, did he tell the Houston Chronicle in 1941 that his father was a cabinetmaker? In the 1880 Census, the father of Willis E. is Henry A. McCracken, a cabinetmaker. His mother is Ellen V. McCracken. There are two younger sisters, Fannie and Florence, and a brother Ernest, age 1. More news: Willis Emile was born in Tennessee, and his father Henry A. was born in Alabama.
The names were the same as those I was now seeing in the "Friendship Cemetery Tombstone Inscriptions" book and index, except for the sisters, Fannie and Florence. Interestingly, there is another inscription for Ethel McCracken, who died as an infant in 1881. And, Ernest died in 1881, also. Could they have been twins? But, Ethel wasn't on the 1880 Census.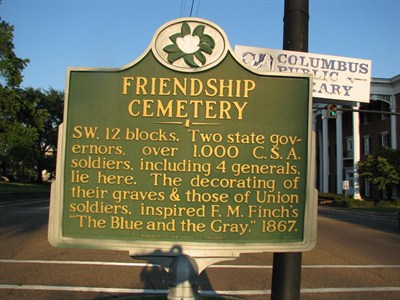 Helpful Librarian
The librarian dug out more records. Henry and Ellen are mentioned in probate records for Martha Cummings, who died in 1862. Ellen inherited $15.55. I asked Ben, the young library clerk, to copy every paper in that file for me, because I couldn't stay long enough to pick and choose. And, white glove handling is required.
It seems that Ellen is Martha's heir, because Martha is Ellen's mother! That assumption made Martha Cummings my great-great-grandmother. The probate papers name names over and over, and I wanted to check them all. Martha could have been an aunt, also. [Note: Later reading of the probate papers verified that Martha Cummings was the mother of Ellen Virginia Cummings McCracken.]
Ben, at the library, gave me a partial map of Friendship Cemetery, circling Lot 281, where Henry and family are buried. I made notes of tombstone inscriptions of this family whose birth dates set them in a timeline for my granddad's birth.
Not named on the map
We went to the cemetery in the afternoon and drove the Jeep around the narrow roads until we found Magnolia Way. Lot 281 is near the intersection with White Oak Way, which was not named on the map.
The lot is a square of grass with no protruding headstones. I walked over it and looking down, saw greenish flat stone (or metal?) between the blades of grass, and the letters "KEN". I brushed away grass to see "CKEN". I hollered, "Here it is!" Homer and I pulled grass and brushed away pine needles and dirt with his red utility cloth.
The marker is about 12"x36", and was apparently set in 1962 at the passing of Henry's second wife. Three names and date spans are set over much larger letters for "McCRACKEN" – – Ellen Virginia Cummings 1849-1885, Henry Austin 1841–31 Jan. 1907, Carrie Lucetta Adams 1865–12 Sept. 1962.
Poked turf with a screwdriver
But where are the babies? I asked Homer for his screwdriver, and began poking the turf to the right and left of the flat marker. To the left, I found a small square metal plate in the southwest corner of the lot, for "Ernest McCracken 1879-1881". I never found a marker for Ethel.
Thus, we literally uncovered precious information in Columbus, Mississippi. I not only found the name of my great-grandfather, but also that he had a second wife, Carrie Lucetta Adams, and that a great-great-grandmother was Martha Cummings. My motor home trip lasted another seven weeks with many more places to visit, including my 1954-1957 hometown, Branson, MO.
As soon as I returned home to Lakewood, CO, I signed on with an Internet Service Provider and began searching the Web for more McCrackens. A pedigree chart from Henry Austin McCracken in FamilySearch.org revealed my Scottish ancestor, James McCracken. James, bless his memory, came to America and fought in the Revolutionary War with the South Carolina Patriots – and that gives me a pedigree for the Daughters of the American Revolution!
Found my lost grandfather
With the help of GenForum and Facebook, many cousins are now located, all descended from Henry and Carrie. Finding my "lost" grandfather has also sent me a hidden family whom I didn't know existed.
The moral of the story is that there is always another story hiding behind the so-called "black sheep" kicked out of the family. Granddad Willis Emile McCracken from 1901 to 1941 is still a mystery, but at least I know his roots were from hearty pioneer American-Scottish-Irish-English stock!
Did you know that all E-books can be downloaded immediately from Amazon.com? Click below to see how.