"SCRAPS"
RELATING TO THE EARLY HISTORY OF LIMESTONE COUNTY
By Thomas Smith Malone
Excerpt from a transcription from The Athens Post, May 25, 1867.
Page 2, Column 2
Part XII
We have heretofore noticed, in our disjointed way, most of the earliest settlers in Limestone County; paid some little attention to the cutting out of the first roads; given the places from which the exports were carried on etc., etc., in the last few numbers, given the most reliable information we could command as to its earliest preachers, embracing the three most prominent denominations in the then young community, and we now propose to review, somewhat before we venture farther, and ascertain as well as we may be able, the position, the status, of the county, the community, at that period, 1820 to 1822. And we claim for the county, a higher position than that attained unto by her sister counties, in North Alabama.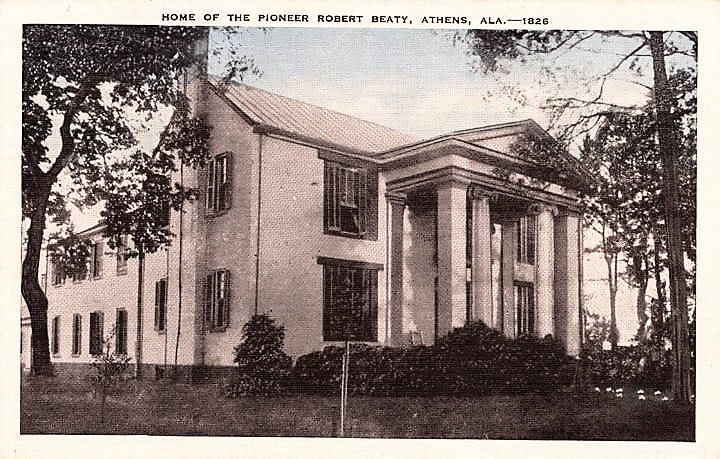 Home of the Pioneer Robert Beaty, Athens, Ala, ca. 1910 (Alabama Department of Archives and History)
Tone of community
In morals, in educational facilities, and in Statesmanship, yes, in general elevation and tone of character this community occupied a higher and better standpoint, at that period than the neighboring counties, unless we are mistaken in our estimate.
And first Limestone was blessed with wise, liberal, large-hearted and patriotic statesmen, as leaders, as Hons. Nicholas Davis, Thomas Bibb, John D. Carroll, Daniel Coleman. Robert Beatty etc., etc.,
And second as to her education, she was equally highly favored, as the following names will sufficiently attest: Dan P. Bester. John B. Forrester, Jas. W. Allen, James Allen, Jacob Watson, Win. Edmondson, N. Gove, Dr. F. Tomkies, Calvin Hines, John D. Carroll Robert Timmin, Joseph Wood, Wm. McQuestion etc, etc., all "good men and true," and many of them, men of acknowledged scholarship and ability.
Highly favored in the character of her population
But lastly, as Preachers, Politicians, say not the least, but the most important of all, Limestone was very highly favored in her Ministers and the character of her population during the years 1816, 1817, 1818; as we have before stated a very heavy imigration was going on, and among these new comers, were very many plain, sturdy, fixedly religious men, with their families; they brought their industry, their morals, their religion with them, and the difficulty with the devoted, earnest ministers of the gospel, was not to find a place to deliver their messages, but to choose amidst the overwhelming number of applications for their services.—There were many devoted, earnest, wholesouled Ministers here at this time, doing their Masters work with a will, when these came, and with them came others of like devotedness.
Ministers secured a good state of society
These Ministers. I doubt not, did more to secure a good state of society here, than any one element. Such men as Robert Bell, Robert Donnell, J. Boucher, James W. Allen, Jesse Coe, Wm. McMahon, Dr. G. W. Taylor, Dr. Nelson, Joab Watson Father Thompson, Mr. Blockmon, Messrs Marshall, Tames McFerrin, Bester Hopwood and Tucker with their burning Zeal and great abilities all devoted to the elevation and evangelization of the citizens, could not fail to make a strong decided impression for good.

These were the men that the time and state of society needed, and just such as the present exigencies of our country require and demand; men who are not for sale, men who are honest, sound to the heart core, from center to circumference; men whose consciences are steady as the needle to the pole, men who can and tell and act the truth, and look the world right in the eye, men who will stand up for the right, though the earth reel, or the heavens fall, men who neither swagger nor flinch; who neither brag nor run; men who have moral courage, without whistling for it; in a word, men who have God and are careful to secure his approbation, and are earless to the plaudits of the world, or the pelf of this world, or its pleasures or honors.
Such men, we believe those above named, as God's servants, to have been, and under God's blessing they made their mark on the citizens of this county. It is, in our weak estimation but another instance among thousands, of the Divinity there is in our holy Religion, as proof of the influence and tendency of the gospel when wielded with clean hands, and a pure heart; we refer to the potent fact, that there has been less crime in our county for the last fifty years, and we have furnished fewer subjects for the Penitentiary. Their works, though they are dead, yet remain with us, and we pray God that their good influence may still continue with us to bless and guide us. Respectfully, T.S.M. May 17, 1867
ALABAMA FOOTPRINTS Statehood presents the times and conditions they faced in lost & forgotten stories which include:
Who Controlled And Organized The New State of Alabama?
Tuscaloosa Had Three Other Names
Chandelier Falls & Capitol Burns
Alabama Throws Parties For General LaFayette
Francis Scott Key Was Sent to Alabama To Solve Problems