This excerpt was transcribed from Clarke County, Alabama, and Its Surroundings, Timothy Horton Ball, Clarke County Historical Society, 1879
In 1817 the Mississippi Territory was divided and the western part being admitted into the Union as the State of Mississippi, and the eastern being organized into a territorial government March 3d, 1817, and called the Alabama Territory.
St. Stephens was seat of government
Of this territory St. Stephens, as the center of the oldest settled portion, it became the seat of government. In 1818 an act was passed to establish the Tombeckbee bank in the town of St. Stephens. Also in the same year, February 10th, an act was passed to incorporate the St. Stephens Steamboat Company. The directors were James Pickens, B. S. Smoot, Silas Dinsmore, David Files, Henry Bright, and D. P. Ripley.
It had been ascertained that there were salt springs near the Tombigbee River in Clarke County, and in 1819 an act was passed to lease these springs. The men who engaged at this time in the manufacture of salt were probably Ball and Bayard. They do not seem to have continued it many years. Thus improvements were going forward, but as yet mills and gins and workshops were few in number and distant from each other.
Tombigbee at St. Stephens, Alabama (http://www.alabamascenicrivertrail.com/paddle-alabama)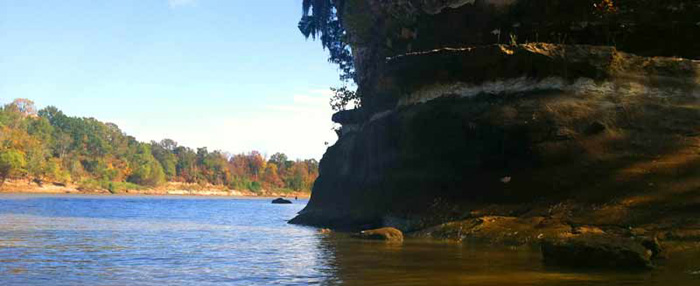 The White House
Some of the settlers had brought with them whip-saws. By means of one of these saws, the lumber was obtained for erecting the White House. This was built by General J. B. Chambers about the year 1818. It was about three miles north-east from Grove Hill, on the Perch Tree road. It was two and a half stories high, and in size about twenty-four feet by fifty. Not only was the lumber all sawed by hand but the nails, it is said, were all made by a blacksmith. This house has been the residence of several families, retaining its name after it lost its color and its first imposing appearance. It is still standing but is no longer white, and no longer inhabited. It will soon be a ruin and be removed. (in 1879)
Whipsaw or sawpit (Public Domain Wikipedia)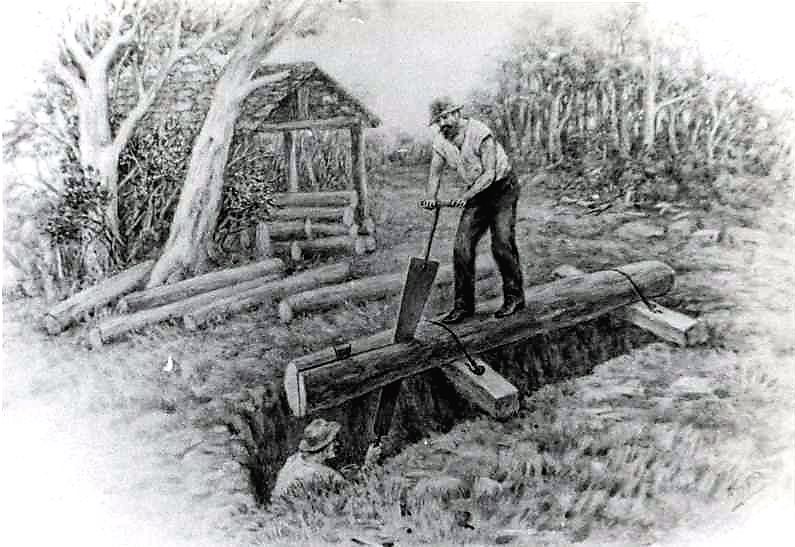 One of the first frame houses was built by Eskridge in 1815. The stone chimneys of this house still remained (in1879)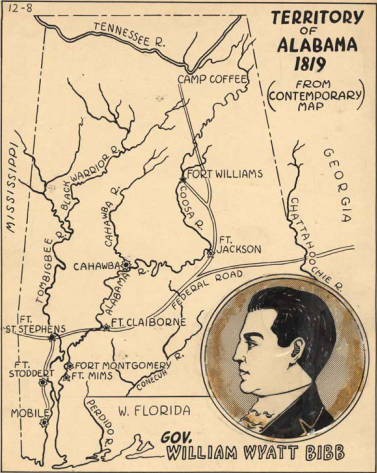 At the close of the war of 1812, and as late as 1817 there were, comparatively, few families between the rivers. The larger settlements were on Bassett's Creek, around Magoffin's Store, south of Suggsville, near Pine Level, on Jacksons Creek, and at West Bend and Coffeeville. James Magoffin, who had settled at St. Stephens in 1809, had a store on what is now the Allen place in 1817.
In 1819, according to the Acts of Alabama, there were in Clarke six places for voting: Campbells, Coffeeville, Magoffins Store, Jackson, Suggsville, and William Coate's. The last was made the returning precinct, as there the courts were held.
As early as 1812, so near as can be now known, Greenlee had a store, the first store, at the mouth of Cedar Creek.