The following excerpt describing early residents of Jefferson County, Alabama is from the book, BIRMINGHAM & JEFFERSON COUNTY, ALABAMA HISTORICAL & BIOGRAPHICAL by Teeple & Smith Publishers 1887
Trussville was one of the most important portions of our county. That part of the county was settled at a very early day by such men as WARREN TRUSS the grandfather of our present sheriff; NICHOLAS TALLEY, WILLIAM PERKINS, CHARLES C. CLAYTON, and RICKETS BLYTHE, ELIJAH SELF, STEPHEN GARNER, B. PRAYTOR, ANDREW BASS, BURNELL BASS, and others.
Early residents
Our territory extends over a portion of Cahaba Valley, including the present town of Leeds. In that portion of our territory lived JOHN OLIVER, for many years one of our representatives in the legislature. WILLIAM CAMERON was a resident and merchant of Cedar Grove. There was also a numerous family of the MCDANIELS and WORTHINGTONS.
 Benjamin Pinckney Worthington House, Sixth Avenue South, Birmingham, Jefferson County, AL (Alex Bush, Photographer, March 4, 1937, REAR (SOUTH) ELEVATION, Library of Congress)
 Benjamin Pinckney Worthington House, Sixth Avenue South, Birmingham, Jefferson County, AL Alex Bush, Photographer, March 4, 1937, REAR (SOUTH) ELEVATION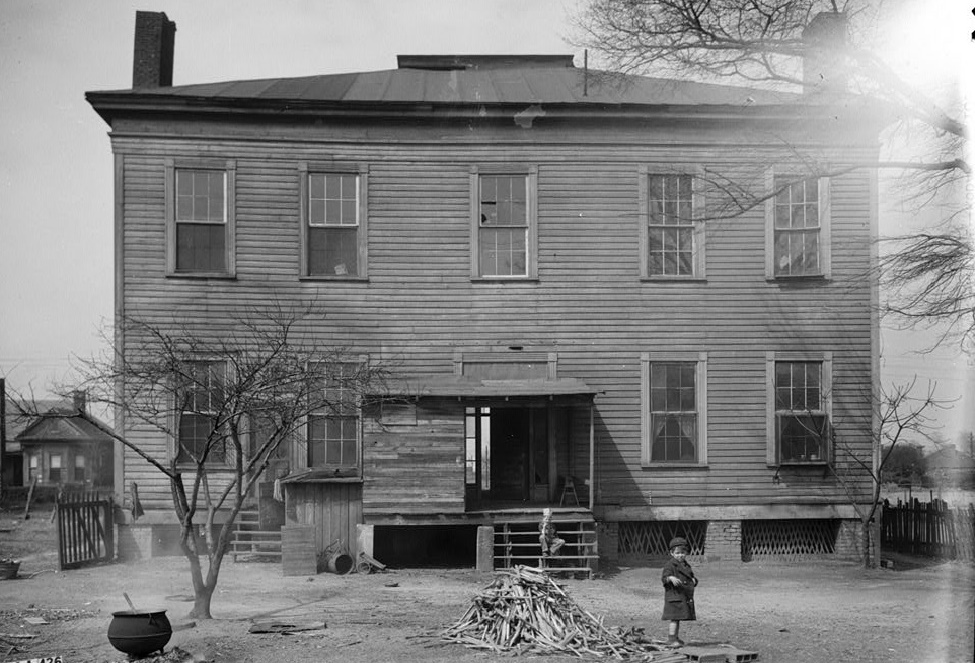 In that portion of our county known as the Bethlehem neighborhood, in the western part of the valley, lived many good citizens, such as WM. BROWN, SR, and his several sons; JAMES, RUTLEDGE, STEPHEN HODGES, WILLIAM SNOW, ALVIS DAVIS, etc.
In the Jonesboro neighborhood lived WM. R. SADLER one of the most prominent citizens of that part of the county. He built the first grist and saw mill in that section, and supplied the people with meal, flour, and lumber for many years.
Among the lawyers of Elyton was JUDGE PECK, for many years one of the leading attorneys of the county and of the State. THOMAS J. WRIGHT, one of the leading merchants of Elyton, was noted for his candor and integrity in all business transactions. JOHN F. FOREST was one of our last judges of the county court, under the old system.
Jefferson County, Alabama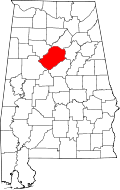 COLONEL GREEN and CAPTAIN HEWITT removed to this county at an early day, about the year 1819 or 1820, and settled about six and nine miles north of Birmingham, respectively, which has since been known as the GREEN neighborhood and lived there till their deaths, which occurred more than thirty years ago.They were both men of note in their day and time. COLONEL GREEN came from the Abbeville district, South Carolina, and while quite a young man had charge for several years of the large planting interest of GEORGE MCDUFFIE, the eloquent representative in Congress from that district, and it is said that after a long absence in Washington City, on his return, his large estate had been so skillfully managed and improved that he could scarcely recognize it as his former property.
COLONEL GREEN married JANE YOUNG, one of the most amiable and lovely women I ever knew, and after he came to Alabama he acquired property rapidly. Such was his good judgment that everything he took hold of seemed to prosper with him, and at his death, he left a fine estate to his family. He was a very public-spirited man, and a great friend of internal improvements, and became a stockholder in the Selma, Rome & Dalton road before it reached Montevallo. He was generous almost to a fault, and I have known him in times of scarcity to send a four-horse wagonload of corn to his more needy neighbor, and have it thrown into his crib without expecting any compensation. He always took an active part in elections and supported the candidate whom he considered the most worthy and best qualified to fill the office he sought.
CAPTAIN HEWITT was, I think, the best-informed politician I ever knew, was a strict constructionist, and understood the true principles of the government thoroughly. In common with most of the Southern people of that day he was opposed to a protective tariff, believing that the consumer had to pay more than his true share of the public revenue. He was a successful farmer, and in the latter years of his life, he engaged in the coal business. He, together with DAVID HANBY, JONATHAN STEELE, and JAMES A. MUDD, were the pioneers of that business in this country. He opened mines near the mouth of Turkey Creek, and DAVID HANBY opened higher up the river. STEELE and MUDD had their location near the mouth of Village Creek.
William S. Mudd (Jefferson County and Birmingham, Alabama Historical and Biographical 1887 by John Witherspoon DuBose)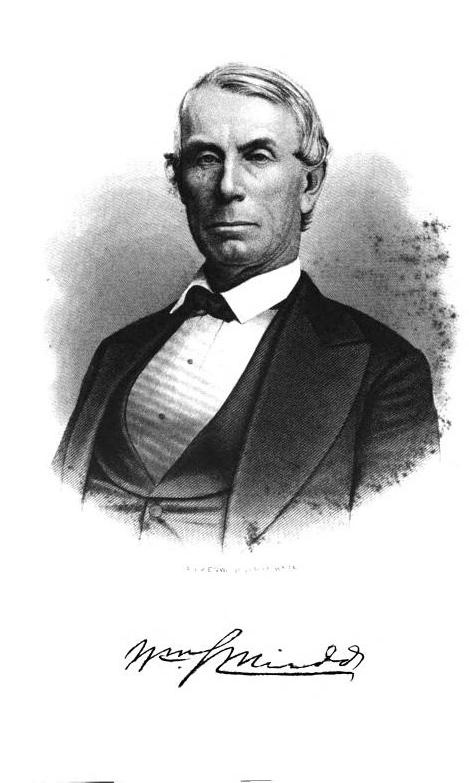 They constructed flat-bottomed boats out of the tall poplars that grew in the rich bottoms, and after putting on several thousand bushels of coal would float them down to Mobile. – The Squaw Shoals was the great obstacle, where they always had to wait for a rise in the river, and with plenty of water, they generally went over safely, though some boats were lost, and one or two lives. The men who learned to pilot a boat down the Warrior River safely became almost as famous as Mark Twain's pilots described in his "Life on the Mississippi."
About the year 1832, JOHN CANTLEY, a genial, whole-souled man, made his appearance in Jefferson County and established his home here. He was of the mercantile firm of AUDLEY, GAZZAM & Co., of Mobile. In passing back and forth to New York to purchase goods, he became interested in this place and finally located here. He was a man of splendid physique and wonderfully magnetic in his nature. He soon became very popular with the people of his adopted county. They gave him the highest honor in their power, which was to represent them in their State legislature. Tuscaloosa was at that time the capital of the State. His dry goods store was located in Elyton, and soon became the rendezvous of all the bone and sinew of the county surrounding the little antique village.
There were congenial spirits found in this Jones Valley, and among the prominent citizens of that time we will mention JUDGE E. W. PECK, who has since become chief justice of the State; another lawyer,
JOHN W. HENLEY, who was the father of one of Birmingham's most prosperous and popular physicians, DR. HENLEY, also of ROBT HENLEY the first mayor of this city. The descendants of these three men are now living in Birmingham, which has risen, phenix-like, from the corn and cotton fields of their fathers.
HON. JOHN MARTIN, the " silver-tongued orator, " and congressman from this district, having married the daughter of JUDGE PECK, is now a prominent citizen of Birmingham. Among others at that time, living in this embryo wonder of the world, was DR. S.S. EARLE, one of the most profound scholars and best physicians of his age.
Also WALKER K. BAYLOR and JUDGE THOMAS A. WALKER. Any or all of these men would have been ornaments to any society or profession. MAJOR CANTLEY subsequently removed to Tuscaloosa, which proved unfortunate for him. He engaged in the mercantile business thereupon a large scale, but his partners soon involved the firm in trouble, both financial and otherwise. MAJOR CANTLEY was quite as popular in the Druid City as he had been in the mountains of Jefferson, and was soon made one of the directors of the Bank of Tuscaloosa. He was a member of that old and time-honored institution, called Masons, and at his burial, this fraternity showered every honor known to their order over his remains and grave. At the early age of thirty-seven, in the prime of his life, this man of promise was stricken down, without a moment's warning, by a secreted enemy. So unsuspecting and conscious of having no such enemy that, when dying, a few hours after, he inquired: " Who did it?"
His widow is still living with her daughter, the wife of B. E. GRACE, SR.
Bestselling novel

 

FreeHearts: 2nd edition A Novel of Colonial America

 

is the story of a first family  in colonial America who eventually migrated to Alabama.