When pioneers moved to new locations, they often traveled in groups and intermarried with those they traveled with on their journey. This was the case with early settlers in Shelby County, Alabama and created many intertwining relationships.
Shelby County Alabama Pioneers Volume I reveals the connections between the ACTONS, BAILEYS, CLOWER, CROWSON, LEES, NABORS, NELSON, ROBERTSON, and WILSON families of early Shelby County, AL.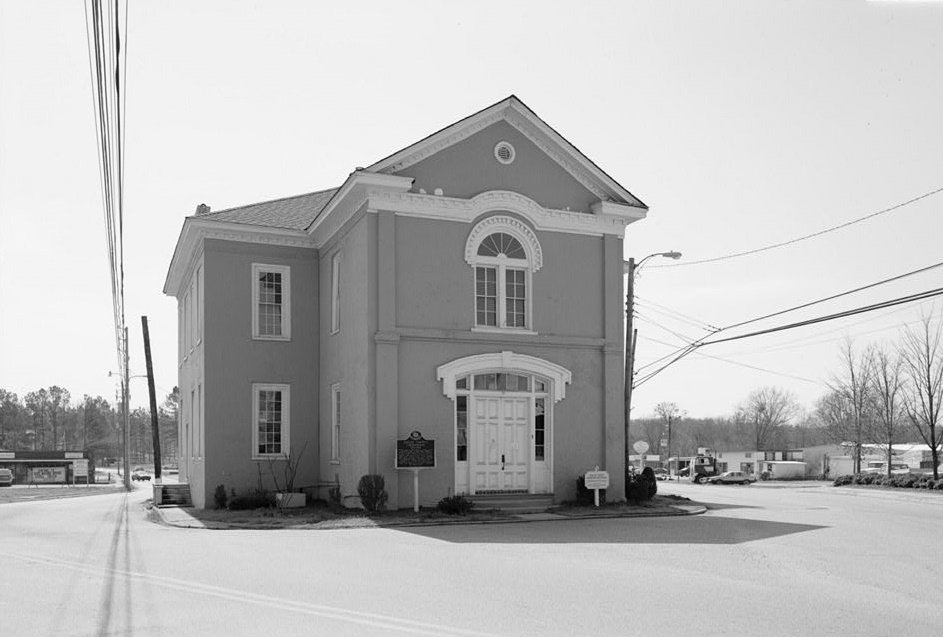 Old Shelby County Courthouse main street Columbiana, Alabama
Notes, and sources are included whenever possible. Genealogy reports with all supporting evidence, wills, and deeds when available are included.
Surnames found in this book include; ACTON, ALEXANDER, ALLEN, ALLGOOD, ASHMORE, AVERY, AYETTOTT, AYLETT, BAILEY, BAINS, BAKER, BALCH, BANDY, BARHAM, BARNETT, BARRONS, BASS, BEALER, BEARDEN, BELL, BEMAN, BENGE, BENTON, BEVILL, BILLINGSLEA, BISHOP, BLANTON, BLEDSOE, BLEVINS, BLOUNT, BOOTHE, BOYD, BOYLE, BRAGG, BRASHER, BRIELAND, BRINKER, BRATTON, BRITTON, BROWN, BRYAN, BULLOCK, BURNETT, BURROW, BUTLER, BYARS, BYNUM, BYRUM, CAHILL, CALDWELL, CARPENTER, CARTER, CASEY, CLAYTON, CLEVELAND, CLIETT, CLOWAR, CLOWER, COHEN, CORLEY, CRAIG, CRAWFORD, CROCKETT, CROSS, CROWSON, DANIEL, DAVIS, DEAN, DESHAZO, DICKENSON, DILBANE, DOLLAR, DUKE, ELLIOTT, ELLIS, EDGE, ESSMAN, ESTILL, FANNIN, FARLEY, FARR, FAVRE, FERRELL, FINNEY, FLOURNOY, FOUST, FRASER, FREEZE, FROST, FULTON, GAILEY, GARRETT, GIBSON, GLIDEWELL, GODDEN, GODWIN, GOODGAME, GOODSON, GREEN, GRIFFIN, GRIFFITH, GRIGGS, GRIMMETT, GULLAHORE, GULLEHORN, HAFNER, HAGIN, HAIL, HALE, HAMILTON, HANNAH, HANEY, HANSARD, HARDIN, HARKINS, HARLESS, HARRIS, HARRISON, HAYES, HAZARD, HEARNE, HESTER, HICKS, HILL, HODGES, HOLBROOK, HOLLINGSWORTH, HORTON, HOWARD, HUDSON, HUTCHINSON, JOHNSON, JONES, KIDD, KIERDON, KNOWLES, LALADY, LANIER, LAVINSKY, LAWLER, LEATHERWOOD, LEE, LEEPER, LEONARD, LINDSAY, LINDSEY, LOFTIN,LOONEY, LOVELADY, MAHAN, MARDIS, MARLOW, MARONEY, MASKE, MASON, MATHEWS, MATTHEWS, MAXWELL, MCCAIN, MCCLINTON, MCCRAFT, MCGOWAN, MCLANAHAN, MCLEOD, MCLEROY, MCMAHON, MCNAIR, MCNEAR, MCNEELY, MCNEER, MCPHERSON, MEREDITH, MERONEY, MERRELL, MILES, MILLER, MILLS, MILSTEAD, MITCHELL, MOORE, MORGAN, MORRIS, MOSTELLER, MOWDEY, MUNDINE, MURPHY, MURRY, MUSE, MYRICK, NABORS, NAISH, NEAL, NELSON, NEWMAN, NIVENS, NORTH, NUNNALLY, OLDHAM, ORR, OZLEY, PARKER, PARKS, PATTON, PAYNE, PEARSON, PERRY, PERSON, PETERS, PITNER, POINTER, POWERS, PRENTICE, QUINN, RANDALL, RASBERRY, REED, REEVES, REID, ROBERTS, ROBERTSON, ROGERS, ROY, SAWYER, SHACKELFORD, SHANK, SHAW, SMITH, STERRETT, STORRS, STREET, STRIPLING, TEAGUE, THOMPSON, TRUELL, TURNER, WALDROP, WALLACE, WARD, WARE, WATKINS, WATROUS, WATSON, WEEKS, WEST, WHARTON, WHITE, WIGGINS, WILLINGHAM, WILLSON, WILSON, WOOLEY, WOOLLEY, WRIGHT
Shelby County Alabama Pioneers Volume I