The University of the State of Alabama was opened April 18, 1831, in Tuscaloosa, Alabama, the state's capital at the time and many pioneers from around the South sent their sons to the new university.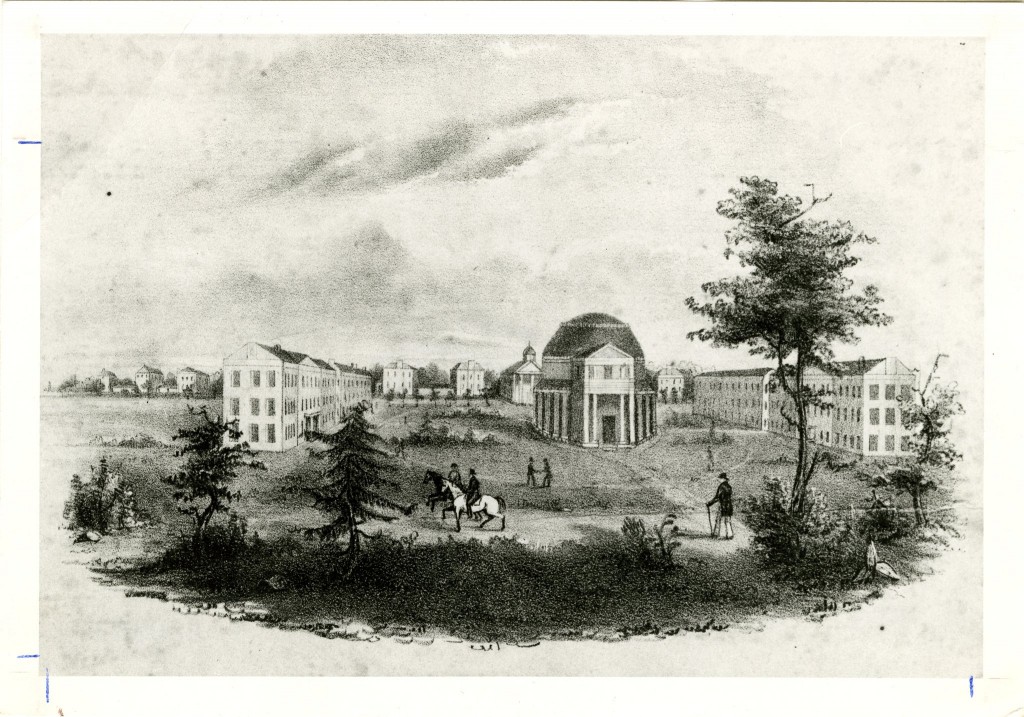 The University of Alabama before it burned (apps.lib.ua.edu.)
Biographical data may appear in UNIVERSITY OF ALABAMA OFFICERS 1831-1901 if they had sons who attended the University of Alabama.
Many students became instructors and tutors as well as officers of the University of Alabama. This book includes the names of the officers, instructors, commandants, assistants, and tutors of the University of Alabama prior to 1901. They are listed alphabetically with available genealogical, biographical notes and sources of information on their ancestry.
Surnames of officers mentioned in the UNIVERSITY OF ALABAMA OFFICERS 1831-1901
include: ABBOTT, ALDRICH, ANDERSON, AVERY, BAILEY, BARNWELL, BARR, BATTLE, BAYLIES, BEESON, BENAGH, BLUE, BREWER, BROOKS, BROWNELL, BRUMBY, BURGETT, BURKE, CHISHOLM, CLARK, CLEMENTS, COLEMAN, CROOK, CUNNINGHAM, DANIEL, DELOFFRE, DICKSON, DONALDSON, DUNLAP, DYKES, EDGAR, ELEY, ELLIOTT, ELMORE, FIELDER, FITTS, FLEMMING, FORNEY, FOSTER, FRANCIS, FURMAN, GARRNETT, GIBBES, GIBSON, GILBERT, GORGAS, GOULD, GRAHAM, GRAVES, GREENE, GROTE, HARDAWAY, HARGROVE, HARRIS, HARRISON, HAYES, HAYNES, HENRY, HERRICK, HESTER, HITCHCOCK, HIXSON, HODGES, HORTON, HOUSER, HOWZE, HUDMON, HUSE, JEMISON, JOHNSON, JOHNSTON, JONES, KELLERMAN, LANGDON, LAPSLEY, LAWSON, LESQUTREUX, LEWIS, LIEBER, LITTLE, LUMSDEN, MCCALL, MCCALLEY, MCCONNELL, MCCORVEY, MCKENZIE, MALLETT, MANNING, MASSEY, MATHIS, MAYFIELD, MEYER, MOHR, MOORE, MORRISON, MORROW, MURFEE, MURFEE, NEWTON, OTEY, PALMER, PARKES, PEARSON, PERSONS, PETTUS, PETTWAY, PETTUS, PHILLIPS, PICKEL, POWELL, POYNOR, READ, RICHARDSON, RIES, SAFFOLD, SAYRE, SEARCY, SHERMAN, SIBERT, SIMPSON, SMITH, SOMERVILLE, SQUIRE, STICKNEY, STONE, STUBBS, TARRANT, TAYLOR, THORINGTON, THORNTON, TUOMEY, VAUGHAN, WALDEN, WEST, WHITING, WILLOUGHBY, WOODRUFF, WYMAN, YUILLE
READ THIS BOOK FOR FREE ON YOUR COMPUTER!
THEN SIGN-UP FOR THE 30-DAY FREE TRIAL BELOW: