HISTORY OF THE GREENSBORO BAPTIST CHURCH1
(published in 1908)
The Baptist denomination was among the earliest and at one time the most important, of the Christian denominations in Greensboro and vicinity. The Rev. Joseph Ryan in 1819 organized the first Baptist church in this part of the State.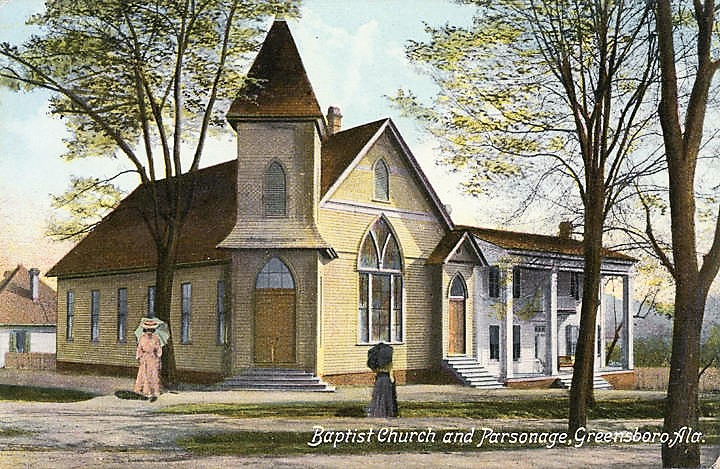 Baptist Church and Parsonage, Greensboro, Ala ca. 1890 (Alabama Department of Archives and History)
First named Salem Baptist Church
It was known as Salem Baptist church and was situated in the eastern part of Greensboro near where the Marion and Newbern roads fork. The members who were present at the Organization were: James Hutchins, Offa Caloway, Samuel Caloway, Thomas and James Gresham, David Eddins and Messrs. Thomas and Seaton. In addition to those mentioned, other members were: Louis and David Stevens, C. C. Latimore, Thomas Ward, James Brantley and wife.
In 1820 a large frame church was built. It had neither laths nor plaster, with wooden shutters, without glass, and was seated with wooden benches. This church stood on the South side of the Main road and immediately east of the present Newbern road. Near the head of the Swampy hollow in the rear of the Williamson old place (at present owned by Mrs. Walker) was the pool for baptism—a square reservoir with steps descending into it—without a roof.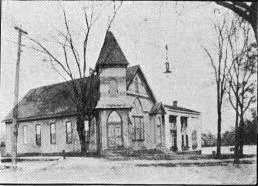 The Baptist Church (HISTORY OF GREENSBORO, ALABAMA From Its Earliest Settlement by William Edward Wadsworth Yerby, Montgomery, Alabama,)
The Rev. Joseph Ryan was pastor of Salem Baptist church for about twenty years. He came to Greensboro from South Carolina and was ordained as a minister at Tuscaloosa, Ala., in 1819. After resigning his pastorate here he moved to Sumter county, residing near Gaston, where he died in 1845. Rev. Daniel P. Bestor succeeded Mr. Ryan as pastor, a position he filled with marked ability for some years. He also had charge of the Greensboro Female Academy from 1841 to 1846, and also represented Greene county in the Legislature several terms. He died in Mobile on the 9th of April, 1869, aged about 65 years.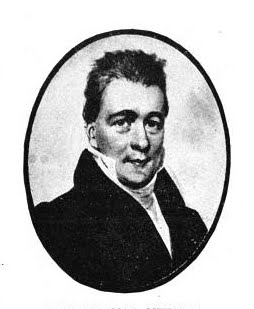 Rev. Thomas Chilton (HISTORY OF GREENSBORO, ALABAMA From Its Earliest Settlement by William Edward Wadsworth Yerby, Montgomery, Alabama,)
Rev. Thomas Chilton succeeded Mr. Bestor as pastor, and remained as such until about 1850, when he moved to Newbern, Ala., where he resided for two years and then went to Texas, where he died some years afterwards.
During the years 1851-52-53, Rev. C. F. Sturgis was pastor. He, in turn, was succeeded by Revs. Russell Holman, W. S. Barton, W. C. Buck, J. C. Wright, and T. W. Toby until 1865 when the church ceased to exist.
Lot sold for new church building
In 1842, Peter McIntyre, for the consideration of $2,700, sold to the Baptists the lot on which the court house now stands, and they proceeded at once to build what was then considered the finest church edifice in west Alabama. John Crossland was the contractor. This building was, in 1867, sold to the town of Greensboro, and by the town donated to Hale county as a court house, and served as such until 1907, when the old building was torn away to make room for the present court house.
The town paid the Baptists $8,000 for the property. In 1820, the Cahaba Baptist Association convened in Salem church, and in 1823, while the church was on the lot at the forks of the Marion and Newbern roads, the Alabama Baptist State Convention was organized. There were present twenty delegates, representing twenty-eight churches with a membership of about 7,000. Salem church, in its day and time, numbered among its membership many prominent people. Besides those already mentioned may be added Dr. W. T. Hendon, Green Huckabee, Hayward Lawrence, Harris Tinker, Wiley Croom, C. C. Huckabee, Jesse Croom, George Deal, Mrs. Kissie Croom, George Pollard and Messrs. Coates and Harmon.
Baptist School started
In 1834 the Baptist Convention met with Salem church and established the Baptist Manual Labor School. Some objected to the name "Manual Labor," and it was later called "The Alabama Institute of Literature and Industry." This school was located in the neighborhood of the old Breen place about a mile northeast of the present court house. The school was largely attended for several years. The pupils were required to do a certain amount of labor in the field or elsewhere each day, for which they were allowed a small sum per hour. A. J. Holcombe was Secretary of the Board of Trustees.
The institution proved a failure, and the buildings were sold at auction. These buildings were a row of one-story frame houses of two rooms each, with shutters at the windows. There were a half dozen or more of them.
Unorganized until 1894
When Salem Baptist church was dissolved in 1865 the Baptists were left unorganized in Greensboro, until February 18, 1894, when the present church was established. On that date, nine Baptists met in the court house and organized "The Greensboro Baptist Church." Rev. W. B. Crumpton, D. D., Secretary of the State Board of Missions, and Rev. S. O. Y. Ray, State Evangelist, assisted in the organization. The constituent members were: T. J. Kinnaird, Wm. Martin, Mrs. Rachael Martin, Thomas Mitchell, R. D. Redding, Misses Mattie Redding and Nannie Redding, and P. H. Wilkerson and wife. The church was duly incorporated on the 10th day of September 1894.
On July 8th, 1894, Rev. A. R. Hardy, the first pastor of "The Greensboro Baptist Church," begun his work, services being held in the court house until the present church edifice was erected. On August 8th, 1896, the property on which the church and the pastorium now stand was purchased from D. W. Taylor, Syd Taylor, and Lily Taylor, the deed being made to the Alabama State Convention. The lot and the residence standing thereon (the present pastorium) cost $1600. The first Sunday School was organized in 1895 with P. H. Wilkerson as superintendent. The first baptisms— seven in number—took place Nov. 22, 1896, in a pool, made for the purpose, in the rear of Col. L. J. Lawson's pasture on Tuscaloosa street.
Rev. A. R. Hardy, labored earnestly and most efficiently for the upbuilding of the church until his death on December 1, 1896, at Greensboro. The membership was largely increased under his ministry, and it was through his untiring efforts that the present church was erected.
In April 1897, Rev. Mr. Barnes was called as pastor, but remained only a short while. During the years 1898 and 1899 Rev. R. G. Patrick, D. D., President of the Judson Institute, supplied the church.
On the 7th day of July 1899, the contract was let to John A. Straiton to build a one story frame church on the Northeast corner of Centreville and Main Streets. The cost was about $2600. The building was commenced in October 1899, and completed in March 1900. It was dedicated on January 14, 1900,—Dr. W. B. Crumpton preaching the dedicatory sermon.
In March 1900, Rev. W. W. Lee became pastor, and continued as such until his resignation in September 1902. Rev. John G. Apsey kept up the preaching services after Mr. Lee's resignation until the arrival of Rev. T. M. Thomas as pastor in June 1903. In July 1904, Rev. T. M. Thomas tendered his resignation and went as a missionary to China.
From the time of Mr. Thomas's resignation until the coming of Rev. J. G. Dobbins as pastor in June 1905, Maj. John G. Harris filled the pulpit once a month.
From a membership of nine in 1894, it has steadily grown, until there are in the neighborhood of one hundred enrolled as members of "Hardy Memorial Baptist Church" at Greensboro.
Where Do I Start?: HINTS and TIPS for BEGINNING GENEALOGISTS with ONLINE RESOURCE

 Do you need some guidance in your genealogy search? Save time and avoid pitfalls in your research. This book provides simple, no-nonsense instructions to help you get started. Many FREE research links included.
Tips include:
WHERE TO FIND – on-line resources, experienced genealogists will not be aware of many of these.
COURT RESEARCH – how to do courthouse research, where to find birth, death, social security records free on-line.
EIGHTY – ONE QUESTIONS – you should ask your elderly loved ones before it's too late.
TIPS ON BREAKING DOWN THE WALL – Everyone faces some difficulties in research, often called a 'brick wall' but WHERE DO I START? provides suggestions for overcoming them.