Public Spirit – This transcription of an editorial from the Birmingham Iron Age of September 15, 1881 could have been written today. The city of Birmingham, Alabama was still in its infancy when this article was written. The article reveals the public spirit of our founding forefathers throughout the United States.
PUBLIC SPIRIT
Every man owes a duty to the town in which he resides to advance its prosperity, to add to its advantages for residence, to make it the abode of kindly sentiment, brotherly love, and neighborly feeling.
Shame to use the community for personal gain
It is a shame for a man to use the community as a shepherd use his sheep—merely to shear the wool. Money— material gain – is not all of life. Barren indeed would be the spot where no man respected his neighbor's rights. That man is a disgrace to the civilization of the nineteenth century whose everyday duties are regulated by the thought, "Can I better myself at the expense of the town or of the community to which I belong?"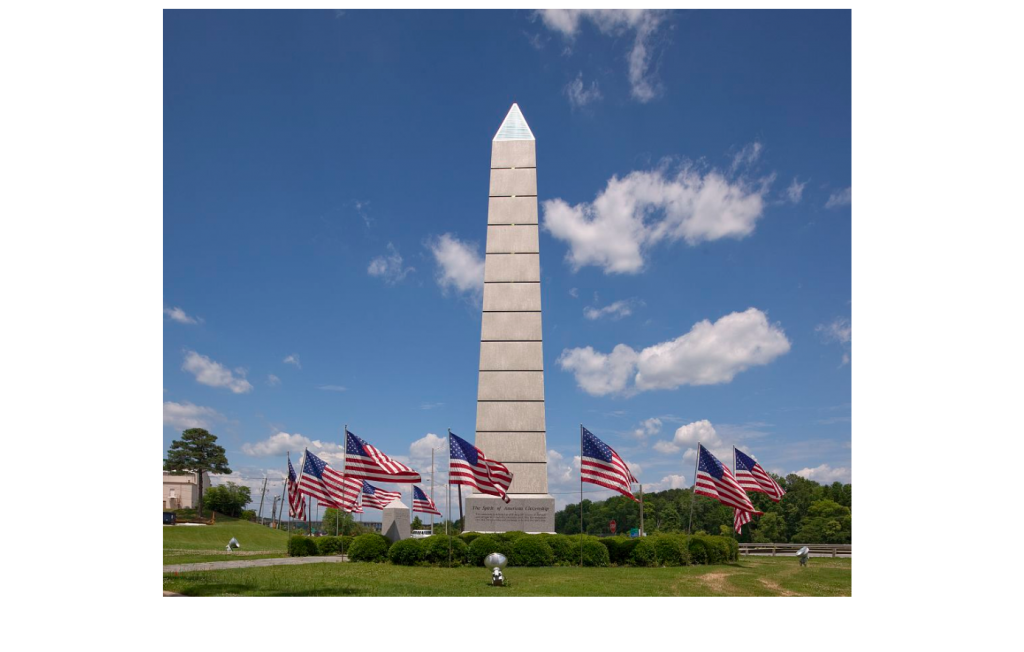 Monument to spirit of American Citizenship in Gadsden, Alabama (Carol Highsmith, Library of Congress
Residents provide the character of a town
Of course, a community is only an aggregation of individuals. The residents of a town, however, stamp the same character and reputation upon the place of their residence that actuates their own conduct in life. A stream cannot rise higher than its fountain-head, neither can the tone of society rise above the motives and sentiment of its individual members. A village is denominated a smart, active place simply because a few leading men are spirited. Brains, spirit, and energy will triumph over natural obstacles. A fertile soil may be of little value to a lazy community, while careful cultivation may render a sandy place productive.
Value of public-spirited neighbors
Many a once thrifty town can date its decay from the removal of some wide-awake, enterprising citizen. Few people appreciate the real money value of their public-spirited neighbors, and in far too many communities live business men meet discouragements from those who do not work themselves and seem to delight in preventing others. It is unfair to expect a few men to bear the burden of making a reputation for a town when a little co-operation among even its humblest citizens can accomplish the most beneficial results. New England towns of the greatest promise a generation ago have gone to decay because its young men have found no welcome or encouragement in their enterprising designs, and have been forced to migrate to the city or to the Western prairie to find scope for their powers and ambitions.
Determination by citizens to perform their duty creates new life in a community
A little reflection upon this important subject will in many cases develop the cause of business stagnation and depression in real estate in many of our rural towns. A little determination on the part of its citizens to perform their duty towards the community in which they live will transform a sleepy section into a most active, locality, attracting new residents, infusing new life into old residents, advancing values of property, increasing incomes, making good local markets for produce and adding to the sum total of human happiness and content. Is not this result worth striving for? – Ex.
Some stories include:
The true story of the first Mardi Gras in America and where it took place
The Mississippi Bubble Burst – how it affected the settlers
Did you know that many people devoted to the Crown settled in Alabama –
Sophia McGillivray- what she did when she was nine months pregnant
Alabama had its first Interstate in the early days of settlement