(Margaret Eades was the wife of Jeremiah Austill of the Legendary Canoe Fight. She, like her husband was an early pioneers of Alabama. In this autobiography we hear her actual words of her experiences. The autobiography was published in The Alabama Historical Quarterly in 1944)
LIFE OF MARGARET ERVIN AUSTILL
Part II
Creek Indians were killing people
One morning, Mother, Sister, and myself were at home alone except the servants, Father had gone to the plantation, when a man rod, up to the gate and called to Mother to fly, for the Creek Indians had crossed the Alabama, and were killing the people. Mother said, "Where shall I fly to, in God's name?" He said, "There are a number of people coming to cross the Bigbee to get into the Choctaw Nation, they will be along in a few moments, but where is Captain Eades?" "Down at the river," said Mother. "Well," he said, "Run, down there and go over the river," so we took our bonnets, Mother took her silver, and we left the house in a run.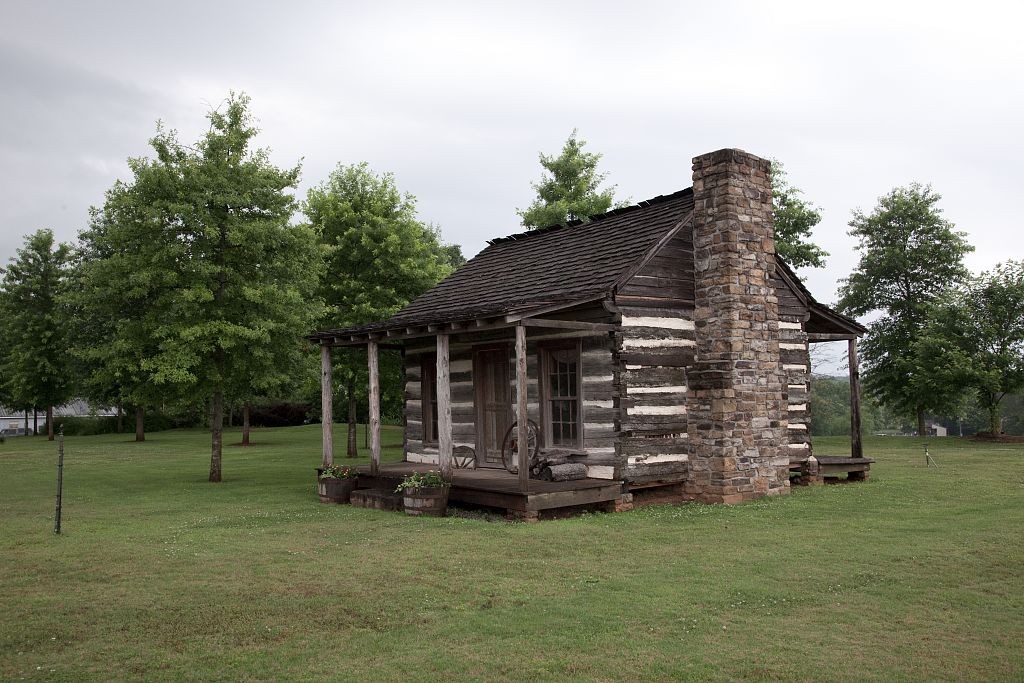 Typical Alabama Log cabin in Tuscumbia that once served as a stage coach stop, by photographer Carolyn Highsmith (Library of Congress)
Hannah, you will be murdered
Our cook, a tall black handsome woman, said "Missus, I will stay at home and take care of things and take you something to eat if I can find you, the devils are afraid of me, you know." Mother said, "Hannah, you will be murdered." Hannah was a natural curiosity, she was black, or rather blue-black, with clear blue eyes, which gave her a peculiar appearance. As we traveled through the Nation the Indians often came to the camp and demanded bread, they would say "bread, gimme some, gimme all," Mother would say to Hannah to give them bread, she would say, "I had rather give them shot and powder," then she would stretch her blue eyes and throw chuncks of fire at them, and make them scamper off, saying "Och, och," their grunt when frightened.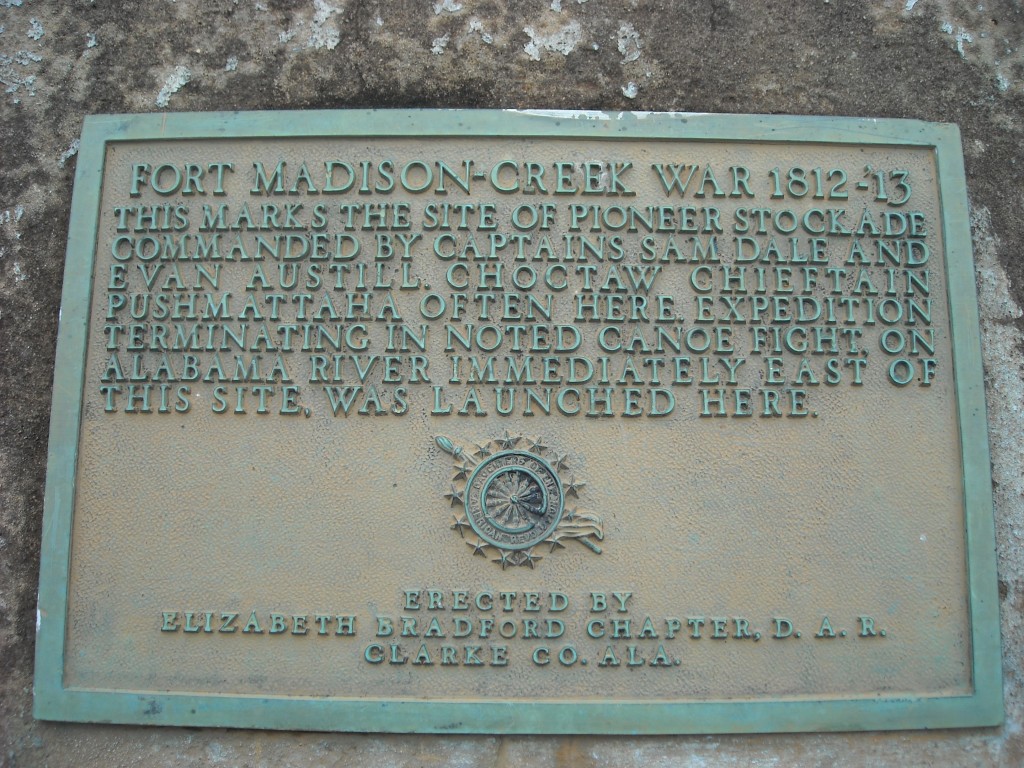 The men were building a fort
Well we ran as fast as we could, and met Father about a mile from home with horses, he had heard the news too. Mother sent the horses on to help a family by the name of Carter to get to the river, they had a large family of small children. Father told us that people were gathering at Carney's Bluff; and were at work there building a Fort, all hands, negroes and whites. When we arrived at the river it was a busy scene, men hard at work chopping and clearing a place for a Fort, women and children crying, no place to sit down, nothing to eat, all confusion and dismay, expecting every moment to be scalped and tomahawked.
We all sat round until night, people coming in continually, for this part of Clarke was thickly settled, I went to Mother and told her I was tired and sleepy, she untied her apron and spread it down on the ground, and told me to say my prayers and go to sleep, so I laid me down, but could not sleep, the roots hurt me so badly. I told Mother I had rather jump in the river than lie there, she quietly replied, "Perhaps it would be best for us all to jump in the river," then made me lie still. I had thought Mother would take me on her lap if I was so willing to die.
FORT MADISON was situated in the northeast corner of section one, in township six, range three east, four and a half miles south, and about one mile and a half west, of the village of Suggsville, on the dividing ridge. It covered about one acre of ground. A trench was dug around the outside limit, three feet in depth, and into this the bodies of pine trees were inserted, side by side, cut about fifteen feet in length. A continuous wall of pines, some twelve feet in height, therefore surrounded the enclosure. Within were the tents and cabins of the neighboring settlers.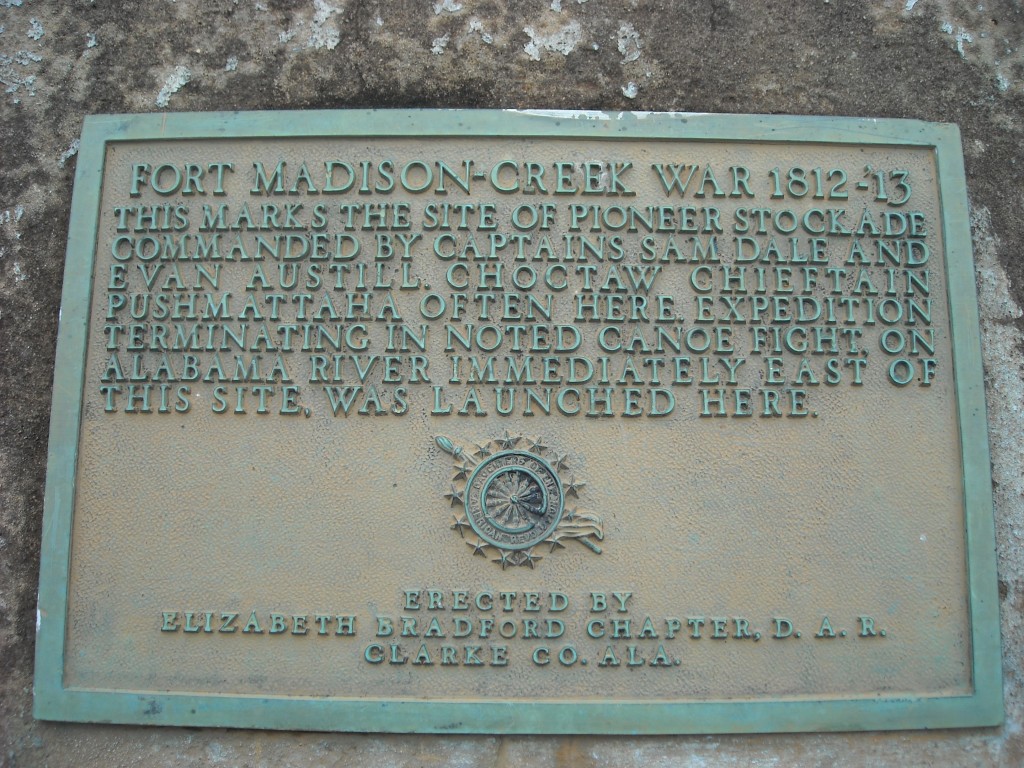 With superhuman exertion, the Fort was finished in one week, the tents all comfortable, the streets full of soldier boys drilling, drums beating, pipes playing, but no Indians yet. Our scouts were out all the time. The brave fellows had a hard time tramping through swamps and canebrakes, but Oh, after the war did set in in Thirteen, we were in great peril all the time.
SOURCE
The Alabama Historical Quarterly, Vol. 06, No. 01, Spring Issue 1944. (Margaret Eades who has left this hitherto unpublished account of her experiences as a young girl, daughter of a pioneer and witness of many of the bloody scenes of the Creek Indian War of 1813-14, married Jeremiah Austill. Mrs. Austill died in 1890 having borne several children whose descendants still live in South Alabama and other sections of the country.)
Alabama Footprints Confrontation is a collection of lost and forgotten stories that reveals why and how the confrontation between the Native American population and settlers developed into the Creek-Indian War as well as stories of the bravery and heroism of participants from both sides.
Some stores include:
Tecumseh Causes Earthquake
Terrified Settlers Abandon Farms
Survivor Stories From Fort Mims Massacre
Hillabee Massacre
Threat of Starvation Men Turn To Mutiny
Red Eagle After The War