HAPPY BIRTHDAY!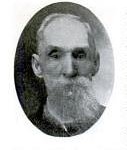 MASTIN HILL HANSARD
BIOGRAPHY and GENEALOGY
(1830-aft. 1904)
Talladega county, Alabama
Mastin Hill Hansard was one of the leading farmers of Talladega county. He was a resident of that county ever since 1857. He was born in Knox county, Tenn., August 4, 1830, and was the eldest child of William Christian and Rachel (Graham) Hansard, both of whom died in Knox county at the age of seventy-six years. They had eight children, seven of whom were still living in 1904. His paternal grandfather, William Hansard, was born in Scotland but came to America in time to take part in the Revolutionary war. He married Martha Christian, of Richmond, Va., and lived at Lynchburg, in that State, until 1800, when he removed to Tennessee, settling in Knox county, where he died in 1848, his wife having died eight years before.
The Christians came from England. Martha Christian had three brothers, Abner, Robert, and William, in the Revolutionary war. Rachel Graham was a daughter of Nathaniel and Nancy (Mynatt) Graham. Her father fought with Gen. Andrew Jackson in the War of 1812. They lived in Knox county, Tenn., until after the wars were over, when he walked to Missouri for a grant of land and there passed the rest of his life. He died on his land and was buried in a hewed poplar coffin.
Mastin Hill Hansard received a common school education and began life as a farmer. When he came to Alabama,in 1857, he settled on a farm near Eastaboga. On May 10, 1862, he enlisted in Company F, Fifty-first Alabama cavalry, under Col. John T. Morgan, and served until the close of the war, taking part in all the battles in which his regiment was engaged. After the war, he returned to his farm, where he remained until 1873 when he went to Munford and engaged in merchandising. He remained in this business for seventeen years and again took upon himself the life of a farmer. He owned property in Munford and Anniston, besides his farm.
Mr. Hansard was a Democrat of the type that was always ready to defend his political opinions. For over ten years he held the office of county commissioner, a tribute to his integrity and executive ability. He was a Royal Arch Mason and a member of the Independent Order of Odd Fellows. For a man of his age, he was active and well preserved, due in a great measure to his temperate habits and love of out-door exercise in his earlier years, that built up a vigorous constitution. At the age of nineteen he was major of the Twenty-second and Second battalions of the Tennessee militia, and at the age of twenty-one was commander of the regiment. In 1904, he was connected with the Jenifer Iron company, in the management of their store. On June 5, 1853, he married Elizabeth Frances Mynatt, whose father, Rev. Gordon Mynatt, came from Tennessee to Calhoun county, Alabama, in 1837.
Eleven children were born to their marriage, of whom five survived in 1904:
Capt. A. J. Hansard, a railroad conductor;
Annie Hazeltine Hansard, wife of Judge Camp, of Talladega;
Mary Victoria Hansard, wife of Henry Archibald Stewart, manager of the store of the Jenifer Iron company;(more information on Henry Archibald Stewart ancestors can be found in Some Related Ball, Stewart & Stuart families of Alabama_
Lela Frances Hansard, wife of W. C. Davis, of Ensley, Ala.;
Ora Wallace Hansard, wife of C. F. Camp, chief of police at Ensley, Jefferson County, AL
SOURCES
Notable Men of Alabama: Personal and Genealogical, Volume 1 edited by Joel Campbell DuBose 1904

Start researching your family genealogy research in minutes! This Ebook has simple instructions on where to start. Download WHERE DO I START? Hints and Tips for Beginning Genealogists with On-line resources to your computer immediately with the FREE APP below and begin your research today!