MEMORIES OF ENSLEY
by
Caroline
I was born in Ensley, I believe on a corner of Prince Street. There were streets like 'Ave. I'–'G' and I guess the whole alphabet.
A Catholic church was across the street from us. We would go past there thru the alley to get to my Aunt's house. She had a boarding house and her cook lived in the backyard. So exciting to go to the cooks house because her walls were papered with the 'funny papers' and you walked around the room reading them. She used the 'rotogravure' for wallpaper, also.
I use to love coming thru a little park that was close. A tiny little creek ran thru the park and you could smell the creosote in the water. I liked it. A little bridge had been build so you could cross it. Life was a bowl of berries.
And, do I remember the VULCAN. OH, yes. There was a small area around it and it had a merry-go-round. I was four and the first time in my life that I was so insulted!!!!!!!! Wasn't sure I liked my Mom because we went there (My mother was always taking us to see interesting places) and The Vulcan was one of them.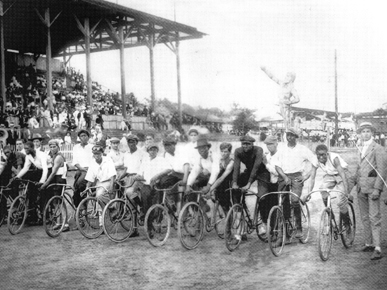 Vulcan in the distance at the fairgrounds
On this day, I was crazy to ride the merry-go-round, so excited I could hardly bear it. And where did my mother put me??? in one of the benches not on a beautiful horse going up and down. She was afraid I would fall off the horse and sitting there on that bench, my life had ended. I was so ashamed, I would not look at her when we would go by.
I think that little place turned into nothing and for years, the Great Vulcan was just lying around. When I was 9 we moved to Georgia. The Vulcan was revived put up on the mountain and you know the rest of that. It was one of the first places I took my husband when we went to Birmingham. I had then and I still have relatives that live all around in Alabama.
On my father's side, they lived around the Cullman area and on my mother's side they lived in Perote area. From one end of the State to the other.
Do you know about the Angwin-Brown (I think I am right about the Brown) Funeral Home in Birmingham? The Angwin part was related to my mother. Cuz Daisy, It became Angwin Funeral Home and I believe, it is still in there. I remember so much more about the few years we lived in Alabama. Life is good. It's that Lowery bunch that I can't track down.
(Click to read more of the history of Vulcan)