Birmingham was preparing for a huge dedication celebration for Vulcan in 1939 as can be seen in the newspaper article below.
News from The Times Daily April 14, 1939, Florence, Alabama
VULCAN TO BE DEDICATED WITH MAMMOTH SPECTACLE
"Vulcan," world's largest iron figure and the second largest statue in America, will be formally dedicated with a mammoth spectacle, staged at the foot of the statue on Red Mountain May 9th – 17th. Visitors from every state in the union are expected to attend the event, which will be one of the outstanding civic affairs ever held in Alabama.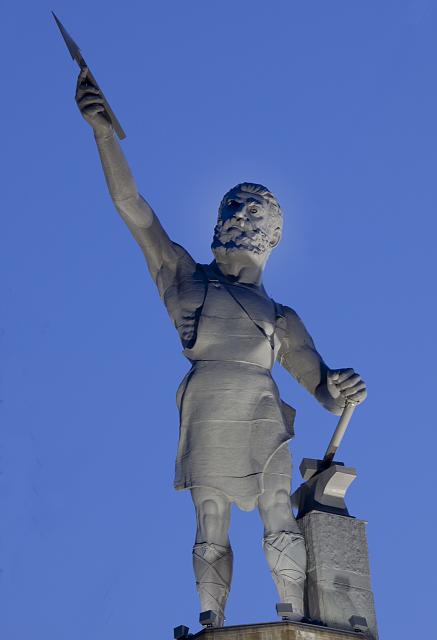 Vulcan in 2010 by Carol Highsmith (Library of Congress)
Click below to see how to
A Vulcan dedication committee is busy making plans for the celebration. Erskine Ramsey, capitalist and philanthropist, is president of the committee and Howard B. Richards is executive chairman.
Nationally known theatrical directors have come to Birmingham to select a cast of 1,000 persons and direct rehearsals for the spectacle, which has been written around the history of Alabama's natural resources and the mythological story of Vulcan.
The spectacle will be an elaborate display of fast moving pageantry, gorgeous costumes and spectacular lighting effects, and the event will attract many nationally known celebrities to Alabama.
Among the special events being planned will be a religious night, an Alabama night, a labor and industry night, agricultural night, education night. Mayors from all Alabama towns will be honored on Alabama night and governors from several southern states will be presented one night during the celebration.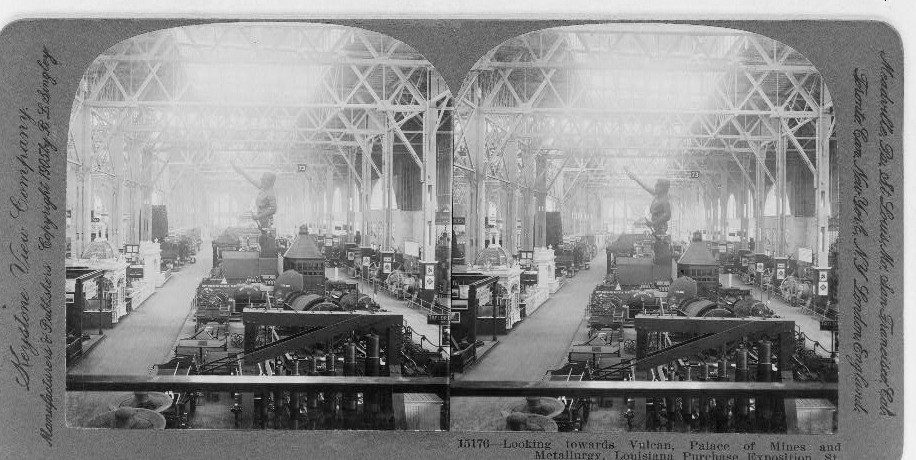 Vulcan at the World's Fair in Louisisana
Vulcan was cast in a Birmingham Foundry in 1903 from pig iron produced in the Birmingham district and sent to the Louisiana Purchase Exposition in 1904. Recently he has been placed on a 124-foot pedestal atop Red Mountain, overlooking the business section of the city. It is second only to the Statue of Liberty and with its pedestal is taller than Niagara Falls. It is the only statue in the world erected to the natural resources of a state and symbolizes the wealth of minerals found in Alabama.
The Vulcan dedication celebration is being sponsored by the Birmingham Chamber of Commerce and other civic interests.
ALABAMA FOOTPRINTS: Settlement: Lost & Forgotten Stories is a collection of lost and forgotten stories of the first surveyors, traders, and early settlements of what would become the future state of Alabama

.
Read about:
A Russian princess settling in early Alabama
How the early settlers traveled to Alabama and the risks they took
A ruse that saved immigrants lives while traveling through Native American Territory
Alliances formed with the Native Americans
How an independent republic, separate from the United States was almost formed in Alabama