The life of a Methodist preacher during the early days of Alabama was very hard.
"SCRAPS"
RELATING TO THE EARLY HISTORY OF LIMESTONE COUNTY
By Thomas Smith Malone
This excerpt has been transcribed from The Athens Post, May 2, 1867
Page 2, Column 2.
Part VIV
We gave in our last number a very vague sketch of the efforts of the Cumberland Presbyterian branch of the great Christian brotherhood, to plant, and build up a Christian Church in this county; in this number we propose to call attention to some of the earlier pioneers of the Methodist Church, and we desire to say, just here, in reference to some of those heretofore noticed, as well as in regard to a few, who may be noticed in this number that we shall call attention in future numbers more particularly to their great efficiency and usefulness.
Local preachers
In the spring and summer of 1810, Mr. Blackman made his appearance and was preaching in several families and occasionally in the open air. He was a local preacher, and from the several meagre reports we have received of him, we infer that he was a man of solid arts, of deep and consistent piety; and of indomitable resolution and perseverance. How long he labored here, and where he fell on asleep, we know not.
In the fall of the same year, to-wit: 1810, Father Thompson and a Mr. Harris, both local preachers, had appointments throughout the county, and continued them, more or less regularly till 1819 or 1820. The writer recollects the former well, and thinks his residence, for the most of the time, was in Madison county, six or eight miles west of Huntsville. He was a very good and useful man, and died in a good old age, peacefully and triumphantly. The end of Mr. Harris is unknown, but from his life, it is believed.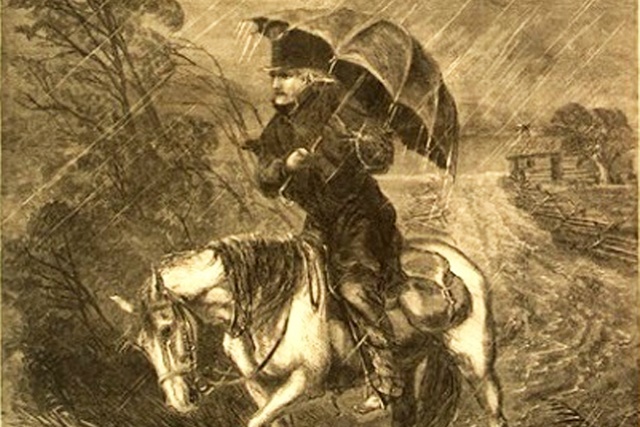 Methodist circuit rider
A Traveling Preacher
The next Methodist Minister, as to priority in time, who made his appearance in the midst of the "Squatters" on these Indian lands, was Joshua Boucher, who will claim in the future number more special notice than I shall give him here. He is believed to have begun his ministry in this county in the year 1813. He was the first "traveling preacher," in the county, and labored for a long period of time than any other Methodist Minister. He greatly attached to many of the earlier settlers whose warm, hearty attachments went with them to their graves.
As has been stated, an immense tide of immigrants poured into this section, during the year 1816, 1817 and 1818, and among these were very many Methodist families, with their strait-breasted coast, and unpretending, exemplary piety. (God bless their severed memories); to all of whom Mr. Boucher ministered, and by whom he was greatly loved.
In 1816, Israel Walker, James Farris, Picketts Copeland and Dr. John Nelson all had appointments and preached in different portions of the county. These brethren all belonged, as the writer believes, to the local ranks, but were nevertheless good men and true; yea, some of them at least, were great men; not only in the pulpit, but in faith, in holiness, and great usefulness, they have all gone to their reward on high- but though dead, they yet speak; through their sons in the gospel and in lay-members, and in the cherished examples, and blessed memories they left behind.
Elders in the Methodist Church
The first Presiding Elder the Methodist had here, is believed to have been Mr. Porter with a maimed hand, but a whole soul, and it filled with love to his fellow men and with the Holy Ghost. He was an earnest, able and successful Minister. He made his first appearance here in 1818. For fear of making this number too long, we desist and will bring up the Methodist Camp-meeting in the next number. Respectfully, T.S.M. Athens, 24th April, 1857.
ALABAMA FOOTPRINTS Statehood presents the times and conditions they faced in lost & forgotten stories which include:
Who Controlled And Organized The New State of Alabama?
Tuscaloosa Had Three Other Names
Chandelier Falls & Capitol Burns
Alabama Throws Parties For General LaFayette
Francis Scott Key Was Sent to Alabama To Solve Problems