I discovered the following article by Allene Sumner in the January 1, 1930 edition of The Tuscaloosa News, Tuscaloosa, Alabama. Oh, how times have changed. . .
Woman Has Her Day And Her Say
While women are still debating the long and the short of skirts, along comes Ruth St. Denis, the dancer, and condemned both. Trousers, she avers, are the reasonable and logical solution.
"Not exactly a duplicate of the style worn by men." she qualifies, "but a feminized version. The freedom, the decency and the economy of them will eventually appeal to the woman who works, whether she be a bank executive or a shop girl."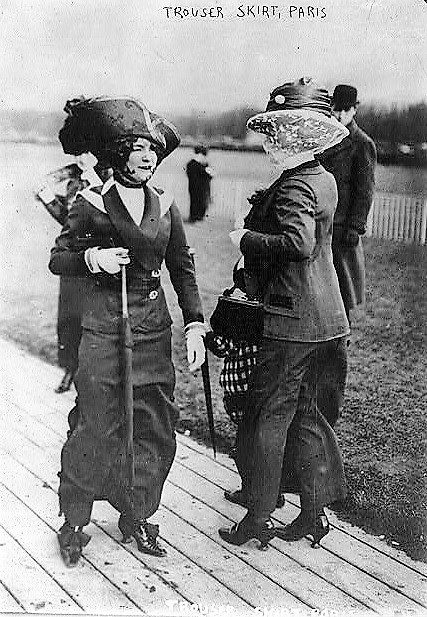 Women's fashions: trouser skirt, Paris, March 1915 (Library of Congress)
And Nothing Happened
Miss St. Denis said she walked down Fifth Avenue in a suit of trousers, so full at the bottom that they were not to be distinguished from skirts, except when she stepped into a taxicab.
"And nothing happened," she said.
Well, why should anything have happened? I saw a quaint looking little old woman on the avenue the other day, who might have stepped right out of the nineties — with a fitted basque, a long, gored and gathered skirt with braid dust around the hem, and a hat that perched up on top of her head like a periscope, revealing an old fashioned pompadour, and a "rat," nothing more nor less.
Nothing happened to her, either – though I doubt if she made any converts to the 1890's with her strange get-up.
Just why long, full trousers would be any more practical than short, full skirts, I can't see. Can you?
There is no particular virtue in looking different from other people, unless you look better than they do. The comfort and anonymity of uniformity are not to be despised.
Prior to statehood, Alabama was a vast wilderness with a large Native American population. It is only natural that when new immigrants from other states arrived, conflicts over the land would arise. Soon, these small conflicts exploded into war.
Alabama Footprints Confrontation is a collection of lost and forgotten stories that reveals why and how the confrontation between the Native American population and settlers developed into the Creek-Indian War as well as stories of the bravery and heroism of participants from both sides.
Some stores include:
Tecumseh Causes Earthquake
Terrified Settlers Abandon Farms
Survivor Stories From Fort Mims Massacre
Hillabee Massacre
Threat of Starvation Men Turn To Mutiny
Red Eagle After The War