The troops from Tennessee that invaded the Creeks in 1812, marched through Madison County, on their way to way to Baird's Bluff Depositi and made a wagon road to that place but Gen. Coffee's mounted detachment continued up through Brown's Valley and Blountsville Valley on its way against Old Town; and thus a great number of Tennesseans had an opportunity of seeing the country and learning the distance and the way— important information acquired.
Additional note: About eight miles northwest of Guntersville, was a fort named Fort Deposit. This fort was erected by Gen. Ferdinand Claiborne under the command of Gen Andrew Jackson in October 1813, and was strongly fortified as he used it as a depository of his military supplies and equipment. At the time there was a good ferry at the point, which greatly expedited the transportation of troops and supplies across the Tennessee River during the Creek Indian War. There is a series of caves near by which Gen. Jackson utilized for storing of his ammunition. It was described as a fortified camp that housed as many as 1200 men and served as a staging area for Claiborne before the Battle of Holy Ground on December 23, 1813. It was abandoned shortly afterward. The map below shows the location of Fort Deposit.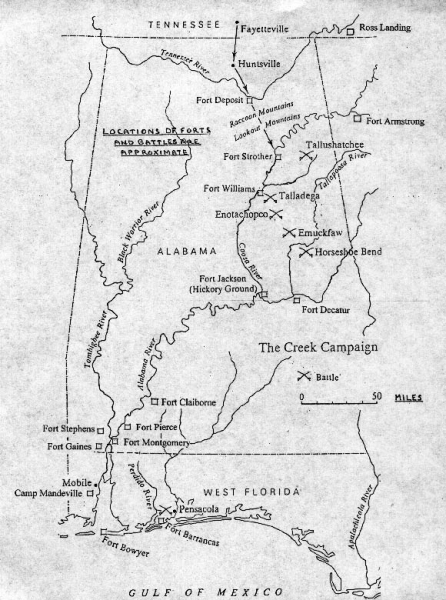 Early immigrants traveled along the Old Huntsville road
Tennessee river afforded great facilities to all the eastern portion of Tennessee. The immigrants from that quarter could, by means of flatboats, bring not only their families, household and kitchen furniture, provisions and all kinds of stock, but even wagons and the teams to draw them. These boats could land at Gunter's or Deposit, (Fort Deposit) and have a good way open to any part of Blount County.
The people of Madison County, who were the first to stop in Blount or Jefferson, emigrated along the old Huntsville road. This road was originally an Indian trace, leading from Ditto's Landing, to Mud Town, on the Cahawba.
Portion of 1816 historical map showing Camp Coffee and Ditto's Landing (University of Alabama Historical Maps)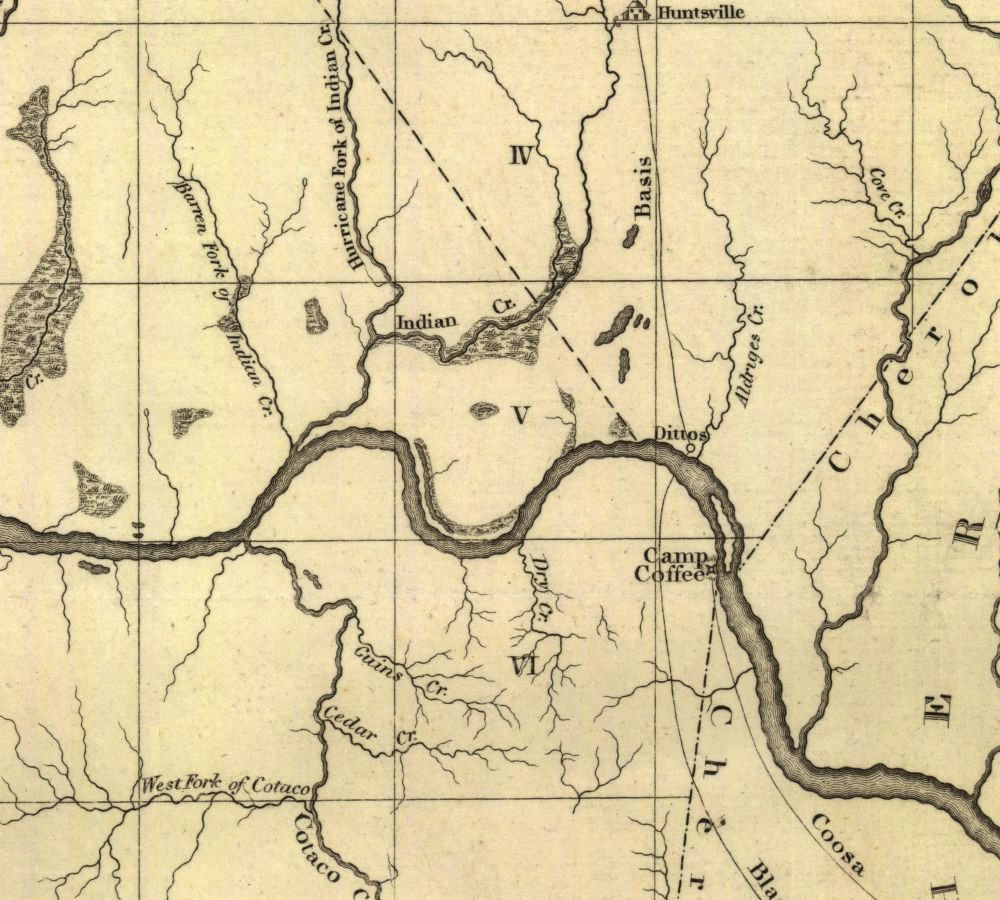 At the time Blount was settling, we must recollect that the Cherokee Indians were the lords of all that portion of country lying between Wills Creek and the Chattahoochee river; so that the Georgians and Carolinians had all that savage country to pass through, and generally over very bad roads; and when they crossed Wills Creek and were fairly in Alabama Territory, they were only in St. Clair County and had yet to climb the Raccoon Mountain, from which they could indeed get a glimpse (not of the promised, but the desired land) of Blount.
Portion of 1816 map showing the location of Fort Deposit and Wills Creek (University of Alabama historical maps)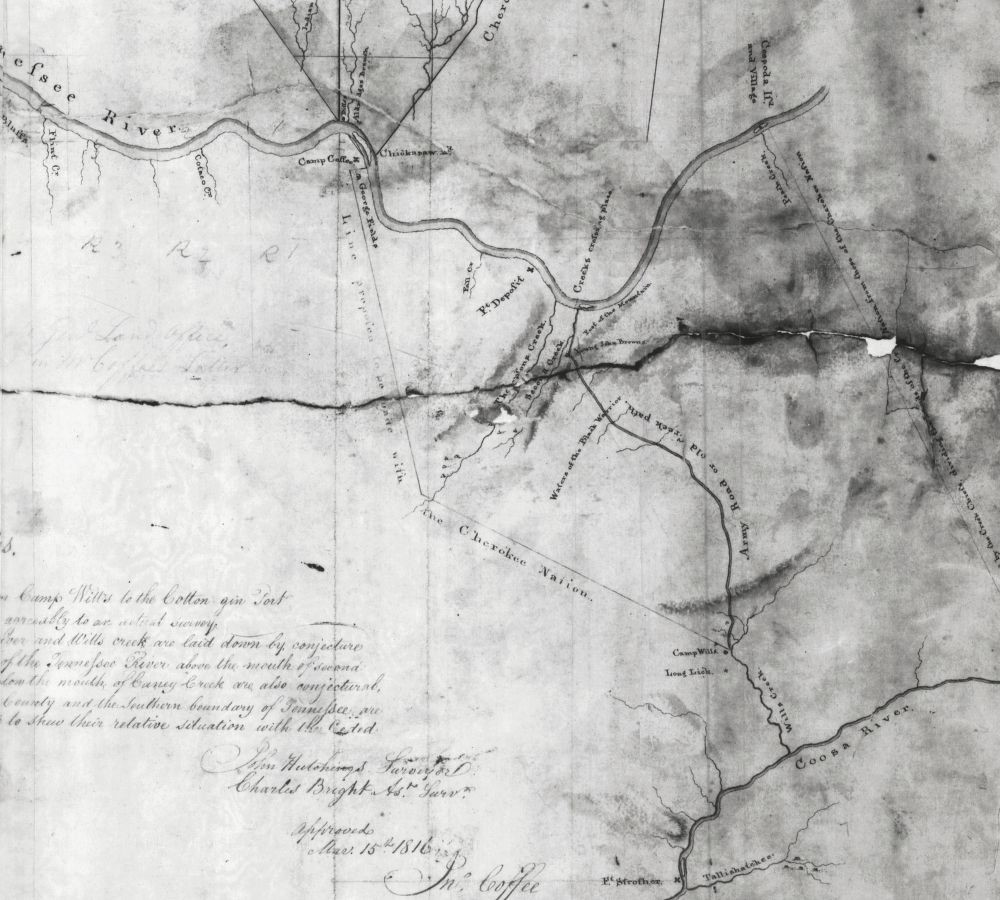 Blount County received many early immigrants
From the above facts, it is easy to see from what quarter Blount was most likely to receive early immigrants. The United States acquired a right to the country in August 1814, yet the whites were not permitted to take general possession until 1816, when a Mr. Jones, and his brother-in-law, Caleb Fryley, both of Madison County, were the first white men that settled permanently within our bounds. Mr. Jones located at Jonesborough, and gave his name to that village and to the valley in which it stands. Mr. Fryley located at "Bearmeat Cabin," now Blountsville. These two men in the fall of 1816, brought the first wagon into Blount County.
Map of North Alabama ca. 1818 by John Melish (University of Alabama historical maps)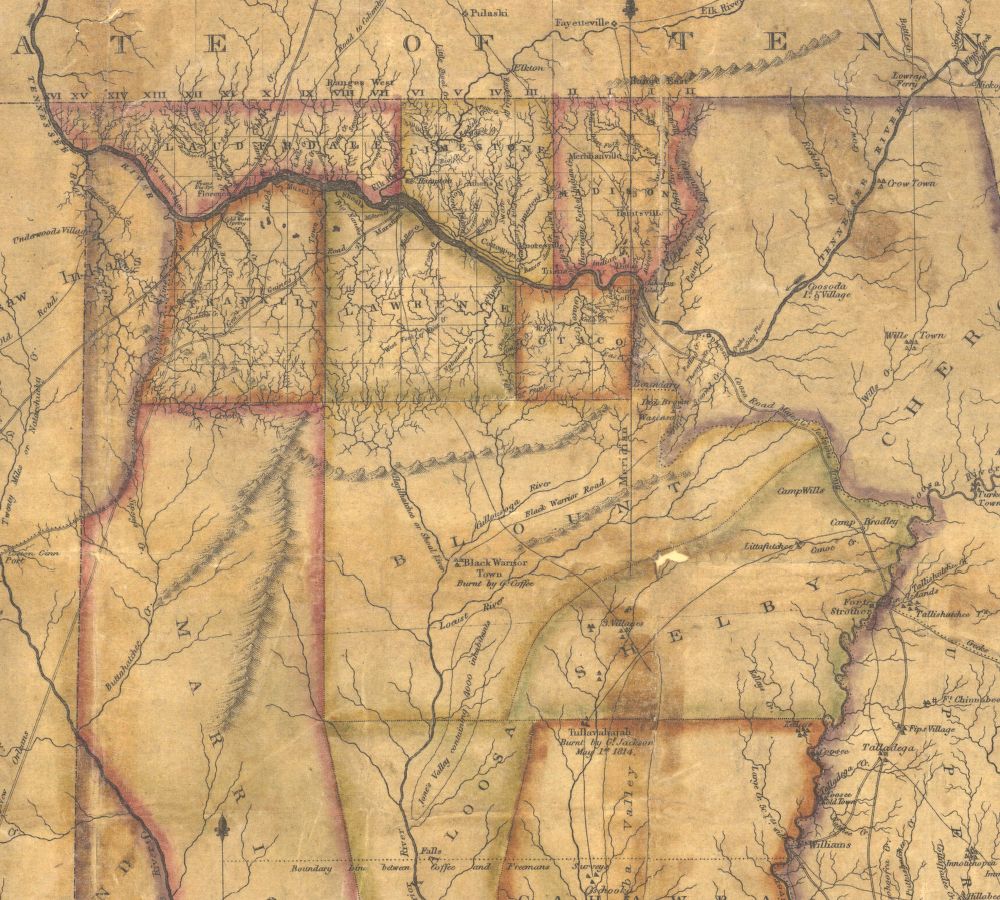 Every fertile spot on the road was settled
From 1816, the immigration was surprisingly rapid. The immigrants came from Madison, and in great numbers from Tennessee. They advanced along the old Indian trace, that led from Ditto's Landing to Mud Town, on the Cahawba. Every fertile spot near this road was settled in 1817. Great numbers of immigrants came down the Tennessee River in flatboats and landed at Deposit or Gunter's Landing, and there storing their provisions, advanced up Gunter's Creek to Brooksville, and turning to the left, crossed the trough of the Locust Fork and entered Murphree's Valley (at section 16, township 12, range 2, east,) and continued down that valley, until they intersected the first named route at the Village Spring. This route was also thickly settled in 1817. Another route was that pursued by General Coffee, in his expedition against Old Town. This road was thickly settled in 1817, mostly by Tennesseans.
All immigrants that came this year, had to bring and to pack their tools, salt, corn or meal, from Madison County, or the Tennessee River. As for meat, the woods furnished an abundance. They did not give corn to their work-horses, but let them shift on grass.
SOURCE
Excerpt transcribed from A DESCRIPTION OF BLOUNT COUNTY by George Powell in Transactions of the Alabama Historical Society, at the Annual Meeting …: July, 14, 1851; July 9th & 10th, 1855, J. W. & J. F. WARREN, Alabama Historical Society
Maps from University of Alabama historic maps
Stories include:
The Yazoo land fraud;
Daily life as an Alabama pioneer;
The capture and arrest of Vice-president AaronBurr;
The early life of William Barrentt Travis in Alabama, hero of the Alamo;
Description of Native Americans of early Alabama including the visit by Tecumseh;
Treaties and building the first roads in Alabama.