Lt. David Moniac, a Creek Native American, was the
first minority graduate of West Point
Can you imagine the culture shock and difficulties this young Native American from Alabama must have experienced at West Point?
"On September 18, 1817, one of the unlikeliest cadets ever to enter the United States Military Academy at West Point became the first Indian to be admitted to the Academy." i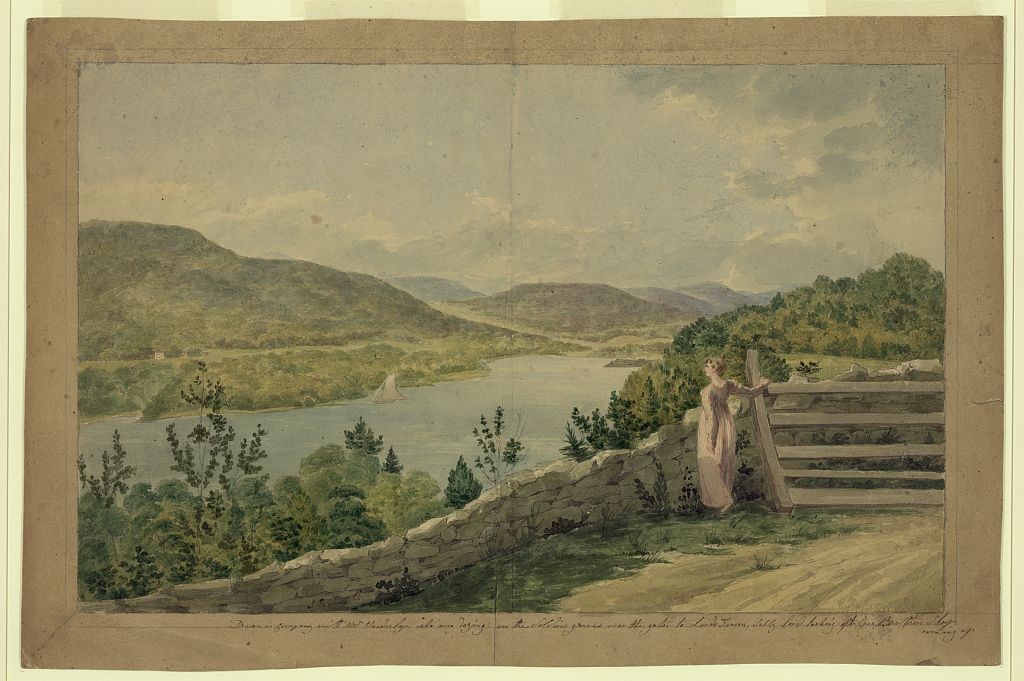 Photograph of painting of the Hudson River near West Point by artist John Rubins Smith 1817 (Library of Congress)
Mixed ancestry
Moniac (sometimes listed as David A. Moniac) was born on December 25, most likely in 1802, to mixed-ancestry Creek parents Sam Moniac and Elizabeth Weatherford Moniac (sister of Creek leader William Weatherford).
David Moniac was only fifteen years and eight months of age when he traveled from a Lower Creek village on Pinchot (?) Creek, near the trail which had become the Federal Road in present day Pintlala Montgomery County, Alabama. Before reaching West Point, David was tutored for a brief time by an Irishman named John McLeod in Washington D. C." ii
New Era at West Point
Moniac's arrival at the Academy coincided with the beginning of a new era at West Point under its fifth superintendent, Sylvanus Thayer, who, in his term of office from 1817 to 1833, introduced a system of rules, a set curriculum, and disciplinary measures that are basically unchanged to the present day.
"Cadet Moniac's progress toward graduation, as recorded on the merit roll, was not without impediment. At the completion of his first year in June 1818, he was turned back to the following Fourth Class by his request. This is somewhat surprising, for at that time Moniac ranked 19th in a class of 29 in the Order of General Merit. At the end of his second attempt at the Fourth Class, he ranked 48th in a class of 117; but the advantage of twice-told lectures was temporary, and as the weaker students dropped out of the struggle, Moniac drifted to 59th in a class of 87 in this third class year, 48th of 53 in the second class year,11 and 39th of 42 in the final year. His graduation standing was 39th of 40."
Oral exam covered all the courses
The final examination, which primarily determined the graduation standing, was an ordeal in which each cadet was questioned for at least five hours by the entire faculty and the distinguished Board of Visitors. The oral examination covered all the courses in the four-year curriculum. Cadet Moniac earned his highest ranking in conduct, 15th of 42 in his overall standing for the four years in that category. His best academic subjects were mathematics, where he ranked 27th, and tactics, where he was placed 33rd. In French he ranked at the bottom; in philosophy, he out-ranked two other cadets in his class, in engineering only one.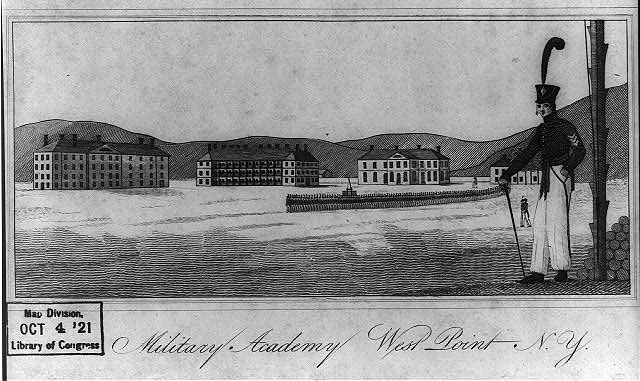 West Point, New York (Library of Congress)
Appointed Fourth Sergeant
"Outside the classroom, Moniac did make modest advancements in the military hierarchy. Battalion orders of August 30, 1820, appointed him Fourth Sergeant in the Second Company of cadets. On June 22, 1821, he was appointed the First Sergeant, but the Battalion Orders seven days later carried the concise and unexplained statement, "Cadet Moniac resigned as the First Sergeant of the Fourth Company of Cadets. One wonders what pressures there were that led to his stepping down from a position of leadership."
"The Register of Delinquencies at the Academy indicates that Cadet Moniac's few peccadillos mostly involved absenteeism and unauthorized visiting during study hours. He was certainly well within the limit of 200 demerits in a single year which led lo a cadet's automatic dismissal."
Citations at West Point
He was five times listed as "absent in study hours," once each absent from Tattoo, Tactics, and Drill, and once "In bed after morning roll call." In his last two years at West Point, he was cited five times for "visiting in study hours." He was once cited for "Neglect of duty in failing to sign the payrolls" and once for "Disobedience of orders in not signing the payrolls." At another time Moniac is cited along with other cadets in the Post Orders for May 1, 1820. "These Cadets did not sign the payroll," the orders read, "because their pay was passed directly to their creditors. The Cadets were ordered to sign the payroll by seven o'clock on the evening of May 1, at which time they received their pay, which was then applied to the payment of their debts.
Took part in discipline
In the fall of 1818, David Moniac took part in a movement to oust the hot-tempered Captain John Bliss, Commandant of the Corps, whose duty it was to discipline the cadets and assign demerits. When, on November 22, Bliss grabbed a cadet from the ranks and "shook, jerked, and publicly damned" him, the Corps responded by electing a committee of five cadets to represent their grievances to the Superintendent. Moniac received no votes in the election, but one of the grievances was drawn up in a affidavit form and signed by D. Moniac and P. McCormick, stating that "we do hereby certify on honor, that on or about the 26th of October, 1818, Captain John Bliss, without the least possible provocation, did throw stones at us, and at several other cadets of the Military Academy." The committee of five was dismissed from the Academy by Thayer as a mutinous consortium, and his action was later upheld by a court of inquiry and a congressional investigation.
He was bashful
One brief incident concerning Moniac at West Point is recorded in a book by Josiah Quincy. Former President Adams, Quincy relates, was visiting West Point to review the cadets and the aging ex-President, then in, his eighties, was being shown the corps. Major Worth, one of the Academy officials, "made an unsuccessful attempt to induce Moniac, the Indian Cadet, to be introduced to Mr. Adams and the ladies. At last, he gave this up, saying, "He is too bashful" The Major, apparently sensitive to Moniac's unwillingness to be singled out, added: "I have myself been taken for the Indian all along the road. People would point to me and say, 'Look there! there's the Indian,' If "the Indian was Moniac", one gets a graphic picture of what life was like as an ethnic curiosity at the Military Academy at that time.
Summer marches in New York
Cadet Moniac must have been singled out often by the crowds when the Cadet Corps made its annual summer marches to Hudson, N.Y., in 1819, Philadelphia in 1820, and Boston in 1821. These marches were begun by Superintendent Thayer to gain publicity for the developing Academy, but the official reason given was to improve the health of the Cadets and add to their practical experience. The fancy uniforms, the martial music, and the expert precision of the marching cadets excited and impressed the citizens in towns and villages along the march routes.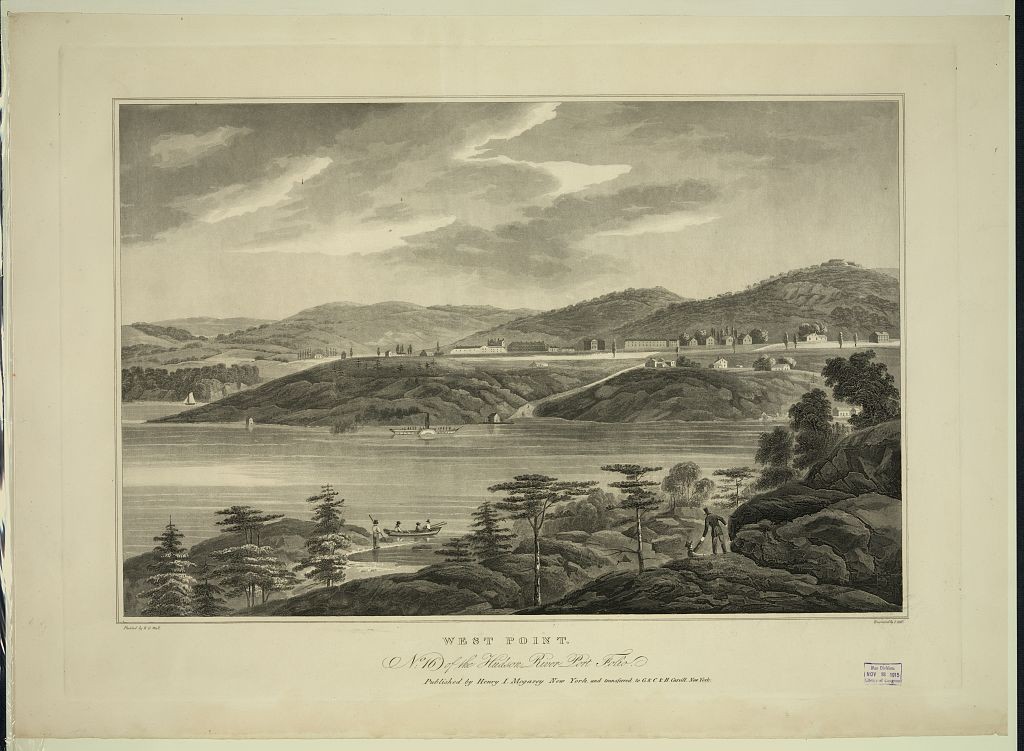 Photograph of West Point 1821 (Library of Congress)
Served for five months
Following his graduation, Moniac served for five months as a Brevet Second Lieutenant in the Sixth Infantry and then abruptly resigned his commission on December 31, 1822. Many young graduates were resigning, for in 1821 Congress had exercised one of its periodic cuts in the size of the army, and the Academy was graduating more officers than the army could use. President Madison suggested that the extra men might well retire to private life, where they could impart the benefits of their training to the state militia, and a large percentage of Brevet Second Lieutenants followed his advice.
Settled near his uncles in Alabama
Moniac settled near his uncles, David Tate and William Weatherford, the latter the famous "Red Eagle," the adversary of Andrew Jackson in the Creek War of 1813-14. He married Mary Powell, the cousin of Osceola, the Seminole leader. From the time of his resignation until 1836, Moniac was a respected cotton farmer and breeder of thoroughbred race horses, a passion he had inherited from his grandfather, a red-haired Scotsman named Charles Weatherford.
He built a home near Little River in Baldwin County, Alabama.  His only son, David Moniac served as sheriff of Baldwin and is buried in the Old Methodist Church in Daphne, Alabama. His plantation home, built in the 1830s, still stands today. It is perhaps the oldest house in Baldwin County. It is located on Gantt Road in Little River, Alabama.
High-toned gentleman
As one of his kinsman, Tom Tate Tunstall, wrote of him in a manuscript now in the United States Military Academy Archives: "He was a high-toned chivalric gentleman & cordially esteemed by all who knew him. There was really nothing in his quiet life to distinguish him from the majority of the country gentlemen of his time & day." Jacob Rhett Motte, an army surgeon who knew Moniac during the Florida War, had a different assessment of Moniac's term of civilian life, attributing the resignation of his commission to a visit to his family, which "revived in his breast in all its former force the roving disposition of his people. Since then he has ranged with native freedom over the woods and plains until the recent outbreak of the Indians afforded him an opportunity of showing his, gratitude to the government which had fostered him in his youth."
Few Indian characteristics
David Moniac apparently had few Indian racial characteristics. Dr. Motte tells of journeying, with Moniac as an escort, through the friendly part of the Creek nation and, passing through one of the towns that was still inhabited, was introduced by Moniac to his father, "a venerable old Indian," the respected Creek leader, Sam Moniac. Dr. Motte wrote that he was unaware, until that moment, that Moniac was "other than a white man." This is understandable, for both David Moniac's grandfathers were white, Charles Weatherford, a Scotsman, and William (or Dixon) Moniac referred to quaintly as a "Hollander." One of his grandmothers was a full-blooded Indian, the other a half-Indian of the Tuskegee tribe. Such racial mixtures were not uncommon, for white traders and adventurers had begun filtering into the Creek nation at a very early date. Charles Weatherford moved in among the Creeks shortly after the Revolution.
Second Seminole War
In the Second Seminole War in 1836, Moniac was commissioned as a captain and selected to command a Creek volunteer cavalry unit, the only Native American among the officers. "He was killed in the Battle of Wahoo Swamp (in present-day Sumter County, Florida) while attempting to inspire and lead Creek militiamen across a swamp in the face of fierce small-arms fire from Seminole warriors. His death effectively ended the day's battle. His body was recovered and interred alongside the victims of the subsequent Dade's Massacre, in which the Seminoles soundly defeated the forces of Major Francis Dade. In 1842, Moniac's body was likely moved to Florida National Cemetery near St. Augustine. His descendants remained in Baldwin County, where his only son, David A. Moniac, served as sheriff."
Entering West Point when he and the Academy, which had opened on July 4, 1802, were an approximately the same age, David Moniac, the first Native American graduate of that institution, began, at fifteen years 8 months of age, a truly remarkable odyssey between two cultures.
iThe Alabama Historical Quarterly, Vol. 43, No. 02, Summer 1981
iiThe Alabama Historical Quarterly, Vol. 43, No. 02, Summer 1981
SOURCE
Benjamin Griffith, The Alabama Historical Quarterly, Vol. 43, No. 02, Summer 1981
Encyclopedia of Alabama
Discordance: A story of one family's destiny (The Cottinghams Book 1) 

Filled with drama, suspense, humor, and romance, DISCORDANCE continues the family saga from the Tapestry of Love series with the children of Mary Dixon who married Thomas Cottingham.
Amazon.com – Read eBooks using the FREE Kindle Reading App on Most Devices