COLBERTIANS
By R. L. James
SECTION III OBITUARIES AND CEMETERY RECORDS
To the Readers of the Alabama Historical Quarterly: (The Alabama Historical Quarterly, Vol. 07, No. 03, Fall Issue 1945)
I am releasing another section. No. 3, of my article "Colbertians." I hope it will be possible for me to add one more section but I am sure there will still be many interesting people whom I cannot include. In addition to those to .whom I expressed thanks in the preface (See No. 2 Vol. 7) I wish to acknowledge my appreciation to Mr. James Carloss of Elkmont; Mrs. J. F. Craig, Jasper; Mrs. William Malone and Mrs. W. D. Brotherton, Cherokee; Mrs. Emma Scruggs and Miss Mattie Guy, Tuscumbia; and there are probably others who deserve to be mentioned in this connection whom I cannot at this moment recall. Mr. Woodruff Delony gave me quite a bit of information. I was at his house on August 6, 1946, which incidentally, was his eighty-sixth birthday, and had a long conversation with him. Since then this venerable citizen of Leighton has passed away. He was a son of Dr. Edward B, Delony. I hope to write more about the Delony family in some future issue of the Quarterly. Sept 4, 1946, R. L. JAMES
Many interesting records are to be found in the old cemeteries of Colbert (the same is doubtless true of every other Alabama county). I have not visited all the old ones of Colbert, but I do have records from quite a number of public and family burial grounds. The largest, of course, is Tuscumbia's Oakwood Cemetery unless we include Sheffield's Oakwood Cemetery, but the latter cemetery contains very few old graves. From an interesting history of Tuscumbia, published in the Tuscumbia Democrat in 1881 and 1882 by "H" we are advised that the first person buried in Tuscumbia's Oakwood Cemetery was a young man, whose name was Warren and who died near Tuscumbia in the summer of 1817 or 1818. Mr. "H" says that he was buried at night due to the warm weather hasting decomposition of the body. Of course, there was no such thing there and then as embalming a human body. Also, there was not enough lumber in the new village to make a coffin, so two young men were sent to Fuque's sawmill several miles away to get lumber to make it, and all of this required time.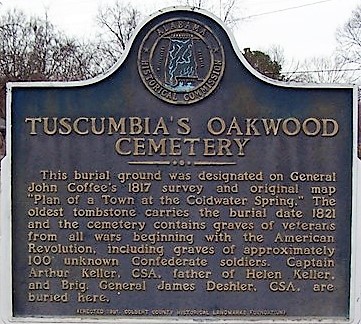 According to Leftwich's …Two Hundred Years at Muscle Shoals, the oldest marked grave in this cemetery is that of Mrs. Catherine Kenan Hooks, wife of Curtis Hooks, who was born according to the marker, Sept. 11, 1779, and died Oct. 24, 1821. Curtis Hooks, her husband, was born Nov. 30, 1788, and died May 28, 1848. He was therefore much younger than Mrs. Hooks. According to local history, he was a "ranger."
The second oldest marked grave in this cemetery of which I have record is that of Nancy E. White who was born Dec. 16, 1781, and died March 2, 1882-just a little more than four months after Mrs. Hooks died. And a third marked grave for the year 1822 is that of a little girl who died when nearly four years of age at an age when a child is the object of such parental devotion as to call to mind Eugene Field's immortal poem, Little Boy Blue. This grave has a coffin-shaped tablet with the following inscription:
Beneath this Stone
lieth the remains of
MARGARET FOWLER MITCHELL
born 14 January 1819
died 6 December 1822
One large monument has eight inscriptions on it. They are: Susan McClung Jan. 20, 1812-Sept. 10, 1832; John A. McClung died Sept. 13, 1832; Calphurnia C. Keenon, Dec. 23, 1807-Hay 31, 1833; James Y. McClung Sept. 3, 1831-Sept. 1, 1833; Y. A. Gray, April 13, 1786- Feb. 12, 1834; Martha W. Gray, June 11, 1829-Sept. 1834; Robert H. Gray Sept. 9, 1833-July 3, 1835 and Elizabeth F. Gray, July 30, 1823-Aug. 1844.
There is an old slab near this monument which has Y. A. Gray's name and birth and death dates. On the slab his name is given as "Dr. Young A. Gray." Saunders in writing of the early history of Courtland, Alabama mentions "Dr. Young A. Gray" as one of the doctors in that town.
Near one of the entrances to the cemetery can be seen the markers to the graves of the Frederick D. Hodgkins family whose lives were wiped out by the great storm of Nov. 22, 1874. On Mr. Hodgkins' gravestone is the following inscription:
FREDERICK D. HODGKINS
Born in Oxfordshire, England
Nov. 26, 1842-
Father, Mother,
Four children killed by the
storm which visited Tuscumbia
Nov. 22, 1874
Mrs. Hodgkins was a daughter of James and F. Carter and was born in Bedford County, Tennessee Feb. 12, 1846. F. D. Hodgkin was a jeweler by trade and was also an editor. St. Johns Episcopal Church at Tuscumbia has an interesting stained window dedicated to the memory of the Frederick D. Hodgkins family.
Following are two reproduced inscriptions from this cemetery:
In Memory of ROBERT B. MALONE
BORN January 11th, 1795
DIED
May 21st, 1830
Reader remember as you now are,
So once was he,
As he now is,
So you must shortly be.
I am advised that he was the father of John Lewis Malone (1827-1908) who married a daughter of Armistead Barton and was wealthy. Robert B. Malone's wife was Eliza Minerva Brown.
JAMES DESHLER
A Brig. Gen. Confederate Army
BORN
at Tuscumbia Feb. 18, 1833
FELL AT THE BATTLE OF CHICKAMAUGA
Sept. 20, 1863
Aged 30 years 7 months 2 Days
Gen. Deshler's father, Major David Deshler, was one of the most prominent citizens Tuscumbia ever had. He was born in Lehigh County, Pennsylvania, Sept. 10, 1798 and died at Tuscumbia Dec. 6, 1871. The writer of his obituary said that he had resided at Tuscumbia more than forty years. Among the things he wrote about Major Deshler was this:
"Maj. David Deshler was no ordinary man; of strong natural abilities, a close penetrating mind, cool clear judgement, and of good education, there was scarcely any subject within the range of human thought or speculation he had not investigated. No one within the writer's knowledge 'had a more comprehensive store of general information on so great a variety of subjects. He is identified with the early history of the State, and was the Pioneer in the South of that great system of railways which now add so much to the wealth and prosperity of the entire country. Under his supervision and mainly through his instrumentality the first railroad in Alabama was constructed from Tuscumbia to Decatur.
"Charity with him was a principal, to the needy he was never known to turn a deaf ear, or to refuse his sympathy and aid to the suffering humanity."
Tuscumbia Oakwood cemetery (Waymarking.com)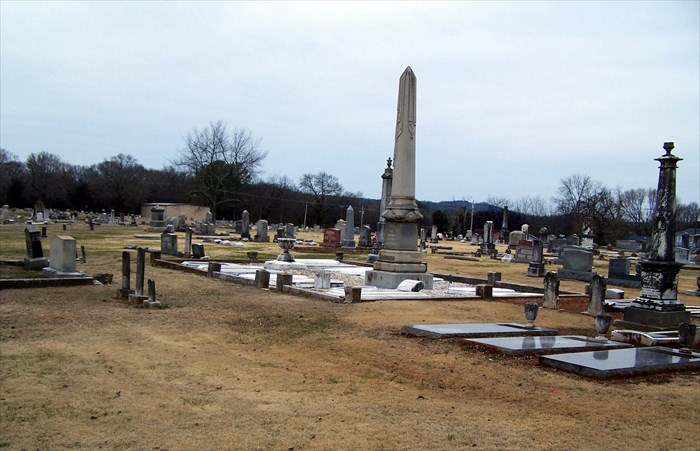 All through life Maj. Deshler was a man of action. Shortly before he died he made a trip to Philadelphia. He had no relatives in Colbert county when he died, at least on close relatives. Mrs. Deshler had died in 1854 and later his oldest son died suddenly while a pupil at West Point Academy, and last his son, James, was killed at Chickamauga. Maj. Deshler gave the grounds and building of the old Deshler Female Institute to Tuscumbia as a memorial to his son. Gen. James Deshler. The Deshler High School at Tuscumbia helps to perpetuate his memory.
Among other gravestone inscriptions in Tuscumbia's Oakwood Cemetery of persons who died before 1875 are the following: – Isabella Elliot, wife of James Elliott, born in Edinburgh, April 13, 1809, died Dec. 8, 1825; Eliza H. wife of Peter Walker, born in Bedford Co. Va. died June 20, 1834; John Sutherland, Sr., born in Pittsylvania Co. Va. July 19, 1752 died Sept. 7, 1836; Peter Walker, born in Amherst Vo. Va. died July 24, 1844 aged 51 years, 2 months and 18 days; Catherine, daughter of Peter and Peter and Eliza Walker and wife of Thomas Mattingly, born in Amherst Co. Va. March 29, 1823, died in Lawrence Co. Ala, Oct. 1849; Hugh Stephens, born in Donegal, Ireland died 1856 aged 85 years; James Conner, born in Halifax Co. Va. Mar. 9, 1795 died April 7, 1857; "Mary Ann-consort of Lewis Wood dec'd Born in the City of Richmond, Va.-died in Tuscumbia, Ala. Sept. 8, 1857 aged 53 years"; William C., son of Abner B. and Julia A. Blocker, born Oct. 4, 1845 a member of Co. C. 11 Regt. Ala. Cavalry was killed in action at Pulaski, Tenn. Sept. 27, 1861; Elizabeth G. Kidd Ottaway, born in Fluvania Co. Va. Dec. 5, 1806 died in Tuscumbia, Ala. Mar. 28, 1862 "Love, kindness and Christianity marked her daily walk"; J. E. Johnson, "a Confederate soldier and military prisoner at Rock Island" born March 4, 1839 died March 4, 1864; Major Dick Johnson, C. S. A., born Oct. 18, 1831 "wounded on the battlefield" died July 9, 1864; Elizabeth, wife of Alexander Ross, born in Spotsylvania Co. Va; Sept. 15, 1788 died April 26, 1867; B. Gledall, born in London March 18, 1794, died Au. 13, 1868.
Sometimes dates are wrong on tombstones. John Fletcher Pride, the grand old man, who lived to be almost one hundred years old is buried in Oakwood. He was born near Raleigh, N. C. Aug. 26, 1791, and died near Pride Station, Colbert, June 15, 1891. But the inscription on the Pride monument in Oakwood says he died June 15, 1892.
Then there is the case of James Young who lived on Spring Creek near old Hunter. The monument to Mr. Young's Grave says he died February 29, 1815! Of course, February in 1815 had only 28 days.