My Relatives are leaving me very fast
(Civil) war-time letters of James Wright to his nephew.
Edited by
George L. Mahoney1
James Wright of Oswichee Bend, Russell County, Alabama, was the third largest slaveholder and the third largest cotton producer in the state in I860.2 He was born January 21, 1799, in Somers, Westchester County, New York, the youngest surviving child of Micajah and Ruth Wright.3 Both his parents died in 1811 when he was twelve, leaving James and his four older brothers and sisters.4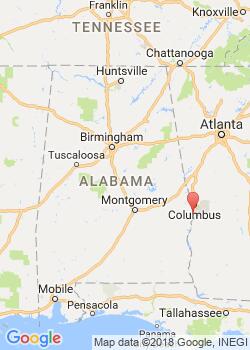 From what is known of his early life, James went South, possibly in the late 1820's, accompanying his brother Charles with a travelling circus.5 James became a founder and Director (1833), then President (1838) of the Merchants' Bank of South Carolina at Cheraw, a position he held until 1855.6 He also owned a cotton plantation "Balfour" near the Pee Dee River.7
His brother Charles returned to and remained in Westchester County, New York, where he also engaged in farming and banking. In 1828 Charles married Elizabeth Smith (1802- 1888). The couple had ten children, one girl and nine boys.
James Wright never married, but did have an illegitimate son, James M. Wright, born about 1841 in Pennsylvania.8 In 1850 James Wright moved to a newly purchased plantation in Alabama on an influx of the Chattahoochee River, not far from Columbus, Georgia. By the end of the decade James Wright was a farmer-planter-businessman with sizeable interests in land, slaves, banking and ships.9
Most of James Wright's family remained in Somers, New York and New York State. Three of his brother Charles' sons went South to be with their uncle. They assisted him in managing his plantations and hoped to chart careers for themselves. The first nephew, George (1830-1853), helped his uncle make the move to Alabama, but due to poor health returned to Somers where he died. The second nephew, Charles Jr. (1836-1862), followed in 1853 and the third nephew, James Jr. (1833-1899), in 1861. When the Civil War began, James Wright, his two nephews, and illegitimate son were all together in Alabama.
James Wright supported secession and the Confederacy. He thought the South would win the war and wrote determinedly and belligerently about "never crossing Mason and Dixon's Line again" and "fighting from the Potomac to the Gulf of Mexico." His relations in Somers, New York, were staunch Democrats, opposed to Lincoln's Administration, and interested in the "Society for the Diffusion of Political Knowledge."10 None served on the Union side.
The two nephews, Charles Jr. and James Jr., three years older than Charles, enlisted in Captain Brooks' Company Georgia Light Artillery (Terrell Light Artillery), Georgia Volunteers and served with the Confederacy 11
Charles Jr. was an officer (1st Lieutenant), a popular, romantic figure with his horse and man-servant, stating, "I am ready to join the standard of my adopted state to fight for an honorable separation and fair distribution of property and territory.12
He was in the army by September of 1861, saw service in Virginia and then on October 3, 1862, died of "consumption of the brain" near Savannah, Georgia, at the age of 26 13
James Jr. was a private. He enlisted on May 15, 1862, He received a bounty of $50.00 and was for a period of time detailed as a steward in the company hospital. He survived the war.14
It is selected letters from his uncle James Wright to James Jr. from 1862 to 1864 that are presented here.15 All were sent from Oswichee (via Columbus, Georgia) to the Terrell Artillery, stationed at Savannah, Georgia. Through the correspondence of these transplanted Northerners we share in a segment of the war-time life of the deep South and their own personal relationship. We grasp something of their attitudes toward the homeland and the homestead. The Wright Papers (manuscript collection of letters) are kept in the archives of the Somers Town Historian. These archives are located in the Town House (Elephant Hotel), Somers, New York 10589. The entire collection is part of the Carolyn Wright Reis Estate, property of the Town of Somers, administered by the Reis Trustees through the agency of the Somers Historical Society.
James Wright to James Wright Jr.
Oswichee, Alabama – June 14, 1862
Dear Nephew,
I am in receipt of yours of the 25th. It is a good rule to adopt the endeavour to excel in all things that you undertake—And I would advise you to endeavor to do so as an artilleryist. It will commend you much to your officers, and add also to your position among the men—to those who excel the non commissioned offices are of course given, and very properly.—Take care as much as possible of your health,— Charles can give you good advice on that score.—16 We have not had a rain for about three weeks,—yet the corn generally looks very well the oldest is beginning to show the tassels— We had to plow up all of Sunflower, and a part of the nice fruit about two weeks since,—the stand having been destroyed by the workers— The health of our own people continues good,—Dr. Whitaker told me a few days since that there was a good of measles and dysentery in the neighborhood.—

Tell Charles that Capt. Lewis has been at Mrs. Rose's for two or three weeks, and leaves in the morning to join his regiment—I hear that Col. Gantry has written his wife a glowing account of the victory of Stonewall Jackson & the large amount of property captured.17
Yours truly,
J. Wright
December 16, 1862
Dear Nephew,
In your letter to James since ten or twleve days you stated there was plenty of game near your new camp and also good fishing,—I have no ammunition to send you—the waggon has just left here for Columbus, after more to be distributed tomorrow.18
In it I have sent a box marked to your address which I think I shall send by Express. If so I will pay the charges on it.—
It contains half a dozen rolls of sausages, some hogshead cheese, a jar of butter, and wrapped in a small brown paper you will find a dozen fish hooks and a line long enough to make three [sic] and then the box was filled with spinders [sic]. I hope it may reach you safely and in good time— To get the sausage out of the box you rip one end, and turn it over and cut off in slices— We killed about twenty hogs two weeks ago and as it is now turning cold it is possible we may kill again tomorrow. We have gathered the crop and it turns out very poorly.
Capt. Dawson19 was down last Sunday but I did not see him he will be here in a few days again—
The health of our people is very good.
I hope you are prepared to give the Yankees a hot reception when they call on you—
Yours truly,
J. Wright
(over)
Joe says that some of the men owed him money, and that it was to be paid to you. If you receive any I will pay it to him.
J. W.
P. J. Wright
Yours of 15th just now received. It was not necessary to sell your gata [sic]. If you had let me know your wants I would have remitted you money.
I go to Columbus in the morning and will enclose in this one hundred dollars for you—
August 19, 1863
Dear Nephew,
The enclosed letter from John giving the sad intelligence of the death of your Aunt Phillips was received a few days since.20
My relatives are leaving me very fast—21 I wrote you on the 12th enclosing three coupons of forty dollars each which I presume you have seen.
In your letter to James of the 9th you speak of two of the soldiers in your group wanting some salt—I am letting the soldiers have what I have to spare to some I sell & others give it,—But all the sacks in which I receive salt, I am obliged to return, or I get no more—I have no sacks to send them salt in,—But I will do this—Send each of them fifty pounds of salt to J. Ennis & Co. at Columbus,—some neighbor of each family may call there for it, bringing a sack to put it in.— And I will make them a present of it,—if it were to be sent on the Railroad there is no telling when if ever they would get it.
We are wanting rain for potatoes because of having had none for two weeks.
Yours truly,
J. Wright
September 21, 1863
Dear Nephew,
Yours of the 10th instant came duly to hand. I am sorry to learn that sickness prevails in your Company to some extent.—I would advise to keep under cover as much as possible after the dew commences falling in the evening.—By using proper precautions I am in hopes you will retain your health.
It is excessively dry here and the probability is that we shall make very few pease and scarcely any potatoes. Yesterday and again this morning we had light frosts. Enough to scorch the potato vines and in some places to injure them &o much that very little will be gathered from them even if we have plenty of rain hereafter. I have now an overseer at the Bend—A Mr. Wagner—a discharged soldier, has been in the Army a year. He lived last with Major Dawson at his Coleebee Plantation. The health of the people pretty good.
Yours truly,
J. Wright
February 10, 1864
Dear Nephew,
I wrote to you on the 6th instant. I started the waggon for Columbus this evening with the negroes and their things bound for Mobile.
By it I sent a box to your address which I will send by Express, containing 12 sausages, some hogshead cheese, a jar of butter, 7 1/2 dozen eggs, a bottle of vinegar—four pair of socks and some peanuts.
Also 2 pair of socks for …
We have had a great many cases of pneumonia at the summer house and there are still some—Edmund is now the sickest one there.—I forgot to tell you in my last that Jim the waggoner and head plowsman died with it, – a great loss, as he was a capital servant.
Rose died three weeks or more since.—Josey at the Bend has it the only case there.—
James went to Camp Watts on Monday for reexamination and I expected him home this evening but he did not come.
We have cool mornings and pleasant dry days plowing and cleaning out ditches the principal work.
Yours truly,
J. Wright
P. S. 11 Columbus
James has returned and has to go back to Camp Watts on Monday. The examining surgeon says that a most-absurd order has been sent by the Secretary of War" not to exempt for Myopia—but whenever he gets to the Army he will undoubtedly be discharged.
J. W.
I have delivered the box at the Express Office
Died intestate August 21, 1864
James Wright died intestate August 21, 1864 of a "sudden illness". He was sixty-four years old. Savannah was captured in December in Sherman's "March to the Sea" and Columbus, Georgia was taken April 16, 1865 by James Wilson's Cavalry which passed through Russell County, Alabama.
James Jr. and James M. divided the land, cotton and other property, including slaves, between themselves and continued to run the plantation. But, because of the confusion at the war's end, the nature of the uncle's death, the conflicting claims and number of claimants (principally nephews and nieces), the estate was not settled until 1877