In the summer of 1830, Jackson urged the Cherokee, Chickasaw, Choctaw, and Creek to sign individual treaties accepting removal from their homelands. The Cherokees refused to attend a meeting in Nashville that Jackson proposed. The other tribes signed off on Jackson's terms.1 Many Native-Americans began to voluntarily emigrate to western lands.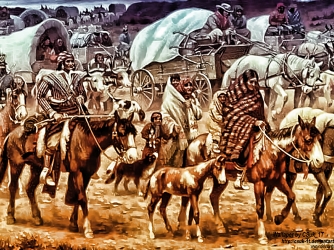 No other choice
Seeing no other choice for them, many Native-Americans began to voluntarily move to western lands. In November 1841, the Indian Bureau reported that "the Choctaw tribe was already in motion, and it was estimated that about 5,000 would emigrate before winter."2 The Chickasaws followed closed behind while the Creeks and Cherokees resisted.
Slow Progress Of Voluntary Indian Removal
Despite all efforts by the federal government, few Native-Americans, except for the Choctaws, voluntarily moved to the new land in the early 1830s. A report from the office of Indian affairs for 1836 summarizes the status of Indian emigration. The number of Indians who had emigrated to their allotted lands in the west by 1837 were:3
Quapaws—476
Creeks—20,437
Seminoles—407
Cherokees—7,911
Creeks—20,437
Choctaws—15,000
Chickasaws—549
Appalachicolas—265
Kickapoos—588
Delawares—1,272
Weas—222
Plankeshaws—162
Peorias and Kaskaskias—132
Pottawotomies of Indiana—53
Chippewas, Ottawas, Pottawotomies—2,191
Senecas from Sandusky—251
Senecas and Shawnees—211
Owed money to Indian Traders
"One of the principal obstructing causes assigned for the delay in the removal was the influence of Indian traders who exercised a great power over the Indians, who were usually in debt to these traders. The annuities were often paid almost directly from the government agents to the traders."4
In 1834, persecution of the Cherokees by white settlers took place as bands of armed men invaded their land and forcibly took horses and cattle. Owners who resisted were assaulted. The Cherokees were divided on the point of emigration.
John Walker, a man of superior education and influence among the Cherokees, advocated for emigration. He was assassinated on his return trip home from a Council meeting. "This was the first of a long series of killings that resulted from the feuds of the Cherokees growing out of the question of emigration."5