A FEW DONT'S IN SELECTING YOUR HUSBAND
BY
DOROTHY DIX
(Transcribed from the Tuscaloosa News December 22, 1937)
Girls, if you want to be happy though married, keep out of Reno. DON'T marry a man who has never made his own living, for the chances are ten to one that he will never be able to support you. DON'T marry for money, but don't marry without any of it. There is no magic in the marriage ceremony that causes, a woman to grow feathers and live on thin air, and you will find you are just as hungry and need clothes as much as a Mrs. as you did as a Miss. Handsome ne'er-do-wells, and temperamental lads who can never hold down a job are fascinating as sweethearts, but they are washouts as husbands.
Hilarious highlights from a 1940 Chevrolet commercial introducing a new gear shift. The new feature makes it much easier to drive especially for women which as the commercial quaintly states is the weaker sex.
DON'T marry a tyrant. A girl doesn't mind a little kowtowing to a man during the days of courtship, but it gives a wife an acute pain in the neck to have to bump her head on the ground and, yes-yes a husband who thinks he is the only one in the house who has a right to an opinion. and that she has to ask his permission to even take a long breath. So when the Boy Friend begins telling you what you should wear, forbidding you to use lipstick, and informing you generally just where you get off, alight on the side farthest from the altar.
DON'T marry a tightwad. There is nothing else that riles a woman so much as to have to work for her board and clothes and then chloroform her husband before she can get the price of them out of him. Watch the lads who take you out and pass up the one who has a lock on his pocketbook and says he never tips on principle.
DON'T BE A DOORMAT
DON'T marry a selfish man who always puts his pleasure and comfort above yours. If you do, you will be nothing but a doormat for him the remainder of your life. You will wear hand-me-downs while his clothes come from an expensive tailor. You will stay at home at nights with the baby while he steps out to night clubs. When a man takes you to a jazz concert when he knows you are pining to hear the symphony orchestra, or orders corned beef and cabbage when your taste runs to caviar, beware. Your guardian angel is hanging out a red lantern of warning.
Women on a sidewalk in downtown Birmingham, Alabama, at the corner of 2nd Avenue and 19th Street. 1939 (Alabama Department of Archives and History)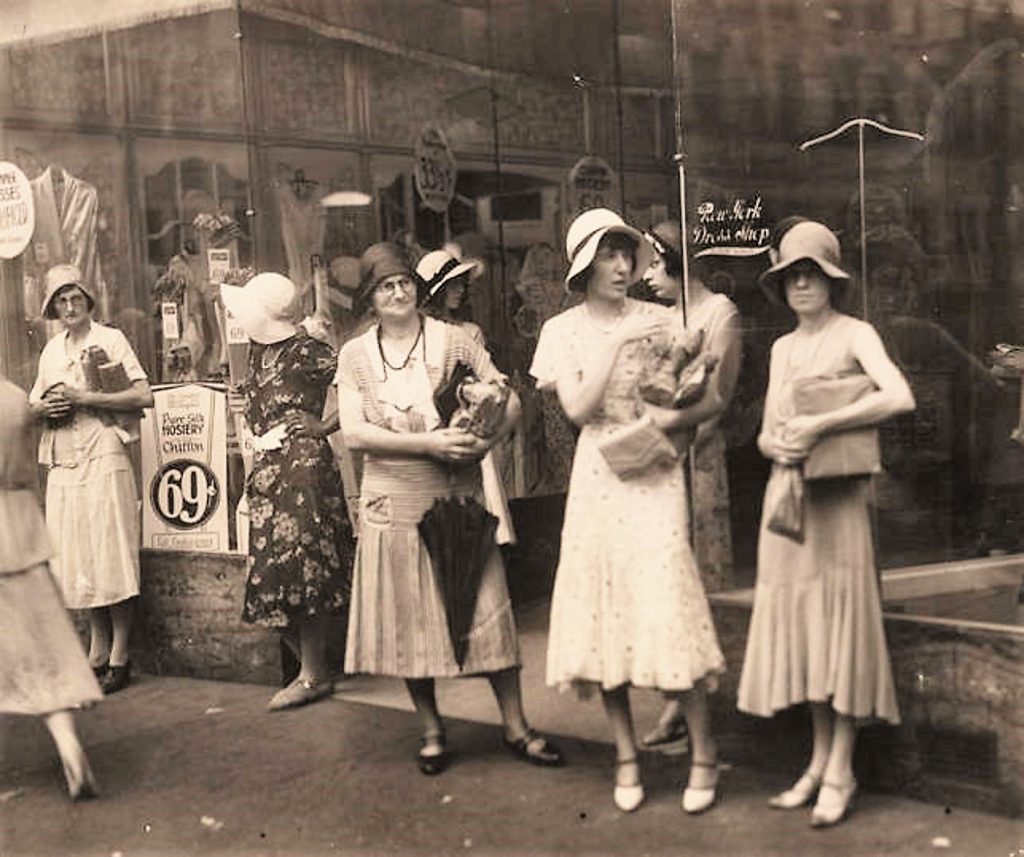 DON'T marry an arguer. Pass up the man who is "agin" every thing on earth and to whom you cannot even say it is a pleasant day without starting something. He will object to your clothes, to your friends, to your belonging to clubs or not belonging to clubs, to going out of an evening or staying at home, and life with him will be one long debate that will keep your nerves raw and your temper on edge and make you long for an early death, or get a divorce.
DON'T marry a vain man. If you do, you will have to work like a coal-heaver keeping his ego inflated. The minute you stop telling him how big and strong, handsome and wonderful, wise and witty he is, he will stray after any woman who will "understand and appreciate" him.
DON'T marry a philanderer. The man who was born with a wandering foot has a congenital affliction that no woman can cure. Don't believe him when he tells you that he has found his ideal at last in you. If you do, he will tire of you and break your heart because it isn't in him to be faithful to any one. Speed him on his way and save yourself.
A Mama's Boy
DON'T marry Mother's fair-haired boy. The worst husband in the world is the man who has been spoiled and babied, humored and waited on hand and foot by his mother, and who expects his wife to keep on spoiling, babying, humoring and picking up after him. If you marry Mama's pet, he will always be the youngest and most troublesome of your children and you will get awfully tired of trying to get along with a grown man who acts like a 2-year-old. Unless you think you will enjoy a lifelong career as a nursemaid, don't undertake the job.
DON'T – and all the law and prophets about how to be happy though married is comprised in this – marry any man who isn't what you want in a husband to start with. Don't think that you can change any man's tastes and habits and character after you get him. Nature and his mother attended to them some twenty-odd years before you ever saw him. Lots of women believe they can put pep in the pepless, quench the thirst of drunkards and domesticate the roamers, but the names of those who succeed in doing so could be written on a silver dime. Don't attempt the impossible.
Tapestry of Love: Three Books In One
REVIEWS FOR Tapestry of Love: Three Books In One
The exhilarating action & subplots keep the reader in constant anticipation. It is almost impossible to put the book down until completion,Dr. Don P. Brandon, Retired Professor, Anderson University, Anderson, Indiana
This is the first book I have read that puts a personal touch to some seemingly real people in factual events.Ladyhawk
Love books with strong women…this has one. Love early American history about ordinary people…even though they were not 'ordinary'…it took courage to populate our country. This book is well researched and well written.Julia Smith
A picture of love and history rolled into one. A step back in time that pulls you in and makes you a part of the family and their world.Ken Flessas
Each book's writing gets stronger, characters become real, the struggles and sorrows that laid the foundation for this country.Addictedtobooks
Not only is the story entertaining, it opens the eastern shore of the early Virginia Colony to the reader as a picture book….I know this story will touch many peoples' hearts.B. Thomas
At the age of sixteen, Mary and her husband, whom she barely knows, are forced to escape the only home they've ever known and settle in the primitive 17th century world of America where they shape their family's destiny for generations.
Inspired by actual people and historical events of colonial America, "The Kingdom of Accawmacke" is revealed and secrets about America's history are discovered in this well-researched series. The story begins in 17th century England during the reign of Charles I and continues a family's journey to the eastern shore of Virginia and Maryland.