Happy Birthday!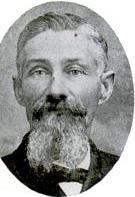 GEORGE SHEPHERD HAM
BIOGRAPHY and GENEALOGY
(1839-1913)
Talladega County, Alabama
George Shepherd Ham was a respected and well-to-do farmer living near Sylacauga. He was born March 17, 1839, in Harris county, Georgia. His father was Zachariah Ham; his mother Nancy Beasley. The Ham family was of North Carolina origin, and thence moved to Georgia; the parents of George S. removing to Alabama in the early thirties. The mother died in 1841, leaving four children. The father was a good citizen, serving faithfully, in the war of 1836. He was a miller and a farmer.
George S. Ham received only an ordinary education but has developed into a well-informed man. The first event of importance in his life was the war between the States. He enlisted in 1862 in Company D, of the First Alabama Partisan Rangers, which brigaded with the Fifty-first Alabama as mounted cavalry. He served in this regiment during the continuance of the struggle. For fourteen months he was a guest of the enemy behind prison walls.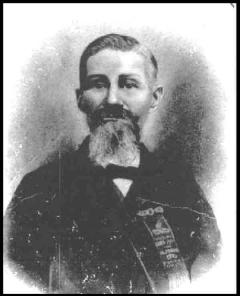 Returning from the war he took up the occupation of farming. He settled in Alabama in 1859 and passed most of his time in Talladega county, leaving it but once for a short sojourn in St. Clair. He lived on his farm in Talladega since 1875.
He married on Oct. 24, 1861, Nancy Mohler Henderson, in Talladega County, Alabama. Her children are:
John S. Ham,
Mary E. Ham,
Kate Knox Ham,
Willie C. Ham,
Florence E. Ham,
Annie Laurie Ham,
Nannie Rebecca Ham,
George Samuel Ham twin
Joe Dixon Ham, twin, the latter deceased in 1904;
Thomas B Ham.
She died Dec. 22, 1888.
Mr. Ham subsequently married Mary McMillan, on April 4, 1888, in Talldega County, Alabama. She died without issue Dec. 9, 1896.
He last married Mary Elizabeth Boaz, (b. Oct. 7, 1863, Boaz Hill, AL – d. Mar 11, 1913, Sylacauga, AL) of Talladega, whose children are:
Taylor Boaz Hamm, deceased in 1904;
Sara Mildred Ham.
George S. Ham was a man of singularly good habits and pure life.
He voted the Democratic ticket, affiliated with the Knights of Pythias, the Odd Fellows, and the Good Templars, and he and his family were leading members of the Baptist church. Of this church, Mr. Ham was a deacon for many years. He took a great interest in the religious instruction of the young people of the church, for over sixteen years he was the efficient superintendent of the Sunday school of the Baptist church in Sylacauga. He was one of the directors of the People's bank, of Sylacauga.
George S. ham died March 20, 1913, it Talladega County, Alabama and is buried in Hill Cemetery, Gantts Junction, Talladega County, Alabama.
SOURCES
1.Notable Men of Alabama: Personal and Genealogical, Volume 1
2.http://www.wikitree.com/wiki/Boaz-24
4. Find a grave Memorial# 5430577 # 121776631
Start researching your family genealogy research in minutes. This Ebook has simple instructions on where to start. Download WHERE DO I START? Hints and Tips for Beginning Genealogists with On-line resources to your computer immediately with the  FREE APP below and begin your research today!