Located in the slope of the Blue Ridge Mountains, in the southern part of the country, northeast of Birmingham. This town was first known as Woodstock. Founded as a company town, it was incorporated as Anniston in 1873, under the general laws, and by the legislature, February 4, 1879. It is the county seat of Calhoun County, Alabama. Continued below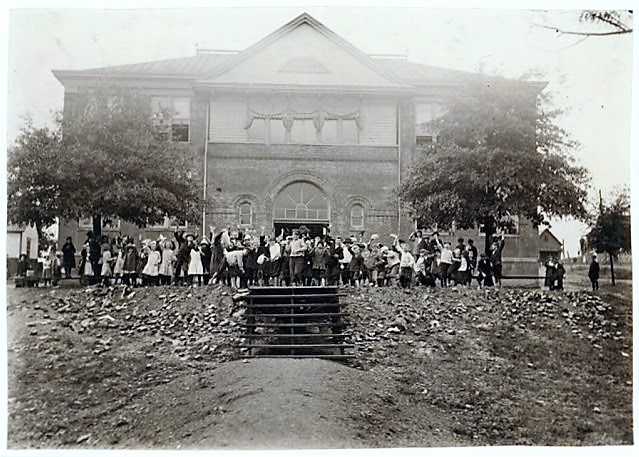 Anniston Public School 1914 Lewis Wickes Hine (Library of Congress)
Earliest Settlers
The earliest settlers of this region were the Gunnells and Edmundson families. The most notable residents were Samuel, James, John and William Noble, and Daniel, Alfred L. and E. L. Tyler.
General Daniel Tyler died in New York City, 1882, but his body was brought to Hillside Cemetery, Anniston. He was the grandfather of Mrs. Theodore Roosevelt, Sr. (Edith Carew) The town was named after Annie Scott Tyler, the daughter-in-law of General Daniel Tyler.
Land was sold
In 1862, the land on which Anniston now stands was owned by D. P. Gunnells of Oxford, who sold it to the Oxford Furnace Company.
In 1872, Samuel Noble and Daniel Tyler bought the ruins of old Oxford Furnace, and rebuilt it, and organized the Woodstock Furnace Co., which was one of the few southern industries that survived the financial panic of 1873. Founded as a company town, Anniston was incorporated in 1873, under the general laws, and by the legislature, February 4, 1879.
Tested Electricity
At the Woodstock Furnace Co., the fires were never banked, and its product always found a market. Samuel Noble, to whom Anniston has erected a fitting memorial, laid out its broad streets, conserving the parks, providing sewerage and waterworks, planting its splendid avenues of trees and making a model city
The owners of the Woodstock Furnace Co. were willing to accept innovations. Surprisingly, when electricity was first induced to the public, most people were reluctant to use it. Most people considered it a novelty. However, some people in Alabama were hoping to develop electricity for wider use to power factories and illuminate streets. In 1882, the Woodstock Iron Company tested the idea in Anniston and the Selma Times Journal editior wrote that it was "a magnificent success."
The editor continued his description: "When the light first appeared, it seemed to be struggling hopelessly with the darkness, but continued to increase as more steam was put upon the engine, until a broad, beautiful stream of light flooded the surrounding space with a soft, mellow radiance covering a radius of more than 400 yards.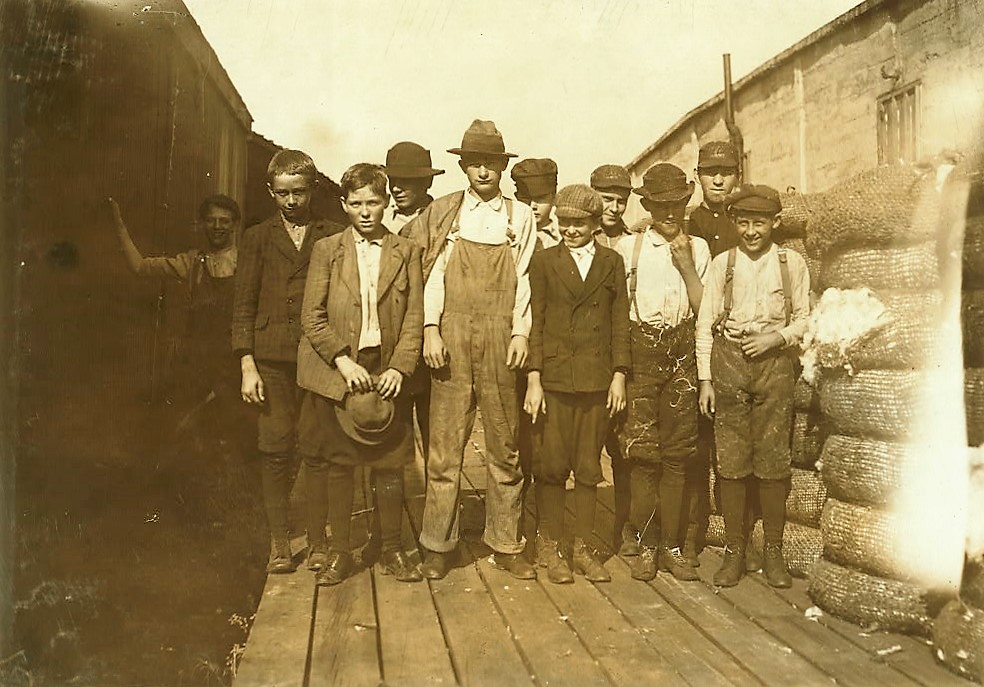 Group of boys working in Woodstock Cotton Mills. Smallest boy is Will Earwood, said he had been working there six years. Another small boy said he had been working there nearly ten years. Some small girls working there also. Location: Anniston, Alabama November 1910 by Lewis Wickes Hine (Library of Congress)
One of first municipal customers
Later, in 1913, Anniston Electric and Gas Co., would become one of the first municipal customers to purchase electricity from Alabama Power.
Brooklyn of the South – City of Churches
In 1883, the demand from outside was so insistent, that the manufacturing city was formally opened to the public. Henry W. Grady the gifted Georgia editor, of Atlanta, presided for the company. The county seat was removed to Anniston in 1895.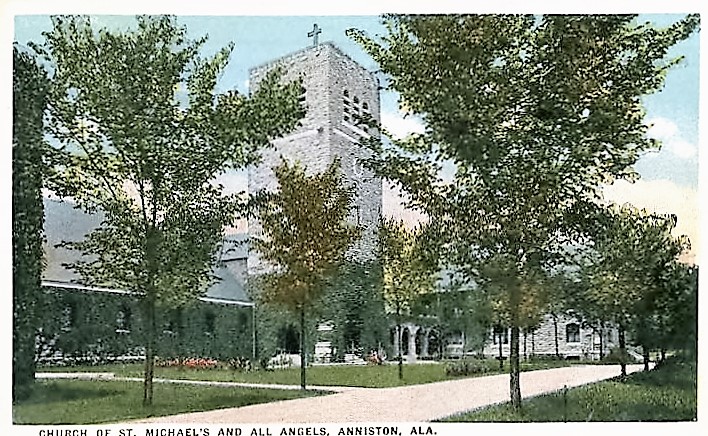 Church of St. Michael's and All Angels, Anniston, Ala – postmark July 23, 1926(Alabama Department of Archives and History)
Anniston has been called "the Brooklyn of the South," or "the City of Churches." In 1881 the Episcopalians established a mission under Rev. W. Carnahan, and soon afterward erected a $35,000 building. In 1916 they had two churches—Grace Church, and St. Michael and All Angels. In 1883, the Methodist Episcopal Church, South, under Rev. T. H. Davenport, established the First Methodist Church. Later the McCoy Memorial. Oxanna, St. Pauls, and Wesley Chapel were built. In the same year the Baptists built the Parker Memorial, The First Baptist Church, Blue .Mountain, Glen Addle and West End churches. In 1884, the Presbyterians established their first church organization in the town. They had the First, Second, and Glen Addle Churches. Many more churches were added as time progressed.
On November 14, 1891, it was reported by the Times Daily in Florence, Alabama that the remaining furnace of the Woodstock Iron company at Anniston would soon be in blast.
In 1917, the federal government purchased almost 19,000 acres near Anniston for the development of Fort McClellan where soldiers were trained.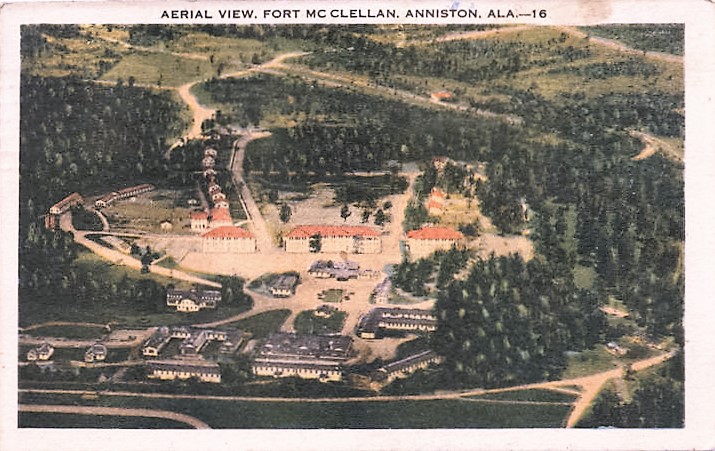 Aerial View, Fort McClellan, Anniston, Ala  postmarked Nov. 15, 1935 (Alabama Department of Archives and History)
SOURCES
History of Alabama and Dictionary of Alabama Biography, Volume 1 By Thomas McAdory Owen, Marie Bankhead Owen 1921
Times Daily, Florence, Alabama September 12, 1891
Start researching your family genealogy research in minutes.

 

This inexpensive Ebook has simple instructions on

 

how to get started with FREE sources. Download 

WHERE DO I START? Hints and Tips for Beginning Genealogists with On-line resources 

to your computer immediately with the a FREE APP below and begin your research today!
Reviews
"This book was very informative and at a very modest price. One web site I may have missed in your book that has been very helpful to me is genealogybank.com. I found articles about several of my ancestors in their newspaper archives. Thank you for your great newsletter and this book."
"The book was clear & concise, with excellent information for beginners. As an experienced genealogist, I enjoyed the chapter with lists of interview questions. I'd recommend this book to those who are just beginning to work on their genealogies. For more experienced genealogists, it provides a nice refresher."