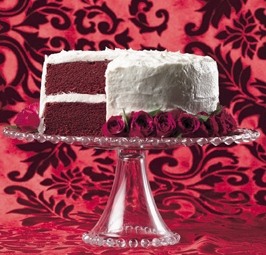 Red Velvet Cake Tradition
by
Jean Butterworth
Many years ago I started making a red velvet cake for my family, especially for my son and one of my grandsons whose birthday is December 25th. It was originally called the Waldorf Astoria Red Cake. I found the recipe in an old cookbook of mine whose title is unknown since the cover has long been torn off and discarded.
This cake takes me about all morning to make. The cake requires two ounces of red food color, which is not cheap…$2.98 a bottle. The icing is the hardest part to make. I have to stir flour and milk together in top of a double boiler for about 30 minutes until it becomes very thick. The trick to this is not to allow lumps to form while cooking. I call this white gravy. When it thickens the mixture has to cool. In the mean time you have to mix up another bowl of Crisco and margarine…whipping it to become fluffy. Later the gravy and the other frosting are combined and beaten to stiff peaks.
When the two cake layers are cool, the frosting is applied to the in-between layers, top and sides. The cake is then placed on a tall crystal cake plate. It makes a stunning display!
At one point in time I was tired and I decided to shortcut the cake baking time. I make the cake layers out of a red cake mix and frosted it with a cream cheese icing. Boy, did that hit the fan. Both my son and grandson cried, "What did you do to this cake?" I didn't try this again.
So, again this season I made two Red Velvet Cakes for the holidays. After placing candles on the red velvet cake after dinner we sang "Happy Birthday" to my grandson, Park who was 15 years old on December 25th. The remaining cake was sent home with him to enjoy.
Chinaberries and Other Memories of Alabama – by Jean Butterworth
Check out all Alabama Pioneers books
Shop Amazon Warehouse Deals – Deep Discounts on Open-box and Used Kitchen Gadgets