AUTOBIOGRAPHY AND CIVIL WAR LETTERS OF
JOEL MURPHREE OF TROY, ALABAMA
1864-1865
Introduction "by
H. E. STERKX
(Dr. Sterkx was a member of the history faculty, Troy State Teachers College)
Part I
The great adventure for many mid-Nineteenth Century Southerners was participation in the American Civil War. In later life some were inspired to publish memoirs of war services as if to remind posterity of their unique experiences and contributions in this great undertaking of their lives. Many war-time letters have survived and occasionally an old veteran wrote short autobiographies both of which have become treasured family memorabilia and valuable source material for students of Civil War history.
One such collection are the letters and brief manuscript autobiography of Joel Dyer Murphree of Troy, Alabama, covering the last year of the Civil War. Murphree was thirty-seven years old when he entered the Confederate service in 1864. He had been a resident of Troy since 1845 and a successful merchant for over ten years. In 1855 he married Ursula Antoinette Mullins and of this union were born five children all of whom lived to maturity. Murphree was twice elected to the Alabama Legislature; the first time in 1857 and again in 1872. He was also elected to the 1875 and 1901 State Constitutional Conventions and was a delegate to the 1884 Democratic National Convention that nominated Grover Cleveland for the presidency. Joel Murphree died in Troy, January 8, 1906.
The Civil War letters and autobiography which follows reveals intimate glimpses of the life of a soldier. He was beset by the twin complaints common to service men in all wars-homesickness and the hope of discharge from the army. Murphree conducted a chatty correspondence covering many seemingly trivial subjects'such as the condition of his garden, clothing, diet, and the general health of his family. These matters, however, took on greater importance and meaning for a man uprooted from his family.
Murphree displayed an intelligent understanding of military matters both in his autobiography and letters. He often expressed candid opinions concerning the abilities and military plans of high ranking Confederate and Union Officers. He was especially critical of General John Bell Hood for his aggressive policy before Atlanta and considered the Tennessee campaign as one of the worst blunders of the war.
The autobiography supplies relevant data concerning Murphree's early life. This work and letters, moreover, reveal the merchant-soldier as a good story teller and although there are inconsistencies in spelling and grammar the style is eloquent and free of extravagant prose so characteristic of the age.
AUTOBIOGRAPHY OF JOEL D. MURPHREE, SR.
Joel D. Murphrees, Sr. was born in Smith County, Tennessee, on the 5th of November, 1827. His parents were James S. and Matilda (Dyer) Murphree, natives respectively of North Carolina and Tennessee. They together with their entire family came to Alabama and located in the town of Troy, Pike County, January, 1845. The family consisted of seven sons and four daughters to-wit. William, Joel, James, Daniel, Frank, Edward and Thomas; Mary Sarah, Elizabeth and Almira. The subject of this sketch was educated in the private schools of his neighborhood. His father was a merchant and he was salesman for him until of age when he engaged in the business of Merchandizing for himself and continued therein until the commencement of the Confederate War Between the States.
I entered the Confederate Service as Quarter Master Sergeant of the 57th Regiment commanded by Col. C. J. L. Cunningham, Alabama Infantry, Lorings Division, Jackson's Brigade at Montevallo, Ala., April 23, 1864, and remained with this command until the close of the war. It may be asked why I remained out of Service to so late a date? In reply to which I will say I did so at the earnest solicitations of brothers and brothers-in-law, nine in number, who volunteered in 1861. They demanding I should stay at home to look after the interests of their families during their absence. This I could only do by putting in my place some one not at that time (1861) subject to Military duty. This I did in the person of one K. D. Nichols who after being received was detailed to do service as a sharpshooter which place he faithfully filled until wounded in the early part of 1864 when he was discharged and returned home. Very soon thereafter I entered the Service. This explanation I regard as necessary that I be not consumed by those not knowing the facts.
First active duty
The first active duty in which I engaged was at the Battle of Resaca, Georgia, May 10th, 1864. There I was required to fill my own place as Quarter Master Sergeant and also that of Commissary Sergeant during that battle and some months after which subjected me to great peril in that of having to feed the soldiers in the Trenches and elsewhere exposed to the fire of the enemy while the battles were on in the several engagements during Johnstons retreat to Atlanta. The Commissary Sargeant was furloughed because of bad health and at the request of Col Cunningham the Qr. Master Sergeant filled both places until the army reached Atlanta. During their retreat from Resaca to Atlanta there was much fighting, in which none who did their duty were fully protected from the missels of the Federal Army. At the Battle of Peach Tree Creek July 20th 1864 Captain Baily Talbot a brother in law was killed and on the 28th same month Maj Shep Ruffin another brother in law was killed. Let me say that in this retreat and the battles fought from Dalton to Atlanta Gen Joseph E. Johnston displayed generalship that was not excelled during the four years of Confederate Services.
Gen. Joseph Eggleston Johnston (Alabama Department of Archives and History)
While our army was at Atlanta Gen Jos E. Johnston was displaced and Gen Hood put in command which proved to be the greatest and most disastrious blunder of the war. There and then Johnstons policy of fighting on the defensive and from behind breastworks etc was changed to that of an aggressive Campaigns forcing battle at great disadvantage in position and against great odds in number. The result was our men were shot down by the thousands because of the exposed position of our army during battle.
Gen. Hood celebrated march
After the Federal Army took up quarters in and near Atlanta in August 1864 but little was done until November when Gen Hood commenced his celebrated march through north Georgia, North Alabama to Tuscumbia and from there on to Nashville, Tenn. via Columbia and Franklin. Our army took line of march from Tuscumbia Ala. the 20th November 1864 reached Columbia Nov. 28th, flanked Columbia from which place the Federals fled towards Nashville. These flank movements was designed by forced marches day and night-through the Country some distance from but parallel with the Pike road to head off the retreating Federal forces and their way on train before reaching Franklin.
Our army accomplished their purpose in that of passing the enemy, but lost the fruit of their long and tiresome march by an unpardonable blunder in halting our army at dark and suffering the enemy to pass us in hearing all night when we could have intercepted them if our men had been allowed to do so, with but little loss on either side which would have averted the Franklin battle of Nov 30th and there by sayed the lives of those brave men who fell in that fight.
Gen. John Bell Hood (Alabama Department of Archives and History)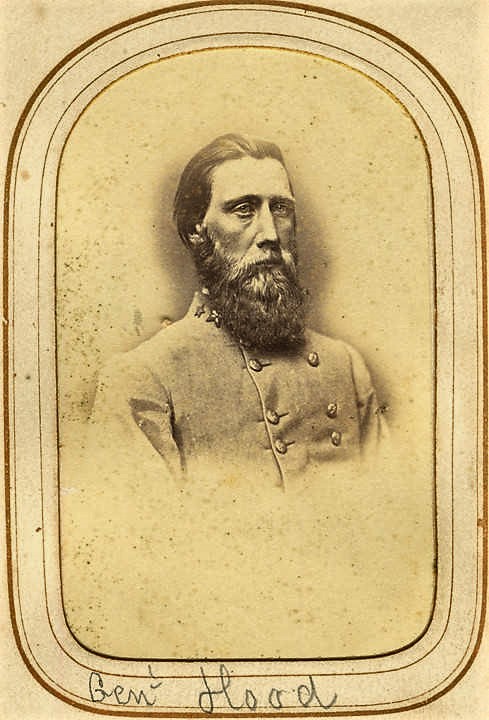 Gen Hood will always be consumed for the Spring Hill blunder he being Chief in Command. Some have tried to shift the blame onto Gen Cheatham who was charged with being too much under the influence of intoxicants at that time. At Franklin was fought one of the bloodiest battles of the war where our men were forced to charge the enemies fortifications through open fields unprotected. The result was that more of our men were killed to the number engaged than in any battle from 1861 to the Surrender in 1865. Notwithstanding the great slaughter of our men the enemy were driven from the fortifications and pursued pell mell to Nashville. Many of whom were overtaken captured and sent to the rear.
Our army was halted in sight of the City Dec. 3 when it could have been taken the day of our arrival had an effort been made to do so. There our army remained in Camps until the 15th giving Gen. Thomas ample time to reinforce and then left Nashville as hurriedly as the Federal Army left Franklin a few weeks before. here we lost a great many of our best men, Noble brave men, the result of the two blunders the one at Franklin and at Nashville.
Could not direct Army successfully
In this Campaign Hood displayed very poor generalship. He was a good fighter when executing the orders of superior officers, but he could not direct an Army himself successfully. Hoods march from Tuscumbia Ala to Nashville and return in the dead of winter with an army of tired men, poorly clad and poorly fed and as they felt unnecessarily forced to fight at great odds as to position when flank movements properly executed would have accomplished the purpose with not loss of lives. These facts demoralized our army after which they had little or no heart to prolong the war. They could see that under Hood no care was taken to their lives or comforts provided for their bodies. Their spirits were broken and confidence in the success of our cause gone on our return through Tennessee, Mississippi, Alabama, Georgia and South Carolina. A great many men quit the ranks as they would near their homes. Many of whom had not seen their families since their enlistment in 61 and 62. Some of these men returned to their commands but many did not.
Recruiting camps were established at different points from Mississippi to North Carolina where our soldier boys were gotten together in squads put in charge of officers and sent to the front. In this way the remnant of Our Army now Johnstons army were brought together away up in North Carolina where the last battle was fought near Bentonville in March 1865. Then there was a consolidation of Companies and Regiments which was necessary because of the depletion of our ranks. The consolidation resulted in the displacement of more than half of our officers and among them Col. Cunningham who was allowed to return home. Of course his Qr Master Sergeant was without a position. Three Regiments consolidated into one the 57th and put in charge of Col. McAlexander. At the earnest solicitation of my old commander I was retained by Col. McA as his Qr Master Sargeant which positon I held until the Surrender in April 1865 near Greensboro N. C. to which point we had retreated from Bentonville. Thus it will be seen that I was in active service as Qr Master Sgt. to the close of the war not losing a day from date of enlistment in April 23, 1864 to Apl 27th 1865.
On the 2d May I was paroled and the next day left camp for home by private conveyance arriving at Troy Ala May 28th. During our stay in Camps at the place named waiting for the terms of surrender and our payroles to be put in proper shape we had learned there was some silver money belonging to the Confederacy which would be distributed among the soldiers. This was done giving to each one dollar and twelve and half cents. Confederate money being worthless this was all the money we had that was of use to us in getting to our homes.
SOURCE
The Alabama Historical Quarterly, Vol. 19, No. 01, Spring Issue 1957.
The first four Alabama Footprints books have been combined into one book,
From the time of the discovery of America restless, resolute, brave, and adventurous men and women crossed oceans and the wilderness in pursuit of their destiny. Many traveled to what would become the State of Alabama. They followed the Native American trails and their entrance into this area eventually pushed out the Native Americans. Over the years, many of their stories have been lost and/or forgotten. This book (four-books-in-one) reveals the stories published in volumes I-IV of the Alabama Footprints series.